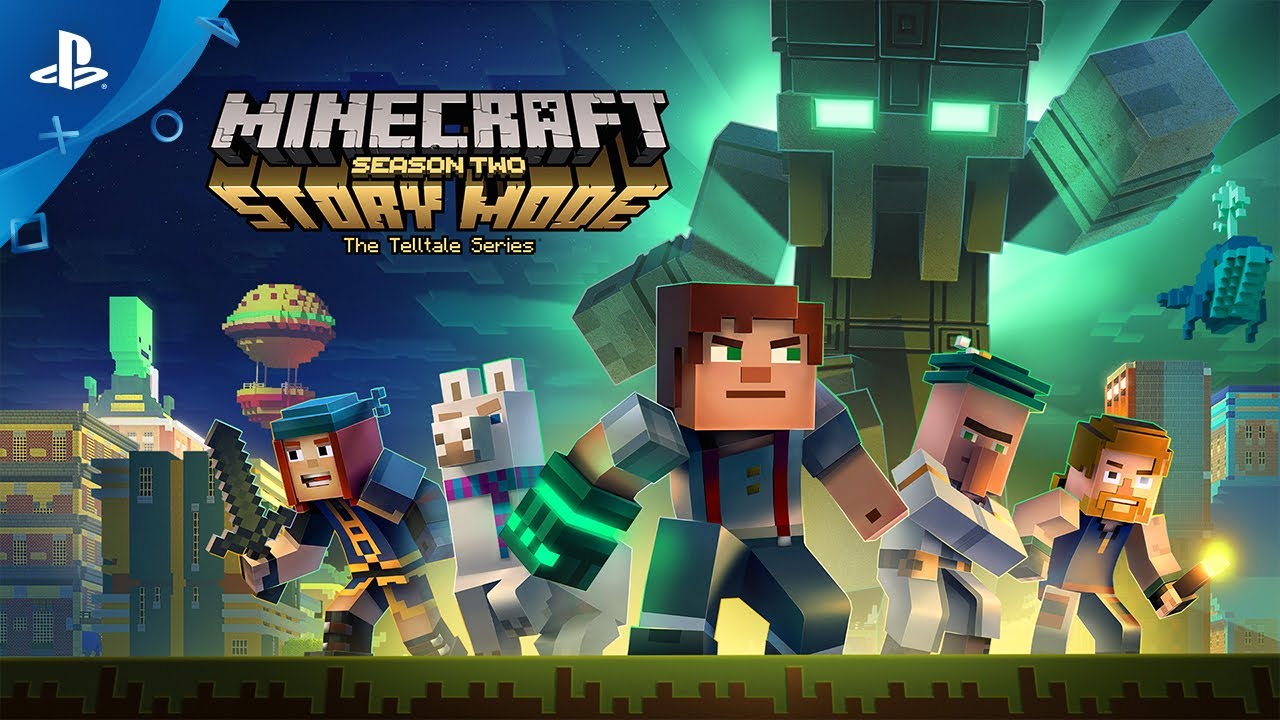 Telltale digs into their new trailer to share some hidden details and easter eggs.
Hey PlayStation fans — greetings from Telltale! The second season of Minecraft: Story Mode — which we're once again creating in collaboration with our partners at Mojang — is coming to PS4 on July 11, so we sat down with three of the project's lead developers to gain some behind-the-scenes insights into the references, easter eggs, and teases hidden in the new trailer. Watch the trailer above, then dive into the full breakdown below…
Gone But Not Forgotten – You may have noticed we have a new animal friend (frenemy?) in Minecraft: Story Mode – Season Two: Lluna the llama. "When we heard that Mojang was adding llamas, that was it," says Lead Designer Brian Freyermuth. "It was perfect. An animal that could be cute and nasty, all at the same time." After Reuben the pig's…er, incident in the first season, however, the team took the introduction of a new animal companion very seriously. "We were unsure if it was too soon or not, and we didn't want it to feel like we were just replacing Reuben," says Season Director Jonathan Stauder. As part of their effort to ease the transition, the team created a memorial in town and included an optional pig pageant. You can see some of these pageant-worthy pigs in the trailer.
Glitches?! – That big Sea Temple you see uses some custom textures not actually found in Minecraft proper because it was built by season two's larger-than-life villain: the Admin. "We worked with Mojang to pull stuff from old versions of Minecraft [including] glitches and exploits that people used while building, like glowing obsidian and floating water," says Lead Writer Eric Stirpe. You may notice some re-skinned creatures in there as well.
A New Adventuring Duo – Adventuring and business partners Jack and Nurm have been a hit internally, so it's nice to see them in action in the trailer here. Nurm answers the question "What role would a villager play in Story Mode?" but where did Jack come from exactly? "Jack is our version of Kurt Russell," says Stirpe, "and Jack and Nurm are our very own Han and Chewie." Freyermuth elaborates, "I'm a huge fan of Big Trouble in Little China, so the thought of a character like Jack Burton in Minecraft was amazing."
Your World is Expanding – In Jack and Nurm's adventure emporium, there's a particular square of the world map that's conspicuously missing. So what's the secret behind that mysterious square? We tried to get Eric Stirpe to give us some spoilers, but all he would say is this: "We explored the Order of the Stone in the first season, and now we're going back even further into the foundational secrets of our world." Ominous.
Beacontown Easter Eggs – Jesse's home base, Beacontown, is jam-packed with easter eggs and references to later plotlines, including a very special easter egg that's just off-screen during the Beacontown shot in the trailer. "There are two cat houses in Beacontown that our Art Director, Mark Hamer, made with his daughter and directly imported into the town," says Stirpe. Freyermuth adds, "The Beacontown area is something I'm particularly proud of. I bet most players are going to see different things every time they play through it. Keep a look out for a certain familiar building from all the way back in episode one of season one."
Hidden Parrots – You might notice a lot of parrots flying around throughout season two of Minecraft: Story Mode. Jonathan Stauder loved putting bats into the first season and made it his personal mission to include at least one parrot in the second. Once our dev team learned of his mission, they decided start adding a few… extra parrots. Like, a lot of extra parrots. See how many you can spot in the trailer alone (hint: check the rafters in Jack and Nurm's shop)!
YouTubers IRL (Sorta) – In case you didn't hear when we first announced season two, Minecraft YouTubers Stampy Cat and stacyplays have returned! You can spot them in Beacontown in the trailer alongside their very own custom houses. "We had a great collaborative process with Stampy and Stacy in making their houses," says Stirpe. "We asked them to write a paragraph about their building trademarks, then our art team made mock-ups for them, and we all got to work on the designs together."
New Outfits for the Gang – It's been a few years since the events of the first season, so when we see the Order of the Stone again, they have some updated outfits. "Petra's old armor has been starting to basically break down, so she's cobbled together different pieces here and there," Freyermuth comments. "I love Petra's new armor because you get to see this really cool combination that reflects both her mercenary ways in the first episode of season one and the iconic Order armor we gave her later on."