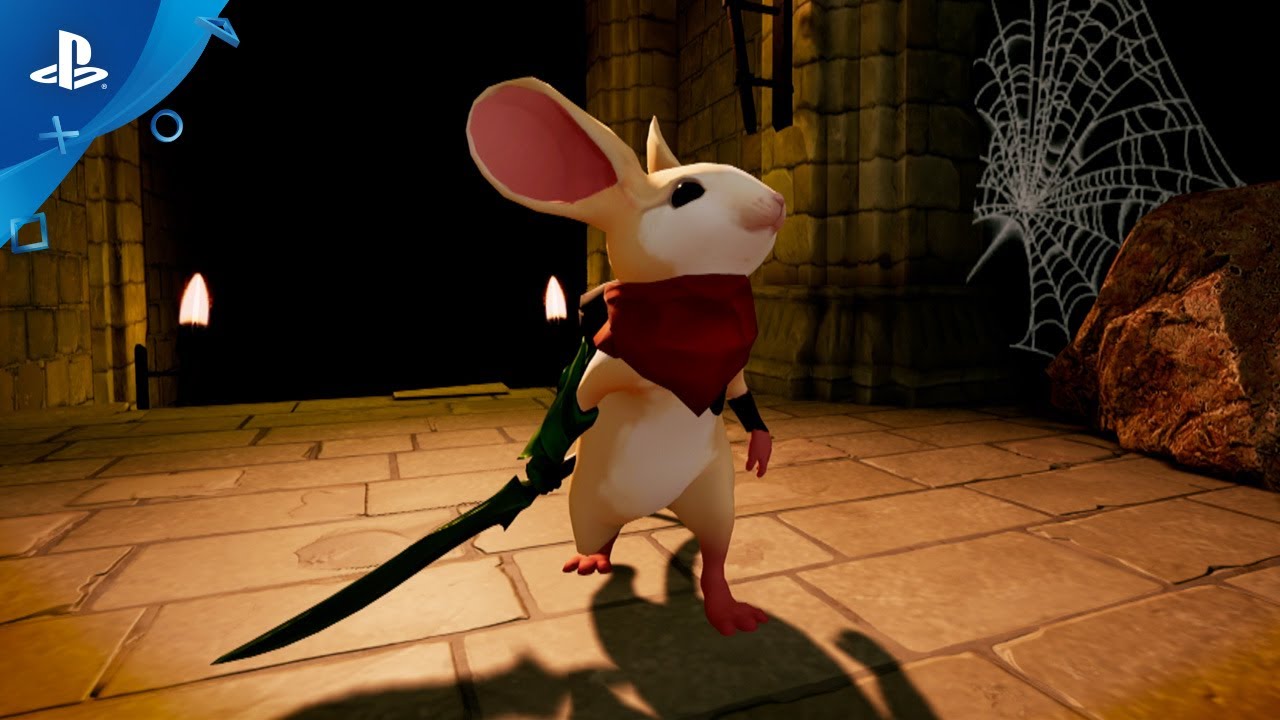 Form an extraordinary bond with an unassuming hero in this bold new PlayStation VR journey.
Hey everyone,
It has been a lifelong dream of mine to collaborate with creative minds and make cool games. It's my pleasure to share that dream with you all by introducing you to the world of Moss on behalf of all of us here at Polyarc. I am grateful for the privilege to share the first look at the world we are building at Sony's E3 2017 press conference. We've worked hard to make something great, and while there is much more work ahead we are excited to give you a look. If you missed the live show please see the link to our trailer included at the top of this post.
For those attending E3 in person, we'd love to meet you and show you our game. We'll have a playable demo of Moss for you at the Sony booth so please come on by and say hello. After you watch the video and/or play the demo please tell us what you think. We are making this game to share with all of you, and it is very important to us to hear your reactions and thoughts.
Polyarc was founded to pursue the opportunity to express our craft in the new and exciting medium of VR. Our goal is to make the most of the possibilities VR offers to build new worlds and tell new stories. It is our belief that the fundamentals of what make a game great apply to VR and that with those fundamentals in place, we can make something truly special. We are excited to bring you physically into the world of Moss where you are both guiding the hero Quill with the gamepad and at the same time reaching in and interacting with the environment directly. Our hope is that Moss offers a rich and entertaining game that appeals to those of us that are already fans of VR while offering something compelling to those that have not yet discovered the magic.
Moss tells the tale of the first adventure of an unlikely hero named Quill—a small mouse from a remote forest settlement who is fated to be the key in a much larger story. One day while exploring the woods she finds a mysterious stone and an ancient magic is awakened, linking you together in an extraordinary alliance. In gameplay, her skills are complementary to yours. You'll guide her actions through familiar action-adventure controls, while also directly manipulating the field of play as your own character. Mutual communication and shared victories will only strengthen your connection to each other and further your joint resolve.
We're so proud of this trailer, our demo, and the world that we're creating. We believe this is a game for everyone—early VR adopters, casual gamers, or really, anyone looking for an exciting new experience. And being able to share it with you this E3 is honestly, a dream. But there's still a lot of work ahead of us to get Moss to its full potential. And much like Quill, we need you by our side on this journey. So please, let us know what you think and stay connected!