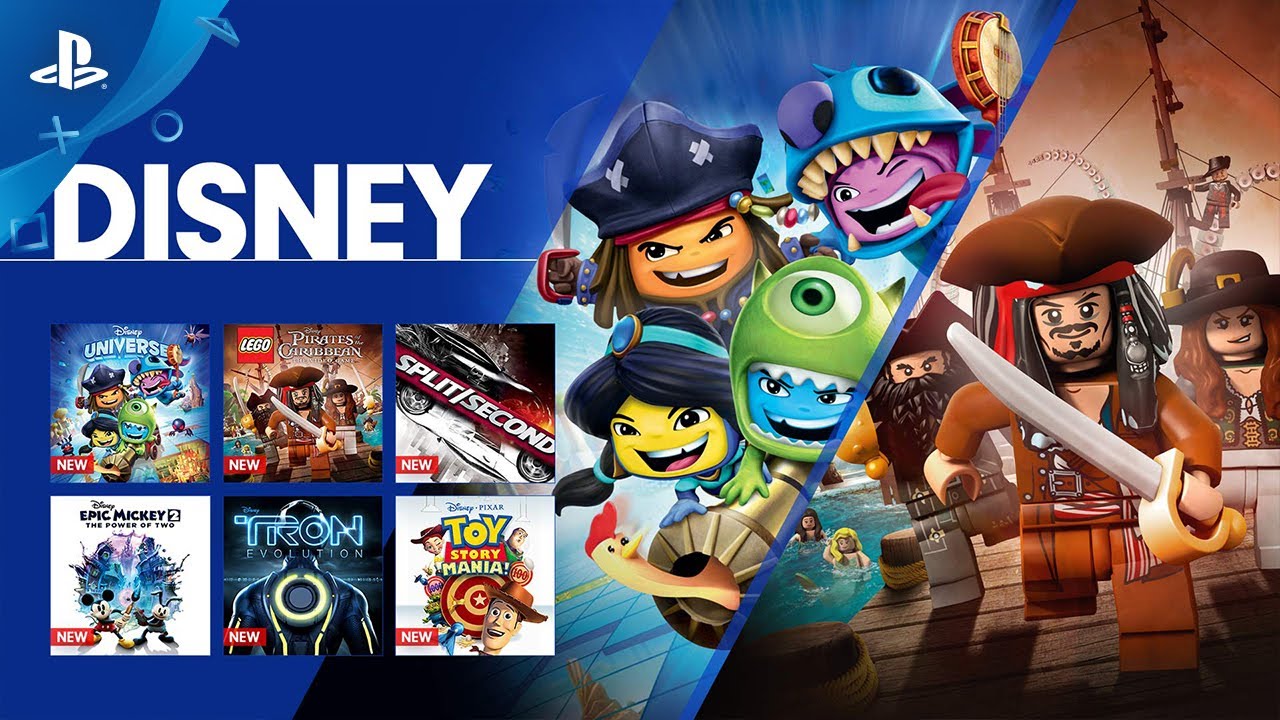 LEGO Pirates of the Caribbean, Epic Mickey 2, Toy Story Mania and more are now available to stream.
It's June and the first day of summer is right around the corner. With 17 new games from Disney available on PlayStation Now starting today, it is the perfect time to enjoy some Disney magic – especially if you're heading into summer vacation.
Suit up as your favorite character in Disney Universe, a multiplayer adventure where iconic Disney characters and legendary Disney worlds collide. Re-live the exciting swashbuckling tales of Captain Jack Sparrow, Will Turner, and Elizabeth Swan in LEGO Pirates of the Caribbean: The Video Game, which includes the first four PotC films. Buckle up and take the wheel in Split Second and experience thrilling racing, destructible environments, and driver-triggered "powerplays" as you race to the finish line.
Join Mickey and Oswald in their quest to save the Wasteland in Disney's Epic Mickey 2: The Power of Two, a cooperative colorful adventure. Discover the beautiful digital world of Tron: Evolution, a third-person action game with racing and RPG elements, and learn about the events that took place between the original Tron movie and the recent Tron: Legacy sequel. Enjoy a variety of carnival games and attractions based on Toy Story and its iconic characters including Buzz Lightyear and Woody in Toy Story Mania!
The fun doesn't stop there! Here is the full list of all 17 games available now on PlayStation Now:
Disney Universe
LEGO Pirates of the Caribbean
Split Second
Disney's Epic Mickey 2: The Power of Two
TRON: Evolution
Toy Story Mania!
Monkey Island: Special Edition
Pirates of the Caribbean: At World's End
Monkey Island 2: Special Edition
Cars 2: The Video Game (PS3)
Brave
Cars Race-O-Rama
Phineas and Ferb: Across the Second Dimension
Cars: Mater-National Championship
Bolt
G-Force
Ratatouille
If you're new to PS Now, the service offers access to a large and ever expanding lineup of games for one low monthly price. Since the service is based on our cloud streaming technology, you can access the entire catalog of games, select one, and start playing quickly without needing to wait for downloads. Also, PS Now uses cloud saves, letting you start a game on PS4 and continue playing on Windows PC (or vice versa).
If you haven't given the service a try yet, now's the perfect time to give it a spin with the seven-day free trial on PlayStation 4 and Windows PC.
Here's a list of some of the most popular games on PlayStation Now last month.
Red Dead Redemption
Payday 2
Star Wars: The Force Unleashed
Mortal Kombat
Injustice: Gods Among Us
Star Wars: The Force Unleashed II
WWE 2K15
Sniper Elite III
Mafia II
Tekken Tag Tournament 2