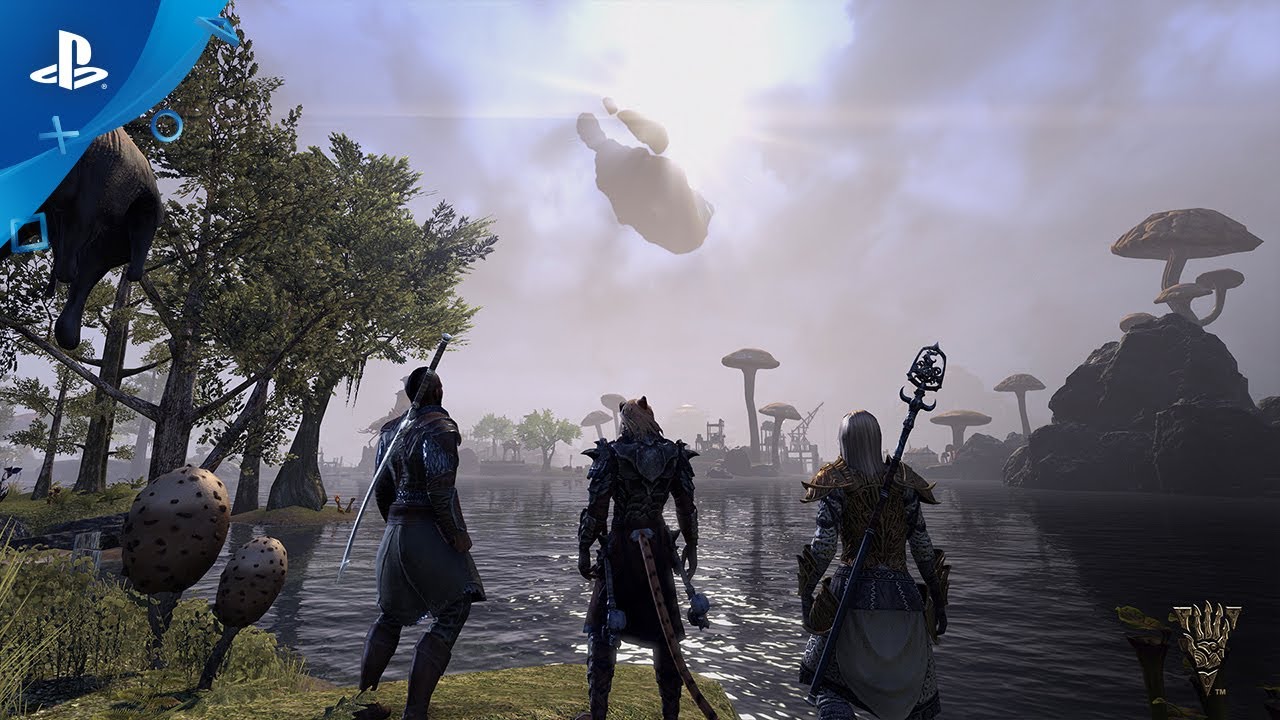 Take your Elder Scrolls Online character into a massive new region, or create a new one and dive straight into the expansion's new content.
Millions of players have spent countless hours exploring the dark corners and grand cities of The Elder Scrolls Online since its original launch on PlayStation 4 in 2015, and today, The Elder Scrolls Online: Morrowind launches globally. This new Chapter in The Elder Scrolls Online saga introduces a massive new area to explore, a new character class: the Warden, a new small-scale, fast-paced PvP mode with Battlegrounds, a new 12-player Trial in the Halls of Fabrication, and more than 30 hours of quests and exciting story content.
The Elder Scrolls Online: Morrowind is the biggest addition to The Elder Scrolls Online yet and redefines the traditional MMO expansion by delivering vast new content and features that are equally accessible and fun for both existing and new ESO players.
You can start a character without completing any previous ESO content and head straight into Vvardenfell to enjoy hundreds of hours of original ESO quests just waiting to be explored. If you're an ESO veteran, you can upgrade the base game and immediately journey to Seyda Neen to start your new adventure with your existing characters or begin fresh with an all-new Warden.
After three years of refinements, updates, and incredible DLC additions, ESO today plays more like a traditional Elder Scrolls game than ever before, featuring all of the same freedom of exploration and unique character building that you have come to love in games like The Elder Scrolls V: Skyrim.
You can join millions of other players online to adventure together, conquer World Bosses, Delves, and Trials as a group, or, if you want to play by yourself, you can save Morrowind on your own as you would in any other Elder Scrolls RPG.
The Elder Scrolls Online: Morrowind adds a host of new content for the game including:
A Massive New Zone — Vvardenfell: The largest zone added to The Elder Scrolls Online since launch is also a nostalgic trip through one of the Elder Scrolls' most beloved lands. In this new Chapter, the entire island has been painstakingly reimagined 700 years before the events of The Elder Scrolls III: Morrowind. Utilizing the same geographic footprint as TES III, you can travel from the docks of Seyda Neen, to the volcanic Ashlands, to dense, mushroom-filled forests, and even through the bustling cantons of a Vivec City still under construction.
New Class – The Warden: Now, you can harness nature-based magic to master the powerful new character class: the Warden. The Warden is the first new class since launch of ESO, and true to ESO and the Elder Scrolls franchise, you will have the freedom to select from a number of abilities that enable a variety of play styles. The Warden also introduces a devastating new combat ally – the War Bear – a ferocious fighter that will stay by your side throughout the game's most intense battles.
New PvP Mode – Battlegrounds: The Elder Scrolls Online is renowned for open world PvP battles, pitting hundreds of players in a massive battle for supremacy in Cyrodiil. The Elder Scrolls Online: Morrowind will introduce a new PvP mode – Battlegrounds – that features intense 4v4v4 battles in arena-like environments. You can take the battle to the Ashlands to claim your place among the fiercest and most accomplished combat veterans in Tamriel.
The Elder Scrolls Online: Morrowind is available today! You can visit the PlayStation Store to buy either the full game, which includes the new Morrowind adventure as well as the original ESO content, or, if you're already an ESO player, you can just grab the upgrade and make your way to Seyda Neen.
We cannot wait to see you explore Vvardenfell for the first time in 15 years!