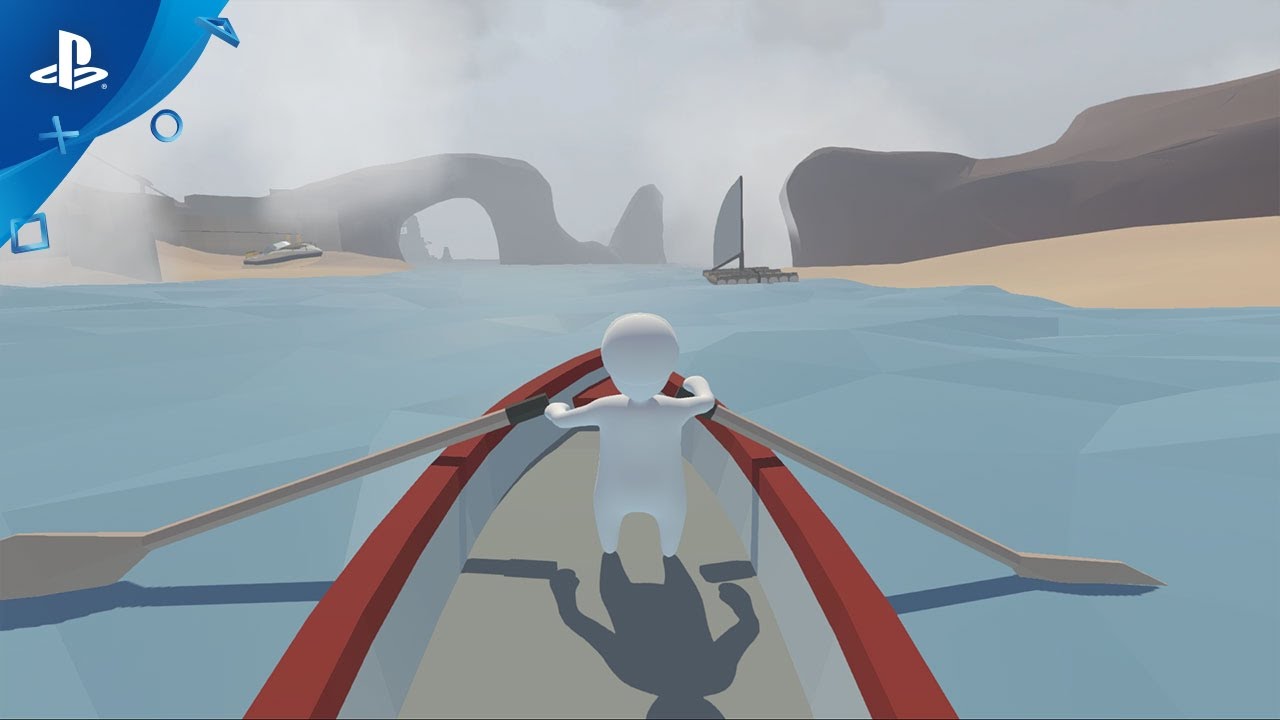 The only limit is your (twisted) imagination in this surreal, physics-based puzzler.
Hello PlayStation Fans. I'm Tomas, and I'm the developer behind Human: Fall Flat, a game that combines tough puzzles with the very real laws of physics. The only limit is your ingenuity. Human: Fall Flat is available to pre-order right now at PlayStation Store, and doing so gets you a Dynamic Theme and a whole other game for free. Head over to PS Store now. Or read on to see what kind of whacky adventures await you. Then fling yourself over to the store.
Human: Fall Flat sees you controlling Bob, a man with no special powers who's trapped in surreal dreamscapes with the task of solving challenging puzzles. There'll be switches to flip, blocks to push, and doors to unlock. However, in the world of Human: Fall Flat, your approach to these is entirely up to you.
Master the art of wobbly parkour to throw yourself over obstacles or into new areas? Check.
Use any object you can carry to bridge gaps or create your own path? Check.
Fire yourself out of a catapult or commandeer a speedboat to zip around whatever's in your way? Absolutely check!
The only limits in these dreamworlds are your imagination — and those pesky laws of physics. Gravity does not mess about, but learn to master it and the dreamworlds will become your oyster! Explore a medieval castle, raid an ancient temple, avoid electrocution in a power plant — each world has its own unique items and challenges. I love seeing the videos and streams players create of their antics in the game, and I hope you all share your own adventures with others around the world. It's a great way to find new paths and hidden secrets.
Of course, you don't have to undertake Human: Fall Flat alone. You can play with a friend in local co-op and find all new solutions only possible with an extra pair of hands. However, friendship can be part of a problem. Hurling your friends, loved ones, or strangers (that you can pull in off the street with the promise of hilarious physics) off a cliff in a dumpster is a distraction that can last for hours. The same goes for running them over in vehicles or grabbing them by the head and flinging them about. Anything goes in co-op, and you can each give your Bob their own personality with a library of custom hats and outfits.
With a pre-order you will also get a free copy of dexterity adventure Manual Samuel! This game tasks you (and an optional friend) with surviving 24 hours doing everything manually, from breathing and walking to driving and working with hazardous substances. Manual Samuel is the ultimate complement to your Human: Fall Flat adventure.
Human: Fall Flat launches May 9 on PS4. Mark it in your diaries.