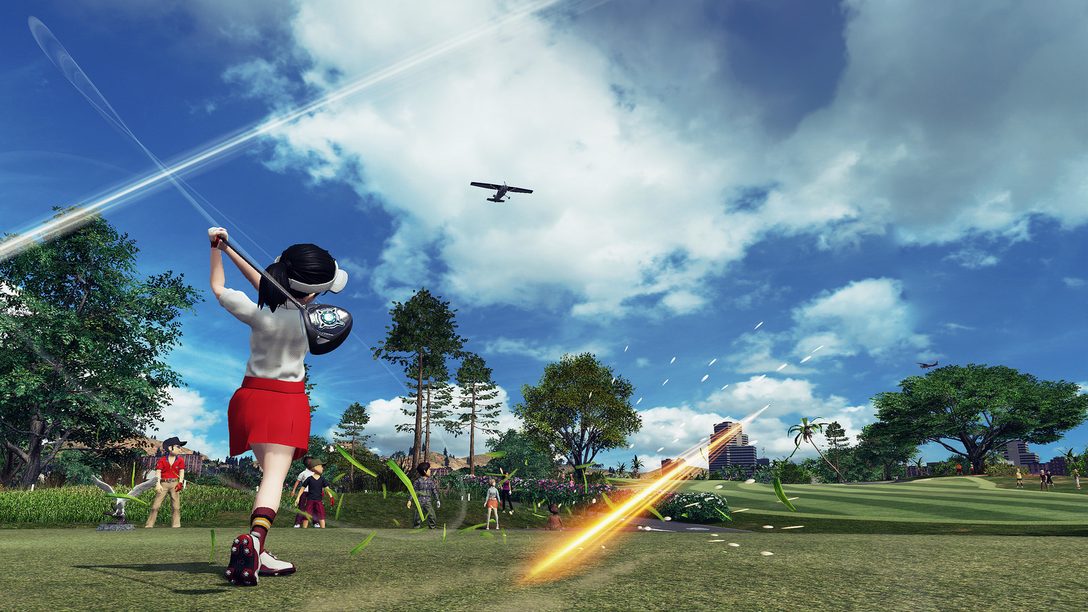 The iconic gameplay, character customization, and charm of the Hot Shots Golf series returns.
Update: Online servers for Everybody's Golf will shut down on September 30, 2022. All online features (including online multiplayer modes) will cease on that date. You will still be able to play and enjoy the game in single-player modes.
What type of golfer are you? A casual weekend golfer? A semi-pro? Maybe you're one of those golfers who spends more time picking out your outfit than you spend practicing your swing? Or maybe you're not a golfer at all, but you've been playing Hot Shots Golf for years!
No matter your play style, we're pleased to invite golfers and gamers of all skill levels to play the next installment in the Hot Shots Golf franchise — Everybody's Golf. And what better way to celebrate the 20th anniversary of the franchise than to launch the next iteration of the series this summer.
We're pleased to announce that Everybody's Golf will launch on August 29, 2017 for PS4!
Not only does Everybody's Golf boast the same three-click shot mechanic our fans have come to love, but the series returns with new features such as more character customization, robust online modes,* and other fun activities including fishing, buggy racing and treasure hunting in the open world environment. How you enjoy the game is up to you.
*Some online modes require PS Plus membership.
Pre-order For Bonus Items!
Starting today, you can pre-order Everybody's Golf from PlayStation Store for $39.99 ($49.99 CAD). Check out the list of bonus items below that you'll receive when you pre-order the game at PlayStation Store:
Instantly downloadable upon pre-order purchase:
Everybody's Golf Original Avatar
Available on Day 1:
The 20th Anniversary Course
Rabbit Mascot Costume x1
Unique shirt x2
Premium Kart x1
PS Dynamic Theme x1
Closed Online Test
And before we sign off, we wanted to share some exciting news for our most eager fans! We will be conducting a Closed Online Test which starts toward the end of May. We will send details to eligible players soon, so make sure to check your email!
Hope to see you on the course soon!