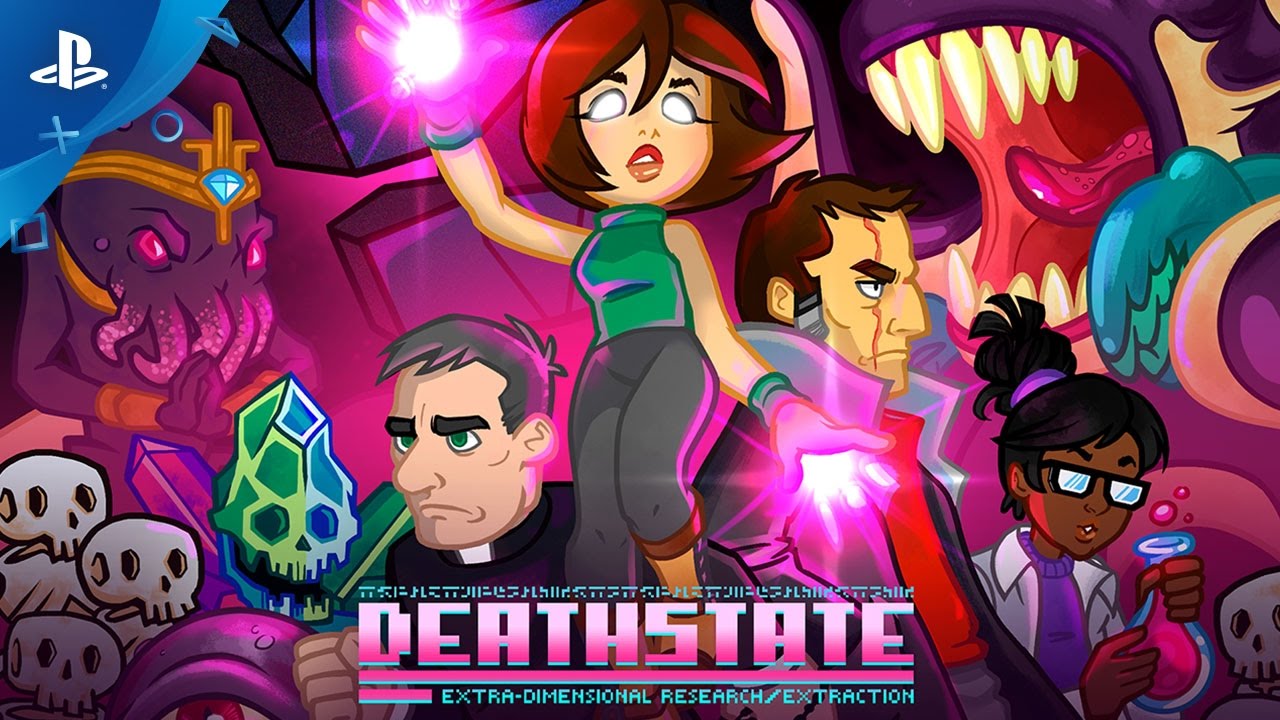 Explore the multiverse and collect more than 100 different organs, weapons, and relics in this single-stick roguelike.
When we began our first Indie game back in 2014, codenamed "Motherlode," we had two tantalizing ideas embedded in our brains:
Combine "Bullet Hell" and "Roguelike."
Get weird!
The reality-warping collision of these concepts became Deathstate, the best transdimensional indie bullet hell single-stick roguelike shooter ARPG ever made!
Creating a bullet hell/roguelike was tricky. The bullet hell genre is more about dodging and positioning than shooting and aiming, so we knew right away players would need strong directional dodges. We love Binding of Isaac and wanted to follow its model, but we quickly discovered that the extreme volume of bullets, constant dodging, cooldown management, and twin-stick aiming added up to an overwhelming combination.
Our solution: lose the second stick!
In Deathstate, you are always shooting (as long as something is close enough to be shot). This shifted the player's attention squarely onto movement and avoidance, and allowed us to get crazy with projectiles. Really crazy. On our highest difficulty, Insanity Mode, the bosses absolutely unload.
Getting weird was easier. While we were making Deathstate our eyeballs were transfixed by movies like Jacob's Ladder and Beyond the Black Rainbow. We were filling our ears with the Carpenter-esque sounds of Zombi, Umberto, and other synth-wave wonders. Deathstate's otherworldly setting and synthed-out soundtrack grew from this creepy stew.
The story: when Professor Elinberg goes missing from a shadowy New England university, a truth-seeking student finds herself trapped in a library suspended halfway between reality and the professor's darkest discovery: the Deathstate.
Using your newfound magical powers and apparent immortality, you'll dive into the abyss — discovering planes full of monsters and bosses, treasure and mysteries. From Lovecraftian non-euclidean sunken temples to Hellraiser-esque labyrinthine black light hellscapes, Deathstate goes to some weird and wild places based on weird and wild inspiration.
In just a few weeks, you can go there, too! Bread Machine is excited to announce Deathstate is coming to PS4 on April 25, 2017!
Explore the multiverse as one of 10 playable characters. Collect more than 100 organs, weapons, relics, and grimoires. Fight more than 80 monsters including 14+ intense bosses. Die repeatedly — it's for the best. You must have learned by now that death only makes you stronger.