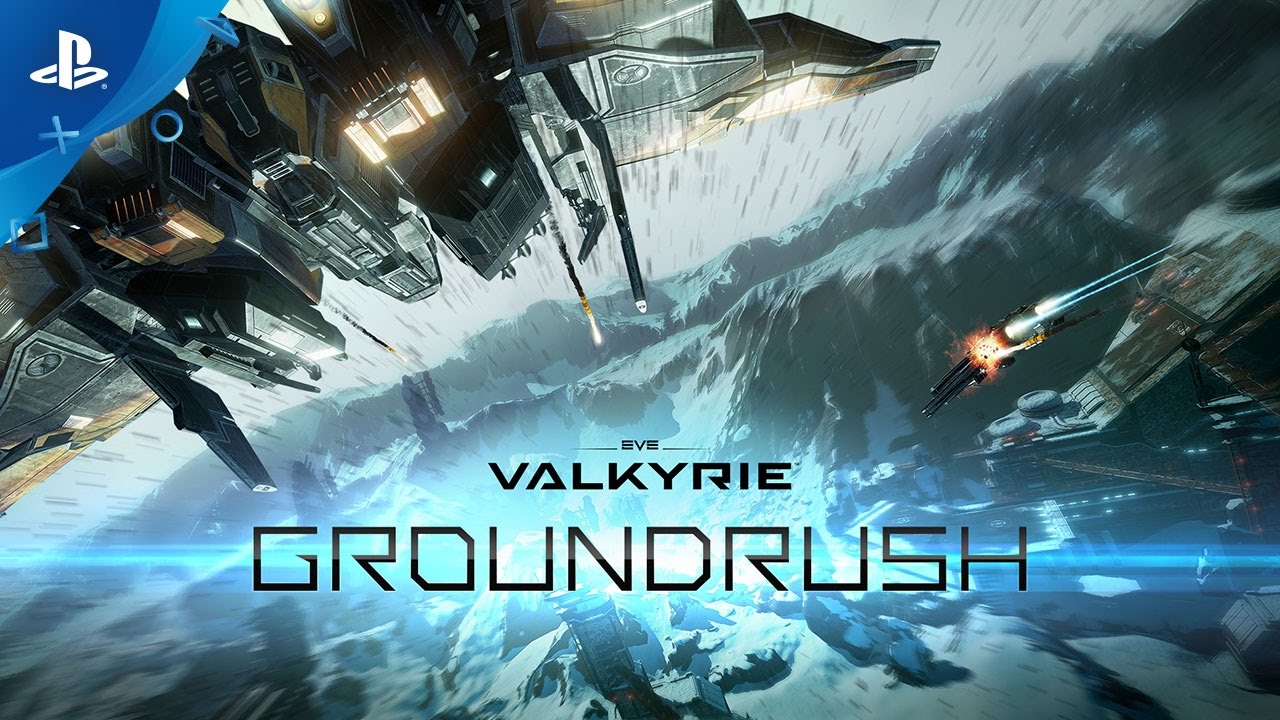 Major free update takes the fight to the surface of a planet, featuring new Solitude map and a host of gameplay improvements.
Hey pilots! We've got an update for all our PlayStation VR top guns and fresh-faced recruits out there. It's always a pleasure to introduce new content, especially as thanks to the all the support we're receiving from our vibrant PlayStation community. It's a joy to fly alongside you… even when you're blasting me into a thousand pieces. ;-) Anyway, on to the good stuff!
Groundrush is our next free game update for Eve: Valkyrie, and it's launching on PlayStation VR Tuesday, April 11.
With every update, we try to push Eve: Valkyrie's gameplay in new and exciting directions. As part of the Groundrush update you will gain access to our stunning new map, Solitude. This is a radical departure from the battlefields of open space as the action is set against the backdrop of our first combat zone located on a planet's surface. We're excited to see how pilots adapt their techniques to capitalize on all the new hazards (and opportunities) that come with this new environment.
You'll also find even weirder and wilder new gameplay in our next round of weekend Wormholes! We've added a ton of new content, from twisted locations to exotic mechanics there's lots to be discovered. We eagerly await reading tales of your adventures in wormhole space on our forums.
Our Co-Op mode has now been expanded to include both Control and Carrier Assault game modes. This player versus AI only playlist is the perfect place for pilots looking for a challenge with other pilots, rather than against them. No matter which mode you select, all XP progression and rewards are the same. You play the game how you want to, and be rewarded for it. Squads welcome!
Also new for this update is our avatar animation feature. Aside from making our virtual world a far more believable and realistic place, the animations will help pilots celebrate a victory or commiserate a defeat.
Accessibility and usability have both been focal points during the development of Valkyrie, so we are pleased to announce that English subtitles will be available as part of this new game update.
On top of all these new additions, we've been making further changes to our Valkyrie League Alpha, improving our Training modules, tweaking our multiplayer playlists and fixing many bug and stability issues to ensure we deliver the best possible experience for all our pilots.
I'm incredibly excited to be revealing this info to our amazing PS VR community first, and I'm looking forward to hearing your feedback and reactions on our forums, so drop by and join the discussion. We'd love to hear from you.
What are you waiting for? Light 'em up and let's get out there!