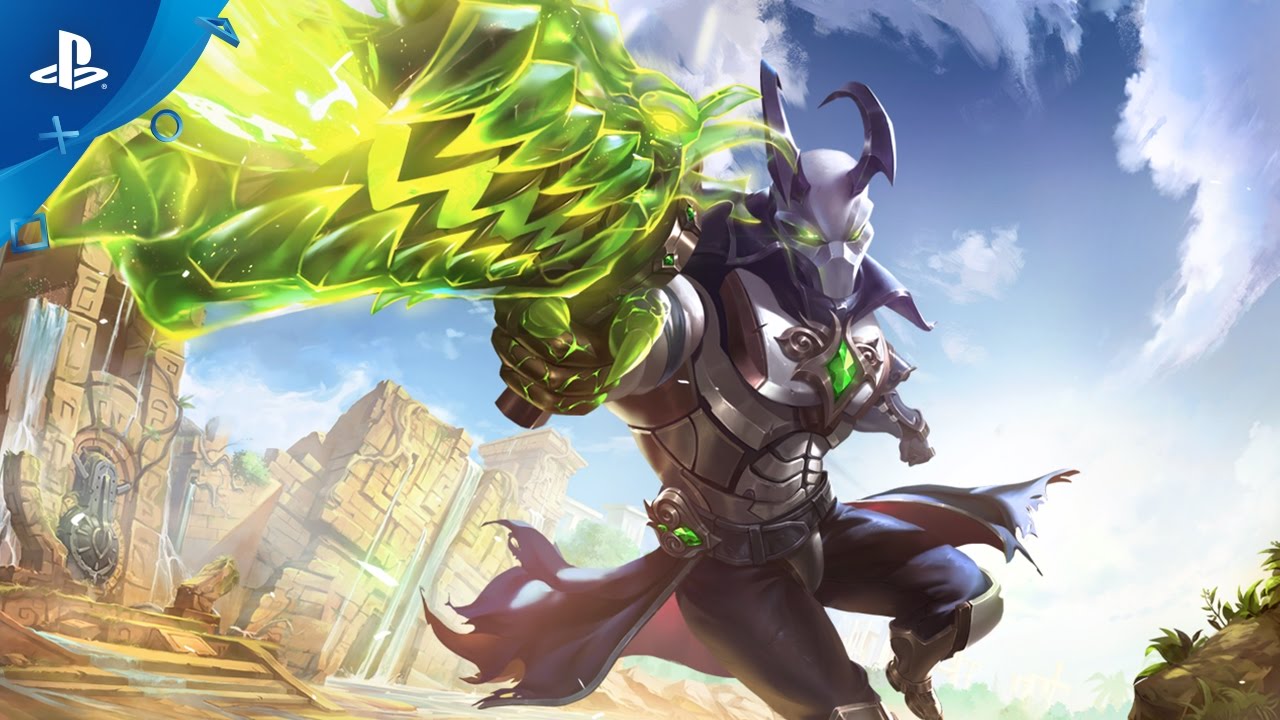 PS4 teams can qualify to compete in DreamHack Valencia this July for a shot at the $50,000 prize.
We're happy to announce that the Paladins Closed Beta starts today… and you could earn a free trip to Spain.
TL;DR:
Paladins Closed Beta is finally here!
You get instant access to Paladins (plus all the Champions we ever release, forever) when you buy the Founder's Pack for just $15 — 25% off the normal price!
Paladins console esports starts now. And we're sending the two best PS4 teams to Spain to participate in DreamHack Valencia 2017.
What is Paladins?
Never heard of Paladins? It's a fantasy, team-based shooter. It's a world of knights with flamethrowers, dragons with rocket launchers, and furry alchemists who turn enemies into chickens. As you can probably tell, we don't take ourselves too seriously.
But Paladins is a game that has a lot of depth and customization compared to other hero shooters. It's a game where you can play how you want to play.
You can build your own loadout of cards to amplify and augment each Champion's core set of abilities, so he or she becomes exactly the Champion that you want to play. And your Champion looks exactly how you want him or her to look, thanks to our multi-part skin system.
How Can I Play?
Easy: starting today, you can buy the Paladins Founder's Pack at PlayStation Store!
As a welcome gift to new players dying to get into the Realm, you can get the Founder's Pack for just $15 through March 28. That's 25% off… and PlayStation Plus members will get an even better discount!
The Founder's Pack doesn't just give you Closed Beta access. It also includes:
Every Champion we ever release. Ever. Forever.
A Beta-exclusive Skin Collection and Mount.
10 Radiant Chests, each containing Cards, Skins, and more.
72,000 Essence to craft the cards you want.
A Paladins-themed skin for Ares in Smite on PS4.
One big note: the Founder's Pack only gets better as more Champions are released, and we release Champions all the time. We're on track to release at least 15 new Champions this year!
Don't have $15 to spare at the moment? Don't worry — like all Hi-Rez Studios games, Paladins will be free-to-play for everyone when it's released into Open Beta at a future date. In the meantime, you can sign up for a Beta code here.
Paladins Esports? Free Trip to Spain?
Since we first announced Paladins was coming to PS4, we've heard the same question over and over: "Can I play competitive Paladins on PS4?"
Today, we're happy to reveal our answer is a resounding yes. You and your friends could win the $50,000 Paladins Console Wars at DreamHack Valencia, July 13-16 in Valencia, Spain!
Two PS4 teams will qualify for the tournament. The best team in North America, and the best team in Europe. Those two teams will face off for the title of best PS4 Paladins team.
So to sum it all up:
Buy the Founder's Pack for $15 and start playing Paladins today.
Get really good.
Win a free trip to Spain and a share of $50,000.
That just about wraps it up. We've just got one question left: are you ready to defend the Realm, Champion?