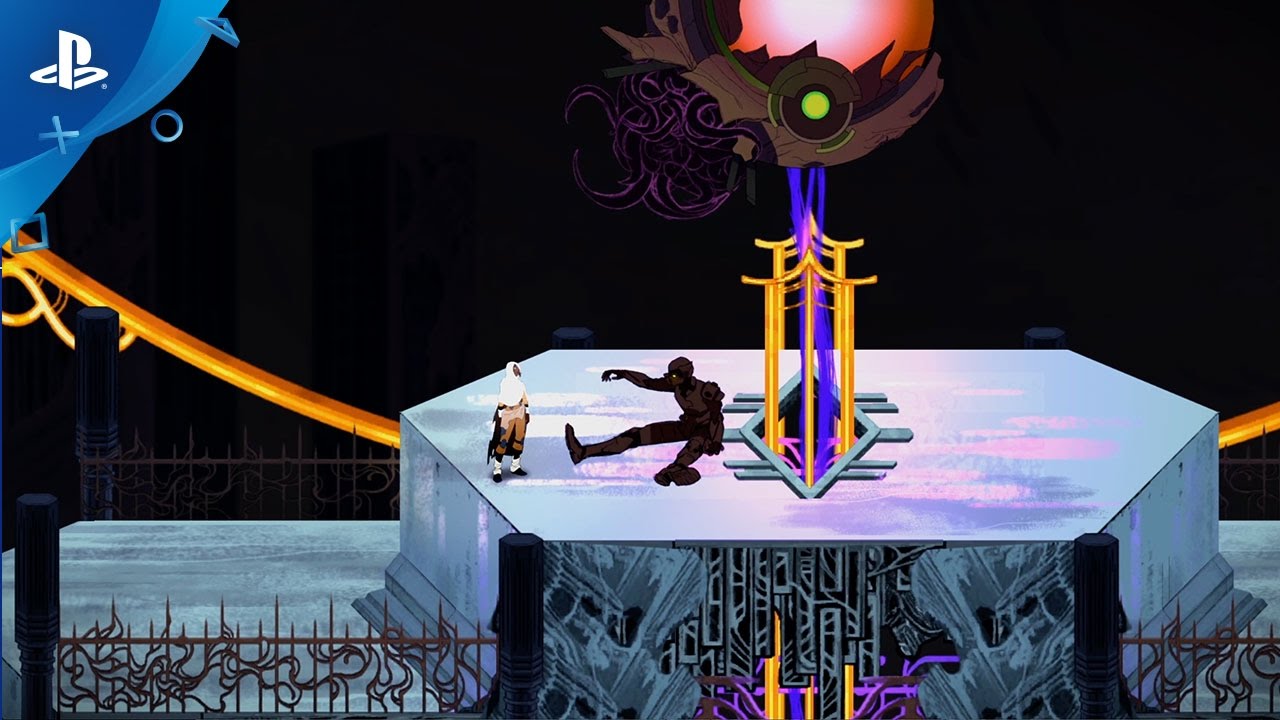 Creative Director William Dubé explores the design process for this upcoming dark adventure.
I love boss fights. They're the ultimate test of skill — the highest gameplay and emotional peak. They're the reason I love to make games. Nothing brings me more joy than seeing players get totally crushed by a terrifyingly gargantuan beast. Today, I'm really excited to announce Sundered's third boss: Legion & Salvation.
Legion & Salvation are the masters of Sundered's third domain, the Eschaton City. A terrible mash up between an Eschaton Cultist and a Valkyrie General, this boss truly shows the horror of what lies deep within Sundered's entrails.
Big boss fights have become somewhat of a trademark for Thunder Lotus, but this one is a little different. Legion & Salvation are a bit smaller than our other bosses. It's also the first time we do a double boss (clones don't count for those of you who've played Jotun), and we were heavily influenced by another great boss: Smough and Ornstein from Dark Souls. Tons of emergent gameplay happens when all three entities interact. Beware of their enraged attacks — they become particularly dangerous.
Over the last three years, we've streamlined and improved our development process in many ways. To create a boss, we start with the story. Where is it from? What does it represent? What themes do we want to convey through what it looks like? Then we move on to gameplay. What player abilities or mechanics do we want to test? How can we make this boss different from other bosses? Can we do something that no one has ever seen before?
Once we have an idea, it's time to test it both visually and with a prototype. We'll do some concept art to start getting a feel of what the boss looks like, how it moves, the mood it conveys. In parallel, we'll start coding a prototype. What kind of attacks does the boss have? Does it move in a special way? Does it have specific patterns? Once these are done, we'll do some rough animations. These replace the programmer art and allow us to really get a feel for the boss. We make adjustments, then move onto final animations. Once these are in the game and boss is fun, we ship it off to music and sound-effects. For me, a game without sound is a game without life, so this is when I can really see if the boss comes together or not.
Ultimately, Legion & Salvation are also the perfect reflection of Sundered's core themes: the battle between Eschatons and Valkyries, the loss of humanity into madness, and epic gameplay moments.
Resist or embrace.