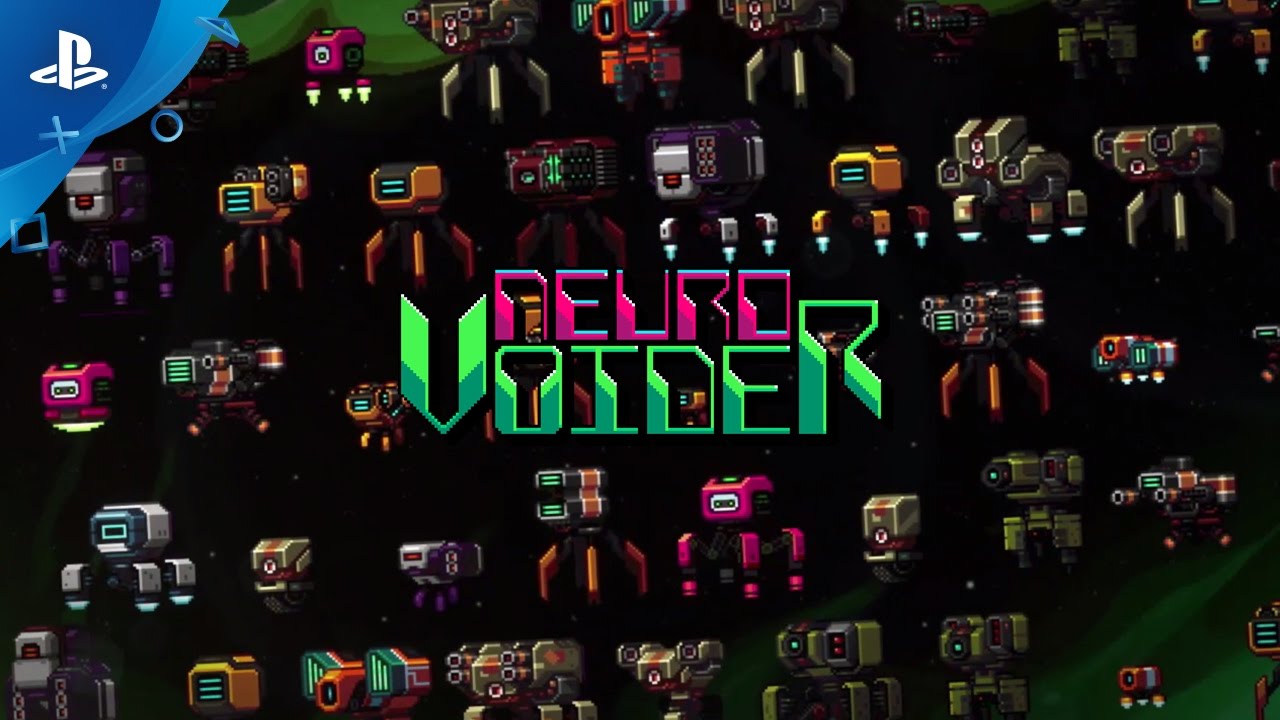 Loot parts from your defeated foes and build the perfect fighting machine.
After 55 weekly updates and approximately 200 pizzas eaten during its development, we are proud to finally release NeuroVoider on PS4 March 14.
And if you weren't lucky enough, the launch of NeuroVoider on consoles comes with more of everything: more enemies, more environments, more explosions and, of course, more BOOM VIIIZ ZAAAP KABOOOOM.
We crafted NeuroVoider as an action-packed, top-down, twin-stick shooter featuring RPG mechanics. With four-player cooperative support, it's an adventure with hack 'n 'slash rampaging, featuring a pinch of roguelite and a bunch of explosions.
Your mission, should you choose to accept it, is to play as one of the four human brains kept as test subjects, and lead Mankind's last hope against the Evil Robots of the master NeuroVoider. Easy peasy.
It'll definitely be easier once you unlock and load the Doom bringer and unleash your pew pew pew power.
If you don't want to end up as bloody brain remains scattered on the cold floor, you'll have to loot and assemble parts from defeated foes so you can build your own robotic entity to pilot.
As icing on the cake, new dark synth tunes from Dan Terminus will be included for your speakers (and neighbors) pleasure!
NeuroVoider has already gathered a small community of twin-stick lovers skimming the leaderboard with their Prophetic Mini-Nuke of Mother Bleeding. If that doesn't do it for you, I don't know what will.
We are Flying Oak Games, a two-man team composed of Florian (the pixel magician) and Thomas (It's me! I'm the "tech and other stuff" guy.), and everything started around some pizza.
Before working on NeuroVoider, Florian and I had the habit of spending our Friday nights together playing local multiplayer games like TowerFall, Borderlands, and Nuclear Throne. Playing with friends, all together on the couch with a slice of pizza, is what we like the most in gaming! Hence, we were quite obliged to create our own take on the four-player, action-packed style of those games. NeuroVoider was born! Explosions, dark synth music, high replay value, and a good dose of difficulty to spend the whole night having a good time, alone or with a bunch of friends.
We are really looking forward to bring NeuroVoider to your console!
Cheers guys!