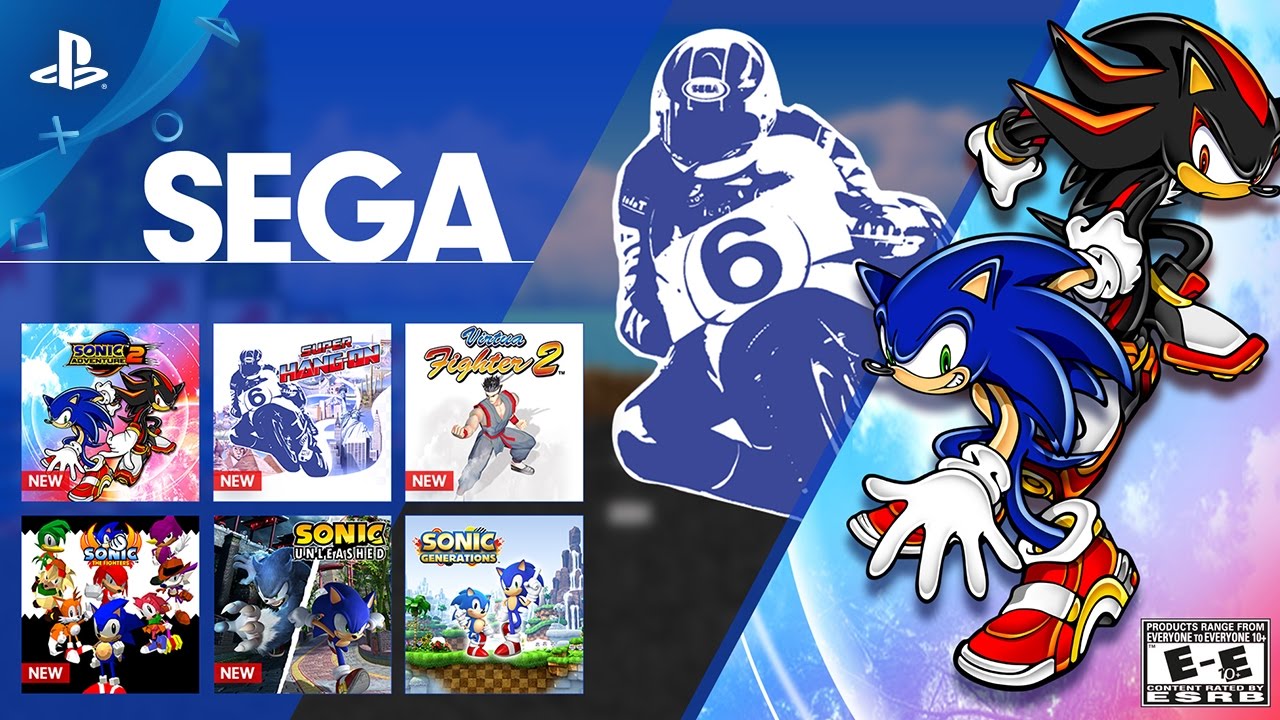 Featuring classics like Revenge of Shinobi, Golden Axe, and Altered Beast, alongside Virtua Fighter 2. Play on your PS4 or Windows PC.
Hello, PlayStation fans! This month we're adding 13 games from the Sega library to the PS Now lineup, which now boasts nearly 500 games.
Starting today, enjoy a range of classic Sega titles like Super Hang-on, Revenge of Shinobi, Golden Axe, and Altered Beast. We're also adding some Sega fighting game classics like Virtua Fighter 2 and Fighting Vipers. And of course — Sonic. In addition to Sonic Generations which has been playable in the service for a while now, you can get even more of your favorite blue hedgehog with Sonic Adventure and Sonic Adventure 2, Sonic the Fighters, and Sonic Unleashed.
Here's the full list of new games available as of today on PlayStation Now:
Alex Kidd in the Miracle World
Altered Beast
Comix Zone
Fighting Vipers
Golden Axe
Revenge of Shinobi
Sega Bass Fishing
Sonic Adventure
Sonic Adventure 2
Sonic the Fighters
Sonic Unleashed
Super Hang-on
Virtua Fighter 2
If you're new to PS Now, the service offers access to a large and ever expanding lineup of games for one low monthly price. Since the service is based on our cloud streaming technology, you can access the entire catalog of games, select one, and start playing quickly without needing to wait for downloads. Also, PS Now uses cloud saves, letting you start a game on PS4 and continue playing on Windows PC (or vice versa).
If you haven't given the service a try yet, now's the perfect time to give it a spin with the seven-day free trial.
Here's a list of some of the most popular games on PlayStation Now during February:
Red Dead Redemption
Tekken Tag Tournament 2
Mortal Kombat
WWE 2K15
The Last of Us
Mafia II
Injustice: Gods Among Us
NBA 2K14
Sid Meier's Civilization Revolution
Batman Arkham Origins
Sonic Generations
Lego Batman 2 DC Super Heroes
Wheel of Fortune
Beyond Two Souls
Dark Souls II
Saint's Row 2
Saint's Row IV
Red Dead Redemption: Undead Nightmare
God of War III
Uncharted 3: Drake's Deception
Jeopardy
The Sly Collection
God of War Ascension
Farming Simulator 15
Catherine
Ninja Gaiden 3
Ultra Street Fighter IV
Batman Arkham City
Twisted Metal
Lego Harry Potter Years 1-4