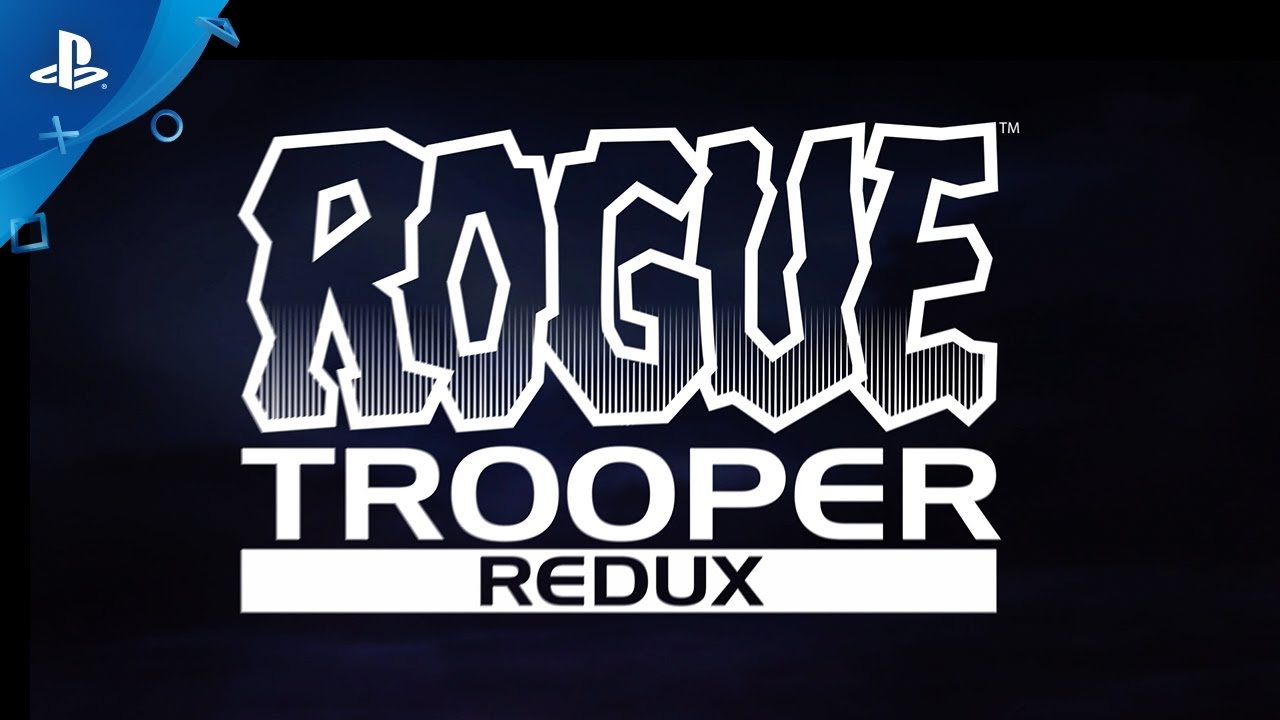 Today we're very excited to announce Rebellion's first new game since we launched Sniper Elite 4 on Valentine's Day!
If you follow Rebellion you might already know that we don't just make games. We also publish the legendary British comic 2000 AD, famous for characters like Judge Dredd, Sláine, Nemesis, and — of course — Rogue Trooper!
Coming soon to PS4, Rogue Trooper Redux is a loving remaster of the acclaimed 2006 third-person shooter based on the comic book of the same name.
This year 2000 AD celebrates its 40th birthday, and we can't wait to bring one of its most memorable figures to a whole new generation of PlayStation players.
New to 2000 AD? Never played the original game? Here's a little intro to our blue-skinned soldier…
Who is Rogue Trooper?
Created by beloved writer Gerry Finley-Day and groundbreaking artist Dave Gibbons, Rogue Trooper has been a comic book mainstay since 1981 and has even included contributions from Alan Moore, writer of Watchmen and V for Vendetta.
Rogue Trooper tells the tale of the sole-surviving Genetic Infantryman (or "GI"), a blue-skinned, bio-engineered soldier on a mission to avenge his fallen comrades across the blasted, chemical-poisoned planet of Nu Earth in a remote corner of the galaxy.
Why does he fight?
Bred for war by the Southers in their endless conflict with the colonial Nort regime, the GIs were the only troops that could fight on Nu Earth's surface without respirators or sealed HAZMAT suits, giving them a huge advantage in combat.
Aware of this threat, the Norts conspired with the Traitor General to set a deadly trap for the GIs which later became known as the infamous "Quartz Zone Massacre."
Of the hundreds of GIs who made the drop, Rogue was the only survivor, taking the bio-chips from the bodies of his three closest comrades so they might survive to be implanted in new GI bodies.
From that day on he had one mission — hunt down the Traitor General!
What makes Nu Earth so special?
A planet-wide conflict across petrified forests and polluted plains, a yawning black hole that dominates every skyline… I'm not sure there have been many more dramatic stages for a war story!
What makes the set-up unique though, is Rogue himself.
While Rogue walks alone, he fights as a team. With the sentient bio-chips of his fallen buddies Gunnar, Bagman, and Helm inserted into his rifle, pack, and helmet, respectively, Rogue has access to a huge variety of unique upgrades and abilities that not only drive the game's tactical shooting, but pays homage to the essence of the comic.
All this makes for a unique action game that feels as good now as it did in 2006. We can't wait to show you more of Rogue Trooper Redux and maybe even convert a few more of you into GIs!