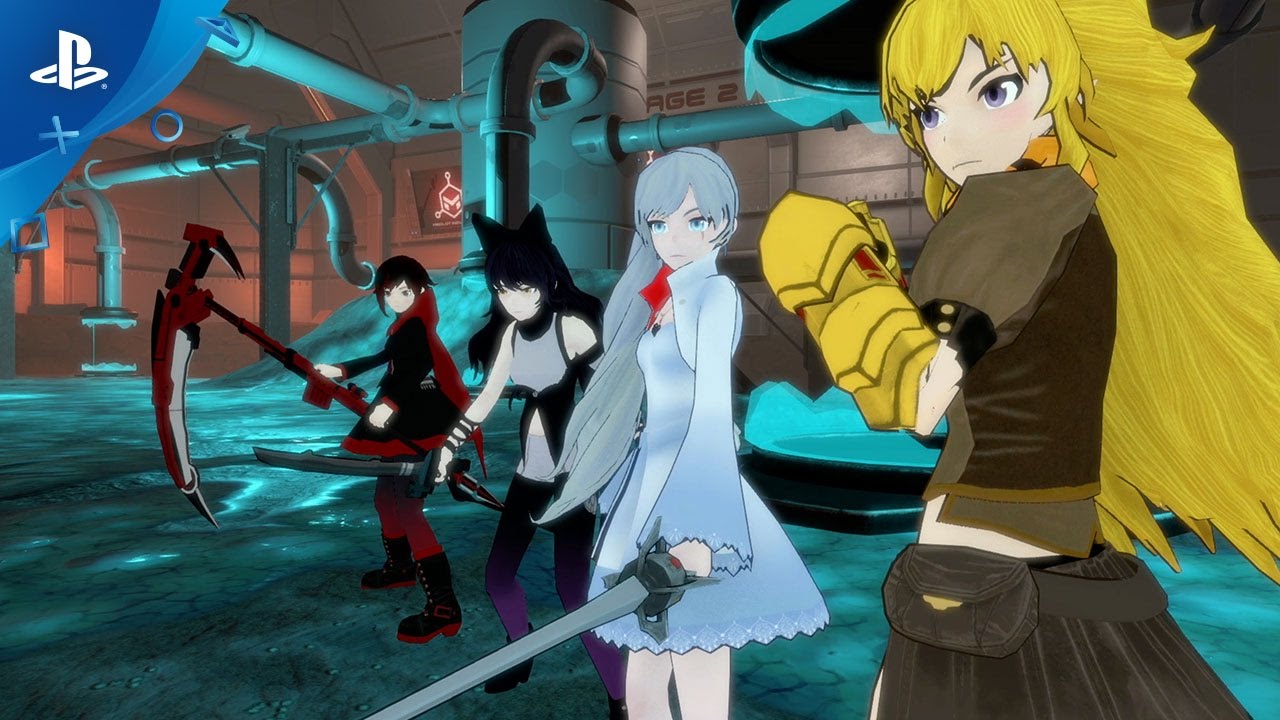 From all of us here at Rooster Teeth Games, we are extremely excited to announce RWBY: Grimm Eclipse is launching January 17 on PS4!
That's right! In partnership with our friends at Panic Button, we are finally bringing the non-stop action of RWBY: Grimm Eclipse to your living room.
RWBY: Grimm Eclipse is four-player, online hack-n-slash based on Rooster Teeth's international hit series RWBY. Choose your favorite Team RWBY character and jump online with your friends as you explore a new storyline, new locations, new enemies, and a never-before-seen villain revealed in the game.
Each playable character has their own unique unlockable abilities and upgrades, giving you plenty of choices on the battlefield and lots of replay value. Take a break from the story campaign to conquer Horde mode, an intense co-op action-strategy mode where you and your team must defend security nodes from endless waves of enemies.
We designed the fast-paced combat to be easy to pick up, yet hard to master. Basic combat is split between light and heavy attacks with your Ultimate ability bringing the most damage. Depending on your playstyle and how you upgrade your character, you can choose from long-ranged attacks or up-close melee combos.
Here are a few tips to give you an advantage on the battlefield.
Use ranged attacks to finish off enemies with low health, aggro enemies, or keep your combo meter going. Higher combo counts fill your Ultimate bar faster.
Attack enemies who are stunned with a fully charged heavy attack to set up a team attack.
Bigger enemies like Ursas and Alpha Beowolves are best fought as a team since they can only target one player at a time.
Frozen enemies will not break out of ice for a set period of time, so try to deal as much damage as you can before they escape.
When an Ursa performs its ground-pound attack, wait until it is almost done and dodge out of the way. It will stun itself, giving you time to perform a fully charged heavy attack.
In Horde mode, communicate with your teammates as much as possible. Evenly space yourselves out, and as soon as someone is downed make sure someone else revives them. Working as a team is critical in Horde mode.
Damaging any enemy in Horde mode will immediately redirect its attention away from the security nodes. Use this strategy to pull enemies away from damaged nodes. If only one security node goes down, it's game over!
While expensive, shotgun turrets are extremely powerful and can deal with most enemies on their own.
To make your experience even sweeter, we will soon launch Team JNPR as downloadable content. Team JNPR will come with four new characters, each equipped with an entirely new set of unlockable abilities and upgrades. Experience the story campaign in a whole new way with Team JNPR. Mix and match your new JNPR abilities with other Team RWBY players or even take them into Horde mode for RNJR mayhem.
But wait, there's more! Our partners at Panic Button are also working on a series of dynamic Themes featuring your favorite RWBY characters, enemies, and locations. And as a special bonus, if you purchase RWBY: Grimm Eclipse in the first two weeks of launch (Jan 17-31), you'll receive an exclusive "Grimm Beowolf" dynamic Theme that's sure to add some fervor to your PlayStation.
We hope RWBY fans enjoy playing RWBY: Grimm Eclipse as much as we enjoyed developing it. We can't wait to see you on the battlefields of Remnant!