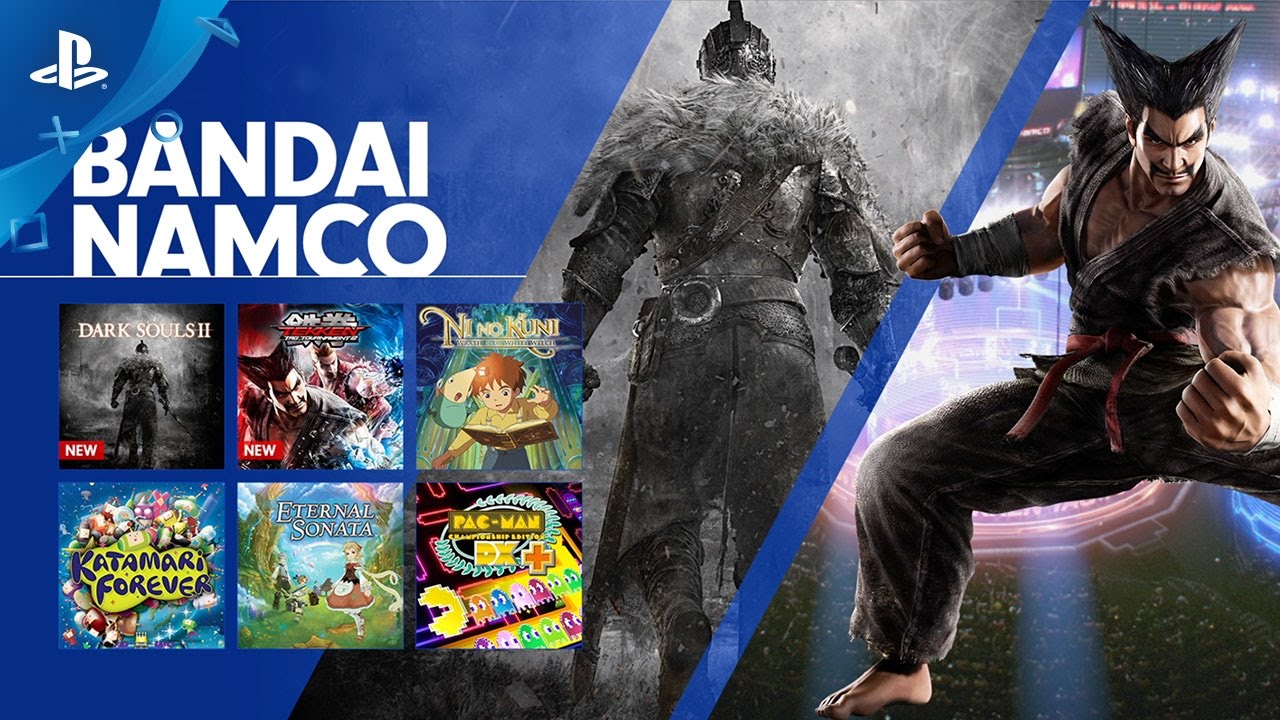 Beginning today, PlayStation Now subscribers can enjoy even more of Bandai Namco's biggest franchises. Experience FromSoftware's hit RPG Dark Souls II and explore the dangerous world of Drangleic.
Or pick your favorite fighters and go head-to-head in Tekken Tag Tournament 2. Also new this month are Namco Museum Essentials (Pac-Man, Xevious, Galaga, DigDug, Dragon Spirit, and Xevious Resurrection), as well as Dead to Rights: Retribution.
Don't forget to check out our other Bandai Namco games already available including fantastic RPGs like Ni no Kuni: Wrath of the White Witch and Eternal Sonata. And consider timeless classics like Katamari Forever, Pac-Man Championship Edition DX, and Galaga Legions DX.
Besides Tekken Tag Tournament 2, PlayStation Now also has a strong line-up of heavy-hitting fighting games like Mortal Kombat, Ultra Street Fighter IV, Injustice: Gods Among Us, Street Fighter III 3rd Strike, WWE 2K15, Dead or Alive 5 Last Round, Guilty Gear Xrd Revelator, Darkstalkers Resurrection, The King of Fighters XIII, BlazBlue, Virtua Fighter 5, and many more, with versus multiplayer support.
If you're an RPG and JRPG fan, we've got you covered with even more games like XCOM Enemy Within, The Legend of Heroes: Trails of Cold Steel 1 and 2, Disgaea 3, Disgaea 4, Disgaea D2, Rainbow Moon, Costume Quest 2, Dragon Fin Soup, Legasista, The Witch and the Hundred Knight, and more!
If you're not a PS Now subscriber yet, check out these games and more with the seven-day free trial. You can also take advantage of our introductory pricing of just $9.99 for the first month (new subscribers only), or upgrade your subscription with another 12 months for $99.99, for a few more days. Take advantage of these deals before the promotion ends!
Here's a list of some of the most popular games on PlayStation Now over the past month:
Red Dead Redemption
Mafia II
Mortal Kombat
WWE 2K15
The Last of Us
Red Dead Redemption: Undead Nightmare
Beyond: Two Souls
Injustice: Gods Among Us
Sid Meier's Civilization Revolution
NBA 2K14
Catherine
Tomb Raider
Saint's Row IV
Sonic Generations
Batman Arkham Origins
Wheel of Fortune
Farming Simulator 15
Saint's Row 2
Uncharted 3 Drake's Deception
Ultra Street Fighter IV
God of War III
Lego Batman 2 DC Super Heroes
Twisted Metal
Batman Arkham City
Greg Hastings Paintball 2
God of War: Ascension
Lego Harry Potter Years 1-4
The Sly Collection
Sniper Ghost Warrior 2
The Walking Dead
Heavy Rain