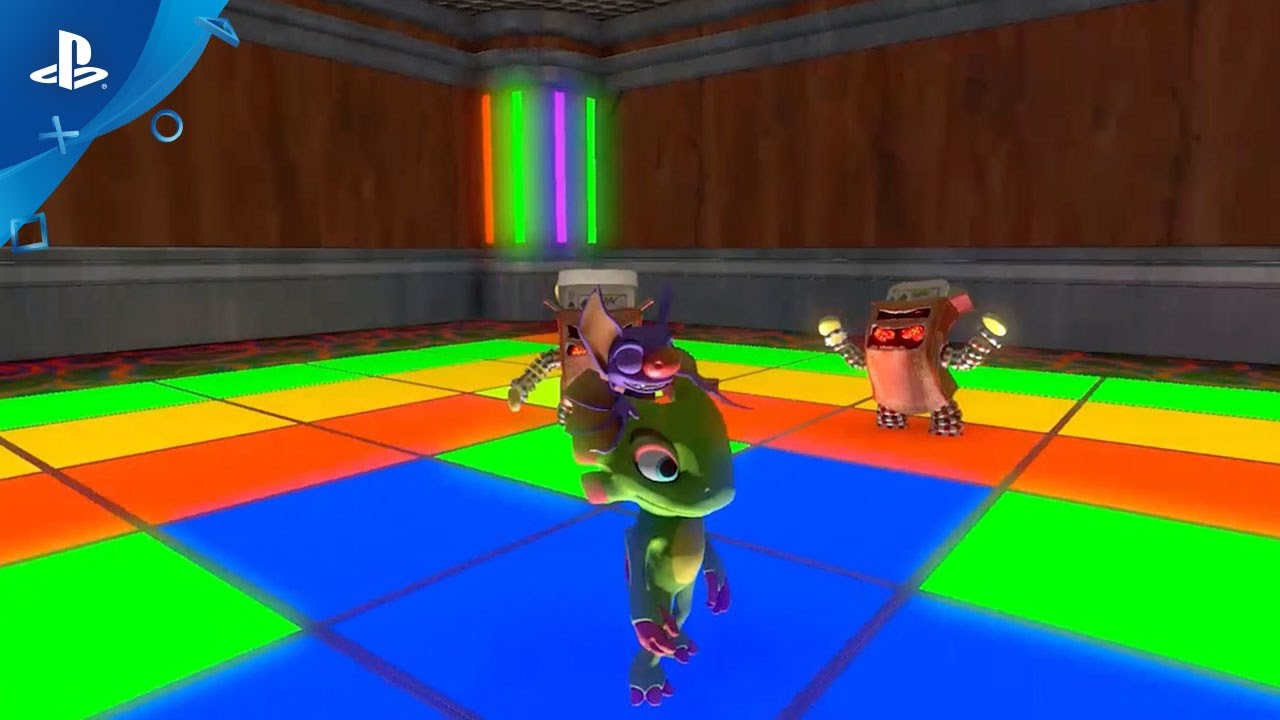 Hello, people of PlayStation! We're Playtonic Games and we're delighted to introduce a brand new trailer for our phantasmagorical PS4 platformer Yooka-Laylee, and confirm a release date of April 11, 2017!
Yooka-Laylee is a love letter to classic platformer-adventure games, from a team comprised of veterans behind genre classics such as the Banjo-Kazooie and Donkey Kong Country games. You can expect huge, beautiful worlds to explore, quirky characters to meet (and beat), a vault-load of collectables, and just the right amount of nonsense puns.
Using an arsenal of special moves, our heroes Yooka (the green one) and Laylee (the wisecracking bat with the big nose) will tackle a huge variety of puzzles and platforming challenges in their search for Pagies, the golden bounty used to unlock — and expand — new worlds, each jammed to the gills with oddball characters, hulking bosses, minecart challenges, arcade games, quiz shows, multiplayer games… and much more!
Today's latest trailer showcases a brand new world from the game, Capital Cashino. This glamorous, marble-floored playground has our buddy-duo navigating gambling halls, nightclubs, and oversized roulette tables in search of delicious golden bounty. But there's a twist; players must now compete to win casino tokens, and exchange them with the banker for their pivotal Pagies!
As with all the worlds in Yooka-Laylee, players can choose to expand Capital Cashino and make the environment even larger and more complex, with whole new areas to explore, characters to meet, and challenges to complete. And if you find Dr. Puzz, she has a head-spinning transformation to unlock!
This is just one way which Yooka-Laylee empowers player choice, in addition to the ability to purchase moves in virtually any order from the serpent salesman Trowzer, and the unique Tonic gameplay modifiers which can be used to customise your play style.
Yooka-Laylee is now available to pre-order in digital and physical flavors from all participating stores worldwide and from PlayStation Store. As an extra special reward, the pre-order offer includes an instant unlock for the Yooka-Laylee PS4 Toybox, a custom-built, spoiler-free sandbox designed to give players a taste of the platforming mechanics set to appear in the full game!
We look forward to surprising you with many more fantastical worlds, oddball characters, and excellent dad jokes when the final version of Yooka-Laylee arrives on April 11, 2017.