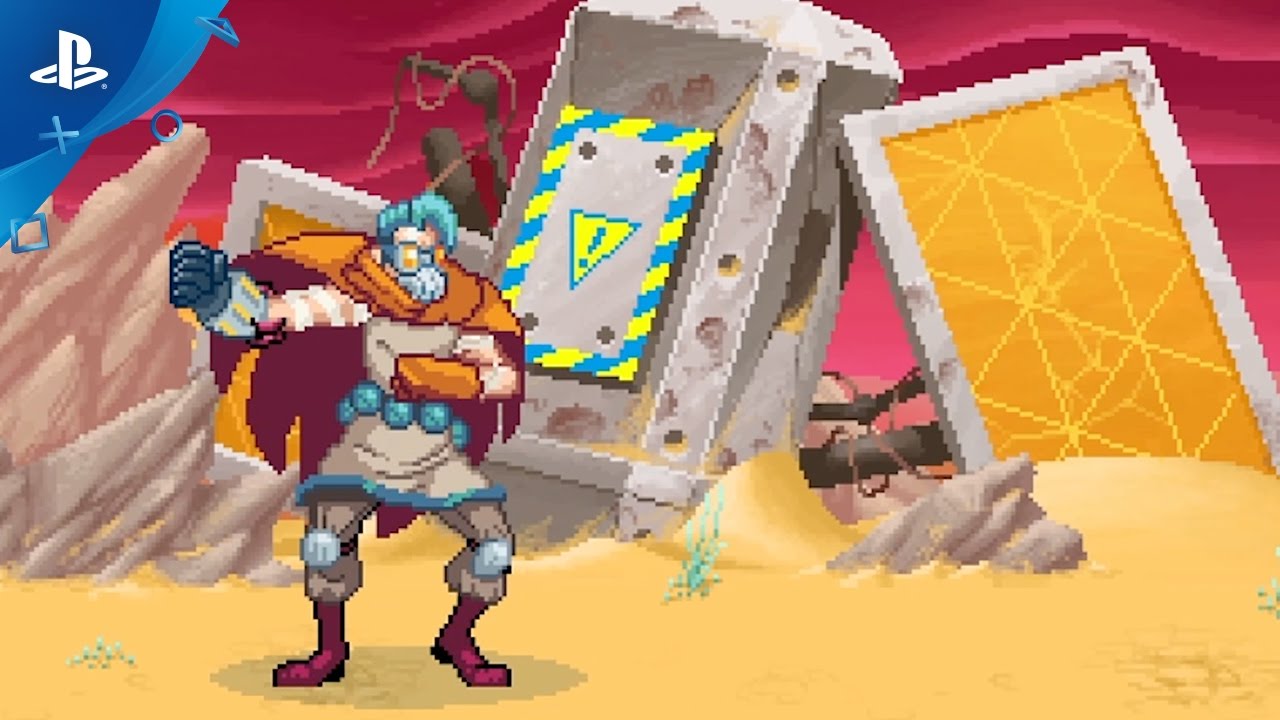 I'm really looking forward to PlayStation Experience this year, and I'm very proud to announce that Household Games' first title, Way of the Passive Fist, is coming to PS4 in 2017. I am also very excited to announce that Way of the Passive Fist will be playable for the first time at PlayStation Experience 2016 this weekend.
In Way of the Passive Fist you play as The Wanderer, a mysterious figure of unknown origin who has mastered the art of the Passive Fist and fights enemies defensively to wear down even the mightiest of opponents. Unlike most arcade-style brawlers, The Wanderer doesn't have a basic attack like a punch or a kick, instead you have an array of parries, deflections and dodges at your disposal. No button mashing here… keep your cool, study your enemies and survive in the wasteland.
Be Passive, Then Aggressive
You can't always be passive, sometimes you need to make a statement, and The Wanderer has a secret weapon tucked away. A mechanically augmented arm that's extremely powerful but requires a lot of energy to use. Luckily, the energy you absorb from enemy attacks charges it up allowing for powerful strikes that can cut down any enemy in your way. It's the right amount of brute force, right when you need it, and it can also rip apart objects in the environment to find useful items and secrets.
Our own 90's Cartoon Universe
From the very beginning, we set out to create a licensed game for the 90's cartoon we wish existed. A lot of my favorite games are the licensed brawlers based on popular cartoons and comic books, and I wanted Way of the Passive Fist to have the same level of exuberance and flair. That feeling when you get to a boss fight and you come face-to-face with one of the villains from the show, that's a feeling I'd like to create in the game.
The game's setting is Planet Eiectus, a world ruled by its volatile and overwhelming sun. Everything on this world is solar powered, but the harsh conditions also make survival extremely difficult. Exhausting oneself is a death sentence. By mastering the Passive Fist technique, The Wanderer continues to endure in the face of desert raiders, mad scientists and fanatical sun worshippers.
Accessibility
In addition to all this Saturday morning-fueled action, I'm proud to say that accessibility is a key focus in Way of the Passive Fist. We're working with speedrunner and accessibility advocate Clint "Halfcoordinated" Lexa as our accessibility & design consultant. With his help, we're making sure everything in the game, the controls, the graphics, the audio and even the gameplay have options to make them as accessible as possible. With this focus in mind, we've also created some unique features that will make the game better for all players!
If you're looking for an arcade brawler offering something new and want to fight your way through an awesome cartoon-inspired universe, I hope you'll check out Way of the Passive Fist at PlayStation Experience 2016.