Tuesday is the new Friday at PlayStation Store! If you're dreading those long lines and storefront crowds come Thursday night, worry no more. Our TGI Black Friday Sale starts right now with steep discounts on AAA games and blockbuster movies – all just a warm, comfy click away.
Save up to 70 percent on titles like Destiny – The Collection, The Witcher 3: Wild Hunt – Complete Edition, Grand Theft Auto V and more, as well as films like Interstellar and Warcraft. PS Plus members save up to 80 percent.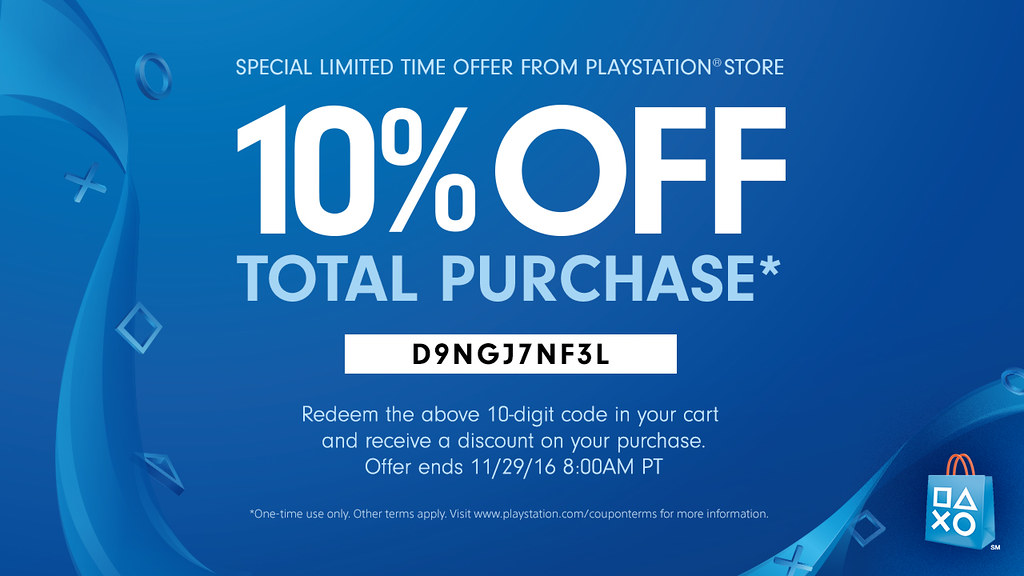 And that's not all. Redeem code D9NGJ7NF3L at checkout to receive a 10 percent discount on one total cart purchase. The limited-time storewide coupon can be combined with all PS Store sales and offers throughout the promotion window (including any surprise deals that might come your way later this week *nudge, nudge).
Check out the full lineup below, but don't get too comfortable. TGI Black Friday deals end Tuesday, November 29 at 8 a.m. PST.
Games
| Format | Title | Sale Price | PS Plus Price | Original Price |
| --- | --- | --- | --- | --- |
| PS4 | ASSASSIN'S CREED CHRONICLES TRILOGY | $14.99 | — | $24.99 |
| PS4 | ASSASSIN'S CREED SYNDICATE | $14.99 | — | $49.99 |
| PS4 | ASSASSIN'S CREED SYNDICATE GOLD EDITION | $29.39 | — | $69.99 |
| PS4 | ASSASSIN'S CREED UNITY | $11.99 | — | $29.99 |
| PS4 | BATMAN: ARKHAM KNIGHT | $11.99 | $9.99 | $19.99 |
| PS4 | BATMAN: ARKHAM KNIGHT PREMIUM EDITION | $23.99 | $19.99 | $39.99 |
| PS4 | BATMAN: THE TELLTALE SERIES – SEASON PASS | $17.49 | $14.99 | $24.99 |
| PS4 | BLAZBLUE: CHRONO PHANTASMA EXTEND | $17.49 | $12.49 | $49.99 |
| PS4 | BORDERLANDS: THE HANDSOME COLLECTION | $23.99 | $19.79 | $59.99 |
| PS4 | BOUND | $11.99 | $9.99 | $19.99 |
| PS4 | BULLY | $10.49 | $8.99 | $14.99 |
| PS4 | CALL OF DUTY: ADVANCED WARFARE – DIGITAL PRO EDITION | $58.99 | $48.99 | $99.99 |
| PS4 | CALL OF DUTY: ADVANCED WARFARE GOLD EDITION | $34.79 | $23.99 | $59.99 |
| PS4 | DARKSIDERS II DEATHINITIVE EDITION | $8.99 | $5.99 | $29.99 |
| PS4 | DESTINY – THE COLLECTION | $44.99 | $39.59 | $59.99 |
| PS4 | DESTINY – THE COLLECTION UPGRADE | $34.79 | $31.99 | $39.99 |
| PS4 | DIGIMON WORLD CYBER SLEUTH | $23.99 | $17.99 | $59.99 |
| PS4 | DIRT RALLY | $29.99 | $23.99 | $59.99 |
| PS4 | DISHONORED: DEFINITIVE EDITION | $11.99 | $9.99 | $19.99 |
| PS4 | DRAGON BALL XENOVERSE | $13.99 | $9.99 | $39.99 |
| PS4 | DRAGON BALL XENOVERSE + SEASON PASS BUNDLE | $22.74 | $16.24 | $64.99 |
| PS4 | EA SPORTS NHL 17 STANDARD EDITION | $35.99 | — | $59.99 |
| PS4 | NHL 17 DELUXE EDITION (POST LAUNCH) | $47.99 | — | $79.99 |
| PS4 | NHL 17 SUPER DELUXE EDITION (POST LAUNCH) | $59.99 | — | $99.99 |
| PS4 | EVOLVE DIGITAL DELUXE EDITION | $19.99 | $15.99 | $39.99 |
| PS4 | EVOLVE ULTIMATE EDITION | $24.99 | $19.99 | $49.99 |
| PS4 | F1 2016 | $38.99 | $32.99 | $59.99 |
| PS4 | FAIRY FENCER F: ADVENT DARK FORCE | $17.99 | $11.99 | $59.99 |
| PS4 | FAR CRY 4 | $14.79 | — | $39.99 |
| PS4 | FAR CRY 4 GOLD EDITION | $25.19 | — | $59.99 |
| PS4 | FAR CRY PRIMAL | $14.99 | — | $59.99 |
| PS4 | FAR CRY PRIMAL – DIGITAL APEX EDITION | $19.49 | — | $64.99 |
| PS4 | GAME OF THRONES – SEASON PASS | $6.24 | $4.99 | $24.99 |
| PS4 | GRAND THEFT AUTO III | $10.49 | $8.99 | $14.99 |
| PS4 | GRAND THEFT AUTO V | $29.99 | — | $59.99 |
| PS4 | GRAND THEFT AUTO V & GREAT WHITE SHARK CASH CARD BUNDLE | $37.99 | — | $75.99 |
| PS4 | GRAND THEFT AUTO V & MEGALODON SHARK CASH CARD BUNDLE | $61.19 | — | $135.99 |
| PS4 | GRAND THEFT AUTO V & WHALE SHARK CARD BUNDLE | $44.54 | — | $98.99 |
| PS4 | GRAND THEFT AUTO: SAN ANDREAS | $10.49 | $8.99 | $14.99 |
| PS4 | GRAND THEFT AUTO: THE TRILOGY | $24.49 | $20.99 | $34.99 |
| PS4 | GRAND THEFT AUTO: VICE CITY | $10.49 | $8.99 | $14.99 |
| PS4 | GUILTY GEAR XRD -REVELATOR- | $17.99 | — | $59.99 |
| PS4 | HITMAN – EPISODE 2: SAPIENZA | $5.99 | $4.99 | $9.99 |
| PS4 | HITMAN – EPISODE 3: MARRAKESH | $5.99 | $4.99 | $9.99 |
| PS4 | HITMAN – EPISODE 4: BANGKOK | $5.99 | $4.99 | $9.99 |
| PS4 | HITMAN – EPISODE 5: COLORADO | $5.99 | $4.99 | $9.99 |
| PS4 | HITMAN – EPISODE 6: HOKKAIDO | $5.99 | $4.99 | $9.99 |
| PS4 | HITMAN – THE COMPLETE FIRST SEASON | $35.99 | $29.99 | $59.99 |
| PS4 | HITMAN INTRO PACK | $8.99 | $7.49 | $14.99 |
| PS4 | HITMAN UPGRADE PACK | $29.99 | $24.99 | $49.99 |
| PS4 | HOMEFRONT: THE REVOLUTION 'FREEDOM FIGHTER' BUNDLE | $27.99 | — | $69.99 |
| PS4 | I AM SETSUNA | $26.79 | — | $39.99 |
| PS4 | JOJO'S BIZARRE ADVENTURE: EYES OF HEAVEN BUNDLE | $29.99 | $23.99 | $59.99 |
| PS4 | JOURNEY COLLECTOR'S EDITION | $14.99 | $12.49 | $24.99 |
| PS4 | J-STARS VICTORY VS | $14.99 | $11.99 | $59.99 |
| PS4 | JUST CAUSE 3 | $20.99 | $14.99 | $59.99 |
| PS4 | JUST CAUSE 3 XL EDITION | $36.33 | $27.88 | $84.49 |
| PS4 | JUST DANCE 2016 | $24.79 | — | $39.99 |
| PS4 | MAD MAX | $9.99 | $7.99 | $19.99 |
| PS4 | MANHUNT | $8.99 | $7.49 | $14.99 |
| PS4 | MAX PAYNE | $8.99 | $7.49 | $14.99 |
| PS4 | MEGA MAN LEGACY COLLECTION | $7.49 | $5.99 | $14.99 |
| PS4 | MEGADIMENSION NEPTUNIA VII | $7.49 | $4.99 | $49.99 |
| PS4 | MIDDLE-EARTH: SHADOW OF MORDOR – GAME OF THE YEAR EDITION | $9.99 | $7.99 | $19.99 |
| PS4 | MIGHTY NO. 9 (ONE WAY CROSS BUY) | $9.99 | — | $19.99 |
| PS4 | MINECRAFT: STORY MODE – SEASON PASS DELUXE | $14.99 | $11.99 | $29.99 |
| PS4 | MLB THE SHOW 16 | $14.99 | — | $19.99 |
| PS4 | MLB THE SHOW 16 – DIGITAL DELUXE | $40.19 | — | $59.99 |
| PS4 | MLB THE SHOW 16 – MVP EDITION | $24.89 | — | $29.99 |
| PS4 | MX VS ATV SUPERCROSS ENCORE | $23.99 | $20.09 | $29.99 |
| PS4 | NARUTO SHIPPUDEN: ULTIMATE NINJA STORM 4 | $23.99 | $17.99 | $59.99 |
| PS4 | NARUTO SHIPPUDEN: ULTIMATE NINJA STORM 4 – DELUXE EDITION | $31.99 | $23.99 | $79.99 |
| PS4 | ONE PIECE BURNING BLOOD | $29.99 | $23.99 | $59.99 |
| PS4 | ONE PIECE: PIRATE WARRIORS 3 | $17.99 | $11.99 | $59.99 |
| PS4 | OVERWATCH: ORIGINS EDITION | $39.59 | $34.79 | $59.99 |
| PS4 | RED DEAD REVOLVER | $10.49 | $8.99 | $14.99 |
| PS4 | ROCK BAND 4 RIVALS BUNDLE | $41.99 | — | $59.99 |
| PS4 | SNIPER ELITE 3 ULTIMATE EDITION | $13.99 | $9.99 | $39.99 |
| PS4 | STAR WARS BATTLEFRONT (VR – PATCH) | $10.49 | $7.49 | $29.99 |
| PS4 | STAR WARS BATTLEFRONT DELUXE EDITION | $13.99 | $9.99 | $39.99 |
| PS4 | STREET FIGHTER V | $29.99 | $19.79 | $59.99 |
| PS4 | STREET FIGHTER V – 2016 SEASON PASS | $17.99 | $14.99 | $29.99 |
| PS4 | STREET FIGHTER V DELUXE EDITION | $44.99 | $29.69 | $89.99 |
| PS4 | SWORD ART ONLINE: LOST SONG | $20.99 | $14.99 | $59.99 |
| PS4 | TALES FROM THE BORDERLANDS – SEASON PASS | $2.99 | $1.49 | $14.99 |
| PS4 | TALES OF ZESTIRIA | $23.99 | $17.99 | $59.99 |
| PS4 | THE CREW | $9.89 | — | $29.99 |
| PS4 | THE CREW COMPLETE EDITION | $13.19 | — | $39.99 |
| PS4 | THE WARRIORS | $10.49 | $8.99 | $14.99 |
| PS4 | THE WITCHER 3: WILD HUNT | $19.99 | $15.99 | $39.99 |
| PS4 | THE WITCHER 3: WILD HUNT – BLOOD AND WINE | $14.99 | $12.99 | $19.99 |
| PS4 | THE WITCHER 3: WILD HUNT – HEARTS OF STONE | $7.49 | $6.49 | $9.99 |
| PS4 | THE WITCHER 3: WILD HUNT COMPLETE EDITION | $29.99 | $24.99 | $49.99 |
| PS4 | TOM CLANCY'S RAINBOW SIX SIEGE GOLD EDITION | $39.99 | — | $79.99 |
| PS4 | TOM CLANCY'S RAINBOW SIX SIEGE GOLD EDITION | $39.99 | — | $79.99 |
| PS4 | TOM CLANCY'S THE DIVISION | $24.99 | — | $49.99 |
| PS4 | TOM CLANCY'S THE DIVISION GOLD EDITION | $44.99 | — | $89.99 |
| PS4 | TOM CLANCY'S RAINBOW SIX SIEGE | $24.99 | — | $49.99 |
| PS4 | TOM CLANCY'S RAINBOW SIX SIEGE | $24.99 | — | $49.99 |
| PS4 | TRACKMANIA TURBO | $14.79 | — | $39.99 |
| PS4 | TROPICO 5 | $7.49 | $5.99 | $29.99 |
| PS4 | WOLFENSTEIN: THE OLD BLOOD | $9.99 | $6.59 | $19.99 |
| PS3 | ASSASSIN'S CREED ROGUE | $11.99 | — | $29.99 |
| PS3 | BATMAN – THE TELLTALE SERIES – SEASON PASS | $14.99 | $12.49 | $24.99 |
| PS3 | CALL OF DUTY: ADVANCED WARFARE – DIGITAL PRO EDITION | $59.39 | $44.09 | $89.99 |
| PS3 | CALL OF DUTY: ADVANCED WARFARE GOLD EDITION | $29.49 | $19.49 | $49.99 |
| PS3 | DRAGON BALL XENOVERSE | $10.49 | $7.49 | $29.99 |
| PS3 | DRAGON BALL XENOVERSE + SEASON PASS BUNDLE | $19.24 | $13.74 | $54.99 |
| PS3 | GUILTY GEAR XRD -REVELATOR- | $14.99 | — | $49.99 |
| PS3 | MAFIA II REMASTER | $10.49 | $7.49 | $29.99 |
| PS3 | MINECRAFT: STORY MODE – SEASON PASS DELUXE | $14.99 | $11.99 | $29.99 |
| PS3 | MLB THE SHOW 16 | $14.99 | — | $19.99 |
| PS3 | SNIPER ELITE 3 ULTIMATE EDITION | $10.49 | $7.49 | $29.99 |
| PS VITA | DIGIMON WORLD CYBER SLEUTH | $15.99 | $11.99 | $39.99 |
| PS VITA | ONE PIECE: BURNING BLOOD | $19.99 | $15.99 | $39.99 |
| PS VITA | ONE PIECE: PIRATE WARRIORS 3 | $11.99 | $7.99 | $39.99 |
| PS VITA | SWORD ART ONLINE : LOST SONG | $13.99 | $9.99 | $39.99 |
| PS VITA | XCOM: ENEMY UNKNOWN PLUS | $6.99 | $4.99 | $19.99 |
| PS VITA | ZERO ESCAPE: ZERO TIME DILEMMA | $26.79 | — | $39.99 |
Movies
| Title | SD Sale Price | SD Original Price | HD Sale Price | HD Original Price |
| --- | --- | --- | --- | --- |
| 2012 | X | X | $8.99 | $12.99 |
| 21 JUMP STREET (2012) | X | X | $8.99 | $9.99 |
| 22 JUMP STREET | X | X | $8.99 | $12.99 |
| 50/50 | $4.99 | $7.99 | $4.99 | $9.99 |
| A HOLOGRAM FOR THE KING | $8.99 | $12.99 | $8.99 | $14.99 |
| A ROYAL NIGHT OUT | $7.99 | $14.99 | $7.99 | $14.99 |
| A STAND UP GUY | $6.99 | $9.99 | $6.99 | $12.99 |
| A WAR | $4.99 | $12.99 | $5.99 | $14.99 |
| A-TEAM | $4.99 | $14.99 | $4.99 | $14.99 |
| AGE OF ADALINE | $7.99 | $7.99 | $7.99 | $9.99 |
| AGE OF ADALINE | $4.99 | $7.99 | $4.99 | $9.99 |
| ALIEN GLOBAL THREAT | $4.99 | $9.99 | $4.99 | $12.99 |
| ALMOST HOLY | $7.99 | $12.99 | $7.99 | $14.99 |
| ALPHA & OMEGA | $4.99 | $7.99 | $4.99 | $9.99 |
| ALVIN AND THE CHIPMUNKS | $6.99 | $14.99 | $6.99 | $14.99 |
| ALVIN AND THE CHIPMUNKS: ROAD CHIP | $7.99 | $14.99 | $7.99 | $14.99 |
| AMAZING SPIDER-MAN 2, THE | X | X | $8.99 | $9.99 |
| AMAZING SPIDER-MAN, THE | X | X | $8.99 | $12.99 |
| AMERICAN PSYCHO | $4.99 | $7.99 | $4.99 | $9.99 |
| ANDRON | $3.99 | $9.99 | $5.99 | $11.99 |
| ANNABELLE | $6.99 | $9.99 | $7.99 | $12.99 |
| APOCALYPSE NOW REDUX | $4.99 | $7.99 | $4.99 | $9.99 |
| ASIAN CONNECTION | $3.99 | $7.99 | $5.99 | $9.99 |
| ASK ME ANYTHING | $3.99 | $9.99 | $5.99 | $11.99 |
| AVA'S POSSESSIONS | $3.99 | $9.99 | $5.99 | $11.99 |
| BAD ROOMIES | $6.99 | $9.99 | $6.99 | $12.99 |
| BAD SANTA | $4.99 | $7.99 | $4.99 | $9.99 |
| BANK JOB, THE | $4.99 | $9.99 | $4.99 | $12.99 |
| BATMAN UNLIMITED: ANIMAL INSTINCTS | $7.99 | $9.99 | $11.99 | $17.99 |
| BATMAN UNLIMITED: MONSTER MAYHEM | $7.99 | $9.99 | $11.99 | $17.99 |
| BATTLE LOS ANGELES | X | X | $8.99 | $12.99 |
| BEE MOVIE | $6.99 | $14.99 | $6.99 | $14.99 |
| BIG TROUBLE IN LITTLE CHINA | $4.99 | $14.99 | $4.99 | $14.99 |
| BILL & TED'S BOGUS JOURNEY | $4.99 | $9.99 | $4.99 | $12.99 |
| BLACK MASS | x | x | $9.99 | $12.99 |
| BLOOD FATHER | $5.99 | $12.99 | $5.99 | $14.99 |
| BLUE JAY | $6.99 | $9.99 | $6.99 | $12.99 |
| BLUE MOUNTAIN STATE | $5.99 | $7.99 | $5.99 | $7.99 |
| BOOK OF LIFE | $6.99 | $12.99 | $6.99 | $14.99 |
| BOONDOCK SAINTS | $4.99 | $14.99 | $4.99 | $14.99 |
| BOYHOOD | $6.99 | $12.99 | $6.99 | $12.99 |
| BRAVETOWN | $3.99 | $7.99 | $5.99 | $9.99 |
| BREAD AND BUTTER | $4.99 | $9.99 | $4.99 | $12.99 |
| BRIDGET JONES' DIARY | $4.99 | $7.99 | $4.99 | $9.99 |
| BROOKLYN | $7.99 | $14.99 | $7.99 | $14.99 |
| BY THE SEA | X | X | $9.99 | $14.99 |
| CABIN IN THE WOODS, THE | $4.99 | $9.99 | $4.99 | $12.99 |
| CAKE | $1.99 | $5.99 | $1.99 | $7.99 |
| CALIFORNIA HIGH | $4.99 | $7.99 | $4.99 | $9.99 |
| CALL ME LUCKY | $3.99 | $9.99 | $5.99 | $12.99 |
| CAPTAIN AMERICA: THE FIRST AVENGER | x | x | $16.99 | $19.99 |
| CAPTAIN AMERICA: WINTER SOLDIER | x | x | $16.99 | $19.99 |
| CASINO JACK | $1.99 | $9.99 | $1.99 | $9.99 |
| CAST AWAY | $4.99 | $9.99 | $4.99 | $9.99 |
| CELL | $5.99 | $7.99 | $5.99 | $9.99 |
| CENTRAL INTELLIGENCE THEATRICAL | $14.99 | $14.99 | $14.99 | $19.99 |
| CENTRAL INTELLIGENCE UNRATED | x | x | $14.99 | $19.99 |
| CHICAGO | $4.99 | $9.99 | $4.99 | $12.99 |
| CHILD 44 | $4.99 | $7.99 | $4.99 | $9.99 |
| CHRONICLE | $4.99 | $14.99 | $4.99 | $14.99 |
| CITY SLICKERS | $4.99 | $9.99 | x | x |
| CONDUIT, THE | $4.99 | $7.99 | $4.99 | $9.99 |
| CONVERGENCE | $3.99 | $9.99 | $5.99 | $12.99 |
| CRASH | $4.99 | $7.99 | $4.99 | $9.99 |
| CREEP | $6.99 | 8.99 | $6.99 | $9.99 |
| CRIMINAL | $8.99 | $14.99 | $8.99 | $14.99 |
| CROODS | $8.99 | $14.99 | $8.99 | $14.99 |
| DADDY'S HOME | $7.99 | $7.99 | $7.99 | $9.99 |
| DATE NIGHT | $4.99 | $14.99 | $4.99 | $14.99 |
| DAY AFTER TOMORROW, THE | $4.99 | $14.99 | x | x |
| DCU: SON OF BATMAN | $6.99 | $6.99 | $7.99 | $8.99 |
| DEAR WHITE PEOPLE | $4.99 | $7.99 | $4.99 | $9.99 |
| DEATHGASM | $3.99 | $9.99 | $5.99 | $12.99 |
| DINOSAUR 13 | $4.99 | $9.99 | $4.99 | $12.99 |
| DIRTY DANCING | $4.99 | $9.99 | $4.99 | $12.99 |
| DIRTY GRANDPA | $8.99 | $14.99 | $8.99 | $14.99 |
| DISTRICT 9 | X | X | $8.99 | $7.99 |
| DIVERGENT | $4.99 | $9.99 | $4.99 | $12.99 |
| DODGEBALL | $4.99 | $14.99 | $4.99 | $14.99 |
| DON VERDEAN | $5.99 | $12.99 | $5.99 | $14.99 |
| DR. CABBIE | $3.99 | $7.99 | $5.99 | $9.99 |
| DRAGON BALL Z: BATTLE OF GODS – UNCUT | $5.99 | $9.99 | $7.99 | $12.99 |
| DREDD | $4.99 | $9.99 | $4.99 | $12.99 |
| DRUNK STONED BRILLIANT DEAD | $4.99 | $12.99 | $5.99 | $14.99 |
| EDDIE THE EAGLE | $7.99 | $14.99 | $7.99 | $14.99 |
| ELIMINATION GAME | $3.99 | $9.99 | $5.99 | $11.99 |
| ELYSIUM | X | X | $8.99 | $9.99 |
| ENDER'S GAME | $4.99 | $9.99 | $4.99 | $12.99 |
| ENTOURAGE (2015) | x | x | $9.99 | $12.99 |
| EQUALIZER, THE | X | X | $8.99 | $9.99 |
| ESCAPE PLAN | $4.99 | $9.99 | $4.99 | $12.99 |
| EXORCISM OF MOLLY HARTLEY | $7.99 | $14.99 | $7.99 | $14.99 |
| EXPENDABLES 3, THE | $4.99 | $7.99 | $4.99 | $9.99 |
| EYE IN THE SKY | X | X | $9.99 | $14.99 |
| FANTASTIC FOUR | $7.99 | $14.99 | $7.99 | $14.99 |
| FAR FROM THE MADDING CROWD | $7.99 | $14.99 | $7.99 | $14.99 |
| FARGO | $4.99 | $9.99 | x | x |
| FIGHT CLUB | $4.99 | $14.99 | $4.99 | $14.99 |
| FOCUS (2015) | x | x | $9.99 | $12.99 |
| FREE STATE OF JONES | $9.99 | $14.99 | $9.99 | $14.99 |
| FREEHELD | $5.99 | $12.99 | $5.99 | $14.99 |
| FROM PARIS WITH LOVE | $4.99 | $7.99 | $4.99 | $9.99 |
| FROM PRADA TO NADA | $4.99 | $9.99 | $4.99 | $12.99 |
| FRONING: THE FITTEST MAN IN HISTORY | $4.99 | $9.99 | $4.99 | $12.99 |
| FULL OUT | $3.99 | $7.99 | $5.99 | $9.99 |
| FURY | x | x | $8.99 | $12.99 |
| GENIUS | $5.99 | $12.99 | $5.99 | $14.99 |
| GET A JOB | $5.99 | $12.99 | $5.99 | $14.99 |
| GET HARD (2015) | $7.99 | $14.99 | $9.99 | $19.99 |
| GET HARD:UNR (2015) | $7.99 | $14.99 | $9.99 | $19.99 |
| GET SHORTY | $4.99 | $9.99 | x | x |
| GIRL MOST LIKELY | $4.99 | $7.99 | $4.99 | $9.99 |
| GODS OF EGYPT | $8.99 | $14.99 | $8.99 | $14.99 |
| GODZILLA (2014) | $6.99 | $6.99 | $7.99 | $8.99 |
| GONE BABY GONE | $4.99 | $7.99 | $4.99 | $9.99 |
| GONE GIRL | $6.99 | $14.99 | $6.99 | $14.99 |
| GOOD LUCK CHUCK | $4.99 | $7.99 | $4.99 | $9.99 |
| GOOD WILL HUNTING | $4.99 | $7.99 | $4.99 | $9.99 |
| GRIDLOCKED | $4.99 | $12.99 | $5.99 | $14.99 |
| HAIL, CAESER! | X | X | $9.99 | $8.99 |
| HARD SELL | $3.99 | $7.99 | $5.99 | $9.99 |
| HARDCORE HENRY | x | x | $9.99 | $12.99 |
| HAYWIRE | $4.99 | $7.99 | $4.99 | $9.99 |
| HERCULES (2014) (EXTENDED CUT) | $7.99 | $14.99 | $7.99 | $19.99 |
| HERCULES IN NEW YORK | $4.99 | $5.99 | $4.99 | $7.99 |
| HIGH STRUNG | $6.99 | $9.99 | $6.99 | $12.99 |
| HIGH-RISE | $4.99 | $12.99 | $5.99 | $14.99 |
| HITMAN AGENT 47 | $7.99 | $14.99 | $7.99 | $14.99 |
| HOME | $8.99 | $14.99 | $8.99 | $14.99 |
| HORDE, THE | $4.99 | $7.99 | $4.99 | $9.99 |
| HOT PURSUIT | $7.99 | $14.99 | $7.99 | $19.99 |
| HOT TUB TIME MACHINE (UNRATED) | $4.99 | $9.99 | $4.99 | $12.99 |
| HOTEL TRANSYLVANIA / HOTEL TRANSYLVANIA 2 – SET | $14.99 | $18.99 | $14.99 | $21.99 |
| HOW TO TRAIN YOUR DRAGON | $8.99 | $14.99 | $8.99 | $14.99 |
| HOW TO TRAIN YOUR DRAGON 2 | $8.99 | $14.99 | $8.99 | $14.99 |
| HUNGER GAMES COMPLETE 4-FILM COLLECTION | $24.99 | $49.99 | $24.99 | $54.99 |
| HUNGER GAMES: CATCHING FIRE, THE | $6.99 | $9.99 | $6.99 | $12.99 |
| HUNGER GAMES: MOCKINGJAY PART 1, THE | $6.99 | $9.99 | $6.99 | $12.99 |
| HUNGER GAMES: MOCKINGJAY PART 1, THE | $6.99 | $9.99 | $6.99 | $12.99 |
| HUNGER GAMES: MOCKINGJAY PART 2, THE | $6.99 | $14.99 | $6.99 | $19.99 |
| HUNGER GAMES: MOCKINGJAY PART 2, THE | $6.99 | $14.99 | $6.99 | $19.99 |
| I AM WRATH | $5.99 | $12.99 | $5.99 | $14.99 |
| ICE AGE COLLISION COURSE | $9.99 | $14.99 | $9.99 | $14.99 |
| ICE GIRLS | $7.99 | $14.99 | $7.99 | $14.99 |
| IDIOCRACY | $4.99 | $9.99 | $4.99 | $9.99 |
| IF I STAY | $7.99 | $14.99 | $7.99 | $14.99 |
| IMPERIUM | $5.99 | $12.99 | $5.99 | $14.99 |
| IMPOSSIBLE, THE | $4.99 | $7.99 | $4.99 | $9.99 |
| IN THE HEART OF THE SEA | x | x | $9.99 | $12.99 |
| IN TIME | $4.99 | $14.99 | $4.99 | $14.99 |
| INDEPENDENCE DAY 2 | $9.99 | $14.99 | $9.99 | $14.99 |
| INSURGENT | $4.99 | $9.99 | $4.99 | $12.99 |
| INTERN, THE (2015) | x | x | $9.99 | $12.99 |
| INTERSTELLAR | $6.99 | $12.99 | $6.99 | $14.99 |
| INTERSTELLAR | $6.99 | $12.99 | $6.99 | $14.99 |
| INTERVIEW, THE (2014) | X | X | $8.99 | $12.99 |
| IRON MAN | x | x | $16.99 | $19.99 |
| IRON MAN 2 | x | x | $16.99 | $19.99 |
| IRON MAN 3 | x | x | $16.99 | $19.99 |
| JOSHY | $5.99 | $9.99 | $5.99 | $12.99 |
| JOY | $7.99 | $14.99 | $7.99 | $14.99 |
| JUPITER ASCENDING (2015) | x | x | $9.99 | $12.99 |
| JUSTICE LEAGUE: GODS & MONSTERS | $7.99 | $8.99 | $11.99 | $12.99 |
| JUSTICE LEAGUE: THRONE OF ATLANTIS | $7.99 | $8.99 | $11.99 | $12.99 |
| KEANU | $14.99 | $14.99 | $14.99 | $19.99 |
| KEVIN HART: LET ME EXPLAIN | $4.99 | $7.99 | $4.99 | $9.99 |
| KICK-ASS | $4.99 | $9.99 | $4.99 | $12.99 |
| KILLERS | $4.99 | $7.99 | $4.99 | $9.99 |
| KINGDOM OF HEAVEN | $4.99 | $14.99 | $4.99 | $14.99 |
| KNIGHT AND DAY | $4.99 | $14.99 | $4.99 | $14.99 |
| KRAMPUS | x | x | $9.99 | $12.99 |
| KUBO & THE TWO STRINGS | $9.99 | $14.99 | $9.99 | $14.99 |
| KUNG FU PANDA | $8.99 | $14.99 | $8.99 | $14.99 |
| KUNG FU PANDA 2 | $8.99 | $14.99 | $8.99 | $14.99 |
| KUNG FU PANDA 3 | $9.99 | $14.99 | $9.99 | $14.99 |
| L.A. STORY | $4.99 | $7.99 | x | x |
| LAST SHIFT | $4.99 | $12.99 | $5.99 | $14.99 |
| LAST STAND, THE | $4.99 | $7.99 | $4.99 | $9.99 |
| LEGEND OF HERCULES, THE | $4.99 | $7.99 | $4.99 | $9.99 |
| LEGO DC COMICS SUPER HEROES: JUSTICE LEAGUE VS. BIZARRO LEAGUE | $7.99 | $9.99 | $11.99 | $17.99 |
| LEGO DC COMICS SUPER HEROES: JUSTICE LEAGUE VS. COSMIC CLASH | $11.99 | $14.99 | $11.99 | $19.99 |
| LEGO DC COMICS SUPER HEROES: JUSTICE LEAGUE: GOTHAM CITY BREAKOUT | $7.99 | $8.99 | $11.99 | $12.99 |
| LEGO DC SUPERHEROES: JUSTICE LEAGUE: ATTACK OF THE LEGION OF DOOM! | $7.99 | $8.99 | $11.99 | $12.99 |
| LEGO SCOOBY: HAUNTED HOLLYWOOD | $7.99 | $8.99 | $11.99 | $12.99 |
| LET US PREY | $3.99 | $9.99 | $5.99 | $12.99 |
| LET'S BE COPS | $4.99 | $14.99 | $4.99 | $14.99 |
| LETTERS, THE | $7.99 | $14.99 | $7.99 | $14.99 |
| LILA AND EVE | $3.99 | $9.99 | $5.99 | $11.99 |
| LIVE DIE REPEAT: EDGE OF TOMORROW | $6.99 | $9.99 | $7.99 | $12.99 |
| LONDON HAS FALLEN | x | x | $9.99 | $12.99 |
| LONGEST RIDE, THE | $7.99 | $14.99 | $7.99 | $14.99 |
| LORD OF THE RINGS FRANCHISE EE | x | x | $24.99 | $49.99 |
| LORD OF WAR | $4.99 | $7.99 | $4.99 | $9.99 |
| LOVE THE COOPERS | $5.99 | $13.99 | $5.99 | $14.99 |
| MAD MAX: FURY ROAD (COLOR STANDALONE) | x | x | $9.99 | $12.99 |
| MADAGASCAR | $6.99 | $14.99 | $6.99 | $14.99 |
| MADAGASCAR 3: EUROPE'S MOST WANTED | $6.99 | $14.99 | $6.99 | $14.99 |
| MADAGASCAR: ESCAPE 2 AFRICA | $6.99 | $14.99 | $6.99 | $14.99 |
| MAN FROM U.N.C.L.E., THE (2015) | $7.99 | $14.99 | $9.99 | $19.99 |
| MAN ON A LEDGE | $4.99 | $9.99 | $4.99 | $12.99 |
| MAN ON FIRE | $4.99 | $14.99 | $4.99 | $14.99 |
| MAN UP | $4.99 | $14.99 | $4.99 | $17.99 |
| MARAUDERS | $5.99 | $9.99 | $5.99 | $12.99 |
| MARIGOLD HOTEL 2 PACK | $9.99 | $24.99 | $9.99 | $24.99 |
| MAZE RUNNER: SCORCH TRIALS | $7.99 | $14.99 | $7.99 | $14.99 |
| ME & EARL AND THE DYING GIRL | $7.99 | $12.99 | $7.99 | $14.99 |
| ME BEFORE YOU | $14.99 | $14.99 | $14.99 | $19.99 |
| MEGAMIND | $6.99 | $14.99 | $6.99 | $14.99 |
| MIKE & DAVE NEED WEDDING DATES | $9.99 | $14.99 | $9.99 | $14.99 |
| MISS MEADOWS | $3.99 | $9.99 | $5.99 | $11.99 |
| MORTDECAI | $7.99 | $7.99 | $7.99 | $9.99 |
| MORTDECAI | $4.99 | $7.99 | $4.99 | $9.99 |
| MOST WANTED MAN, A | $4.99 | $7.99 | $4.99 | $9.99 |
| MR. PEABODY AND SHERMAN | $6.99 | $14.99 | $6.99 | $14.99 |
| MR. RIGHT | X | X | $9.99 | $12.99 |
| MUD | $4.99 | $7.99 | $4.99 | $9.99 |
| MY BEST FRIEND'S GIRL | $4.99 | $7.99 | $4.99 | $9.99 |
| MY BIG FAT GREEK WEDDING 2 | X | X | $9.99 | $12.99 |
| MY COUSIN VINNY | $4.99 | $14.99 | $4.99 | $14.99 |
| NATURAL BORN PRANKSTERS | $5.99 | $9.99 | $5.99 | $12.99 |
| NEIGHBORS 2 | $9.99 | $14.99 | $9.99 | $14.99 |
| NIGHT BEFORE, THE / THIS IS THE END – SET | $14.99 | $19.99 | $14.99 | $21.99 |
| NO COUNTRY FOR OLD MEN | $4.99 | $7.99 | $4.99 | $9.99 |
| NO STRANGER THAN LOVE | $3.99 | $9.99 | $5.99 | $11.99 |
| NORM OF THE NORTH | $8.99 | $14.99 | $8.99 | $14.99 |
| NOW YOU SEE ME | $4.99 | $14.99 | $4.99 | $17.99 |
| OFFICE SPACE | $4.99 | $14.99 | $4.99 | $14.99 |
| ONCE UPON A TIME IN AMERICA | $4.99 | $14.99 | $4.99 | $14.99 |
| OVER THE HEDGE | $6.99 | $14.99 | $6.99 | $14.99 |
| PAN (2015) | x | x | $9.99 | $12.99 |
| PAPA HEMINGWAY IN CUBA | $9.99 | $14.99 | $9.99 | $14.99 |
| PAPER TOWNS | $7.99 | $14.99 | $7.99 | $14.99 |
| PAY THE GHOST | $6.99 | $11.99 | $6.99 | $12.99 |
| PEANUTS MOVIE, THE | $7.99 | $14.99 | $7.99 | $14.99 |
| PENGUINS OF MADAGASCAR | $8.99 | $14.99 | $8.99 | $14.99 |
| PERKS OF BEING A WALLFLOWER, THE | $4.99 | $9.99 | $4.99 | $12.99 |
| PINEAPPLE EXPRESS | X | X | $8.99 | $9.99 |
| POINT BREAK (2015) | x | x | $9.99 | $12.99 |
| POPSTAR: NEVER STOP STOPPING | $9.99 | $14.99 | $9.99 | $14.99 |
| PRINCESS BRIDE, THE | $4.99 | $9.99 | x | x |
| PROJECT ALMANAC | $6.99 | $12.99 | $6.99 | $12.99 |
| PUERTO RICANS IN PARIS | $9.99 | $14.99 | $9.99 | $14.99 |
| PULP FICTION | $4.99 | $7.99 | $4.99 | $9.99 |
| PUSS IN BOOTS | $6.99 | $14.99 | $6.99 | $14.99 |
| RAGE | $6.99 | $12.99 | $6.99 | $16.99 |
| RAMBO FIRST BLOOD | $4.99 | $7.99 | $4.99 | $9.99 |
| RED | $4.99 | $9.99 | x | x |
| RED 2 | $4.99 | $9.99 | $4.99 | $12.99 |
| RED DAWN (1984) | $4.99 | $9.99 | x | x |
| RED DAWN (2012) | $4.99 | $14.99 | $4.99 | $14.99 |
| REQUIEM FOR A DREAM | $4.99 | $7.99 | $4.99 | $9.99 |
| RESERVOIR DOGS | $4.99 | $7.99 | $4.99 | $9.99 |
| RIDE ALONG 2 | x | x | $9.99 | $12.99 |
| ROBOCOP (2014) | $7.99 | $13.99 | $7.99 | $14.99 |
| SAN ANDREAS | $7.99 | $14.99 | $9.99 | $19.99 |
| SATANIC | $4.99 | $5.99 | $5.99 | $7.99 |
| SCOOBY-DOO! MOON MONSTER MADNESS | $7.99 | $9.99 | $11.99 | $17.99 |
| SCOUTS GUIDE | $6.99 | $12.99 | $6.99 | $14.99 |
| SECOND BEST EXOTIC MARIGOLD HOTEL | $7.99 | $14.99 | $7.99 | $14.99 |
| SECRET LIFE OF WALTER MITTY | $4.99 | $14.99 | $4.99 | $14.99 |
| SEPTEMBERS OF SHIRAZ | $3.99 | $9.99 | $5.99 | $11.99 |
| SHAUN THE SHEEP | $7.99 | $7.99 | $7.99 | $9.99 |
| SHREK | $8.99 | $14.99 | $8.99 | $14.99 |
| SHREK 2 | $8.99 | $14.99 | $8.99 | $14.99 |
| SHREK FOREVER AFTER | $8.99 | $14.99 | $8.99 | $14.99 |
| SHREK THE THIRD | $8.99 | $14.99 | $8.99 | $14.99 |
| SIN CITY | $4.99 | $7.99 | $4.99 | $9.99 |
| SINISTER | $4.99 | $7.99 | $4.99 | $9.99 |
| SISTERS | X | X | $9.99 | $14.99 |
| SITTER, THE | $4.99 | $14.99 | $4.99 | $14.99 |
| SKELETON TWINS, THE | $4.99 | $7.99 | $4.99 | $9.99 |
| SKYFALL | $6.99 | $9.99 | $6.99 | $13.99 |
| SNITCH | $4.99 | $7.99 | $4.99 | $9.99 |
| SOMM: INTO THE BOTTLE | $3.99 | $9.99 | $5.99 | $11.99 |
| SPIRIT: STALLION OF THE CIMARRON | $6.99 | $14.99 | $6.99 | $14.99 |
| STANDOFF (2016) | $5.99 | $12.99 | $5.99 | $14.99 |
| STEP BROTHERS | X | X | $8.99 | $9.99 |
| STEVE JOBS: MAN IN THE MACHINE | $4.99 | $12.99 | $5.99 | $14.99 |
| SUPER TROOPERS | $4.99 | $14.99 | $4.99 | $14.99 |
| SYNCHRONICITY | $4.99 | $12.99 | $5.99 | $14.99 |
| TAKEN 3 | $6.99 | $14.99 | $6.99 | $14.99 |
| TAKING OF PELHAM 1 2 3, THE (2009) | X | X | $8.99 | $12.99 |
| TERM LIFE | $9.99 | $14.99 | $9.99 | $14.99 |
| TERMINATOR, THE | $4.99 | $9.99 | $4.99 | $12.99 |
| THE BIG SHORT | $7.99 | $7.99 | $7.99 | $9.99 |
| THE BOSS | x | x | $9.99 | $12.99 |
| THE BOY AND THE BEAST | $5.99 | $12.99 | $7.99 | $14.99 |
| THE CHOICE | $8.99 | $14.99 | $8.99 | $14.99 |
| THE COBBLER | $6.99 | $11.99 | $6.99 | $12.99 |
| THE CONFIRMATION | $5.99 | $12.99 | $5.99 | $14.99 |
| THE COVE | $4.99 | $7.99 | $4.99 | $9.99 |
| THE CURSE OF SLEEPING BEAUTY | $3.99 | $7.99 | $5.99 | $9.99 |
| THE DUEL | $5.99 | $12.99 | $5.99 | $14.99 |
| THE DUFF | $7.99 | $9.99 | $7.99 | $12.99 |
| THE DUFF | $4.99 | $9.99 | $4.99 | $12.99 |
| THE ESCORT | $6.99 | $9.99 | $6.99 | $12.99 |
| THE EXPENDABLES | $7.99 | $9.99 | $7.99 | $12.99 |
| THE EXPENDABLES | $4.99 | $9.99 | $4.99 | $12.99 |
| THE FOREST | X | X | $7.99 | $12.99 |
| THE GAMBLER | $6.99 | $12.99 | $6.99 | $12.99 |
| THE HUNGER GAMES | $6.99 | $9.99 | $6.99 | $12.99 |
| THE HUNTSMAN: WINTER'S WAR | $9.99 | $14.99 | $9.99 | $14.99 |
| THE HURT LOCKER | $4.99 | $9.99 | $4.99 | $12.99 |
| THE LAST HEIST | $3.99 | $9.99 | $5.99 | $11.99 |
| THE LAST WITCH HUNTER | $8.99 | $12.99 | $8.99 | $14.99 |
| THE NICE GUYS | $14.99 | $14.99 | $14.99 | $19.99 |
| THE ONES BELOW | $4.99 | $12.99 | $5.99 | $14.99 |
| THE PERFECT MATCH | $5.99 | $14.99 | $5.99 | $14.99 |
| THE PURGE: ELECTION YEAR | $9.99 | $14.99 | $9.99 | $14.99 |
| THE PURGE: ELECTION YEAR | $9.99 | $14.99 | $9.99 | $14.99 |
| THE TRUST | $5.99 | $12.99 | $5.99 | $14.99 |
| THIS IS THE END | X | X | $8.99 | $9.99 |
| THOMAS CROWN AFFAIR (1999), THE | $4.99 | $9.99 | x | x |
| TMNT 1 | $6.99 | $9.99 | $6.99 | $12.99 |
| TOTAL RECALL (2012) | X | X | $8.99 | $12.99 |
| TOUCHED WITH FIRE | $5.99 | $12.99 | $5.99 | $14.99 |
| TRUE STORY | $7.99 | $12.99 | $7.99 | $14.99 |
| TWILIGHT | $7.99 | $7.99 | $7.99 | $9.99 |
| TYLER PERRY'S A MADEA CHRISTMAS | $4.99 | $9.99 | $4.99 | $12.99 |
| TYLER PERRY'S MADEA GOES TO JAIL | $4.99 | $7.99 | $4.99 | $9.99 |
| TYLER PERRY'S MADEA'S TOUGH LOVE | $4.99 | $13.99 | $4.99 | $14.99 |
| URGE | $5.99 | $12.99 | $5.99 | $14.99 |
| USUAL SUSPECTS, THE | $4.99 | $9.99 | x | x |
| VALKYRIE | $4.99 | $14.99 | x | x |
| WALKING TALL | $4.99 | $9.99 | x | x |
| WALL STREET DOUBLE FEATURE | $7.99 | $24.99 | $7.99 | $24.99 |
| WARCRAFT | $9.99 | $14.99 | $9.99 | $14.99 |
| WARM BODIES | $4.99 | $9.99 | $4.99 | $12.99 |
| WARRIOR | $4.99 | $9.99 | $4.99 | $12.99 |
| WATCH, THE | $4.99 | $14.99 | $4.99 | $14.99 |
| WE ARE STILL HERE | $3.99 | $9.99 | $5.99 | $12.99 |
| WEEKEND AT BERNIE'S | $4.99 | $9.99 | x | x |
| WHAT TO EXPECT WHEN YOU'RE EXPECTING | $4.99 | $9.99 | $4.99 | $12.99 |
| WHEN HARRY MET SALLY | $4.99 | $9.99 | x | x |
| WHO GETS THE DOG? | $8.99 | $9.99 | $8.99 | $9.99 |
| WILD | $6.99 | $14.99 | $6.99 | $14.99 |
| WILD CARD | $4.99 | $5.99 | $4.99 | $7.99 |
| WILD HORSES | $3.99 | $9.99 | $5.99 | $11.99 |
| WINTER'S BONE | $4.99 | $7.99 | $4.99 | $9.99 |
| X-MEN: APOCALYPSE | $9.99 | $14.99 | $9.99 | $14.99 |
| YOU'RE NOT YOU | $3.99 | $9.99 | $5.99 | $11.99 |
| ZOMBIELAND (2009) | X | X | $8.99 | $12.99 |