Great news for players of Nidhogg, the stabby multiplayer sword fighting game you love to play at parties and on lunch breaks… we are making Nidhogg 2! Swords, throwing knives, bow and arrows, giant axes, and head stomps! Beautiful new levels to explore and exploit! Electronic soundscapes to get stuck in your head and amp you up as you battle your friends and foe! We are launching Nidhogg 2 on PS4 in 2017, so get ready to make some frenemies with your boss, or start a war with your roommate!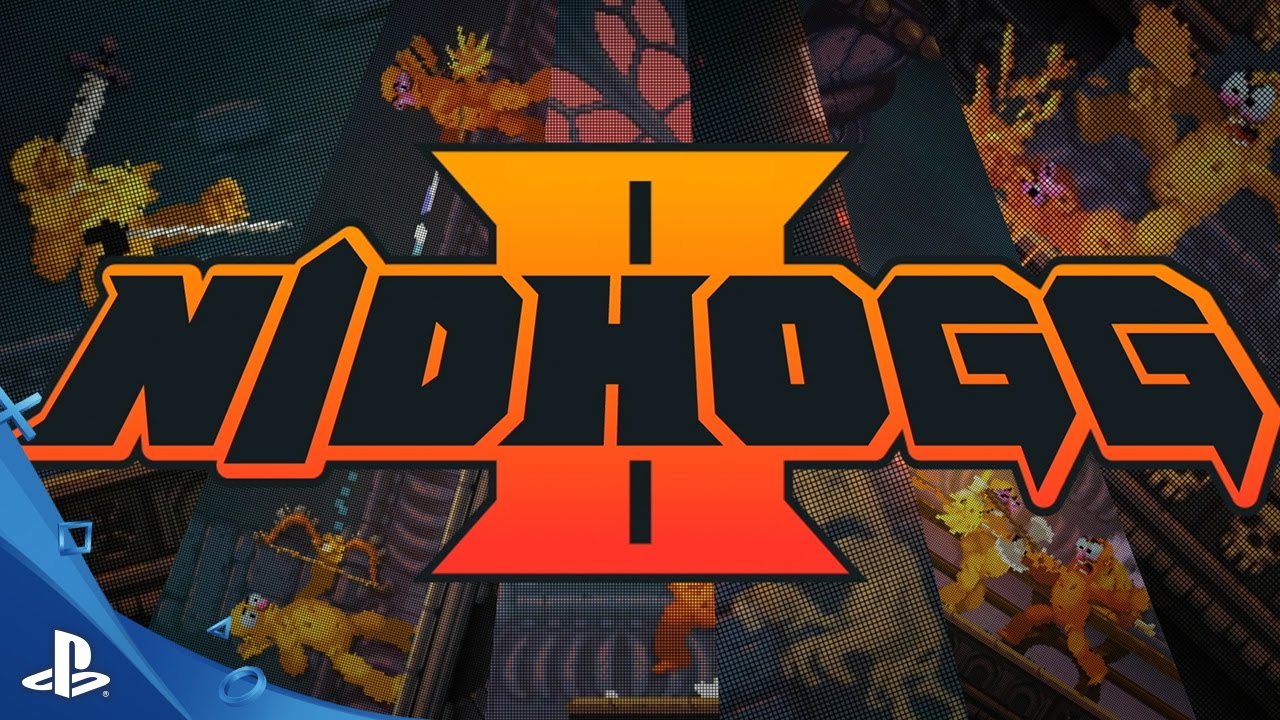 For those of you who don't know about Nidhogg, here's the basic idea: two players face off with swords. Win the duel and you can run ahead toward your side of the screen. Watch out, because your opponent will respawn in front of you and try to take back control of the camera. Make it all the way to the end to sacrifice yourself to the flying worm called Nidhogg!
In Nidhogg 2 we are opening a disgusting-can-of-crazy and adding all new weapons like axes, knives, and bow and arrows… as well as new arenas that pulse with life complete with a gross new look by our talented artist Toby Dixon. Check out these screens from a level that takes you inside a dying nidhogg and out its butt!
For the past few years Mark and I have been talking about all the ways we would improve Nidhogg. We got so excited we wanted to make the ultimate version of Nidhogg, so we decided to make Nidhogg 2. We wanted to focus on a few things to make it amazing, and settled on: updating the art style and animations, making super detailed, beautiful levels, a brand new soundtrack, and adding new weapons.
We wanted to flesh out the world of Nidhogg and for us that meant a total graphical refresh. We were able to find a super talented artist, Toby Dixon, who totally understood the goofy grotesque vibe we were going for. Since there is a lot of back and forth within each game, we wanted the details to slowly emerge while you're playing. You might not notice everything the first or second time playing, but eventually the tiny details will surprise and delight you!
On the technical side of things, we are improving the whole way we rig animations; we're able to create more complex bigger creatures through the use of skeletal animation. This helps out with things like big nidhogg heads with loose teeth, happy tree people, and of course the player animations. It's been a lot of fun playing with traditional sprite animation combined with this new system!
We've also built out lots of internal tools that all of us can use to craft levels. It's super helpful for quickly adding art and seeing how it looks in-game.
It was so much fun to work with Daedelus on the soundtrack to the first game, so we're thrilled to have a couple new tracks from him in Nidhogg 2. We're also filling out the bigger soundtrack with artists like Mux Mool, and Doseone. Stay tuned, because this soundtrack is just beginning to take shape and it's already off the hook.
Nidhogg 2 is not just about dueling with swords — this time you can wail on your friends with a bow and arrow, toss a throwing knife in their groin, or cleave them in half with a battle-axe! Each weapon has its own unique playstyle. The axe is a bit slower but has nice range and is unblockable. The throwing knife is the only weapon that can be thrown low. The bow and arrow is obviously great at long range, but arrows are easily blocked or dodged and you can run out. With all the different dynamics between weapons there are many more strategies and matches can play out in lots more different ways.
If you happen to be in San Francisco this weekend, there will be a sneak preview of Nidhogg 2 playable at Day Of The Devs.