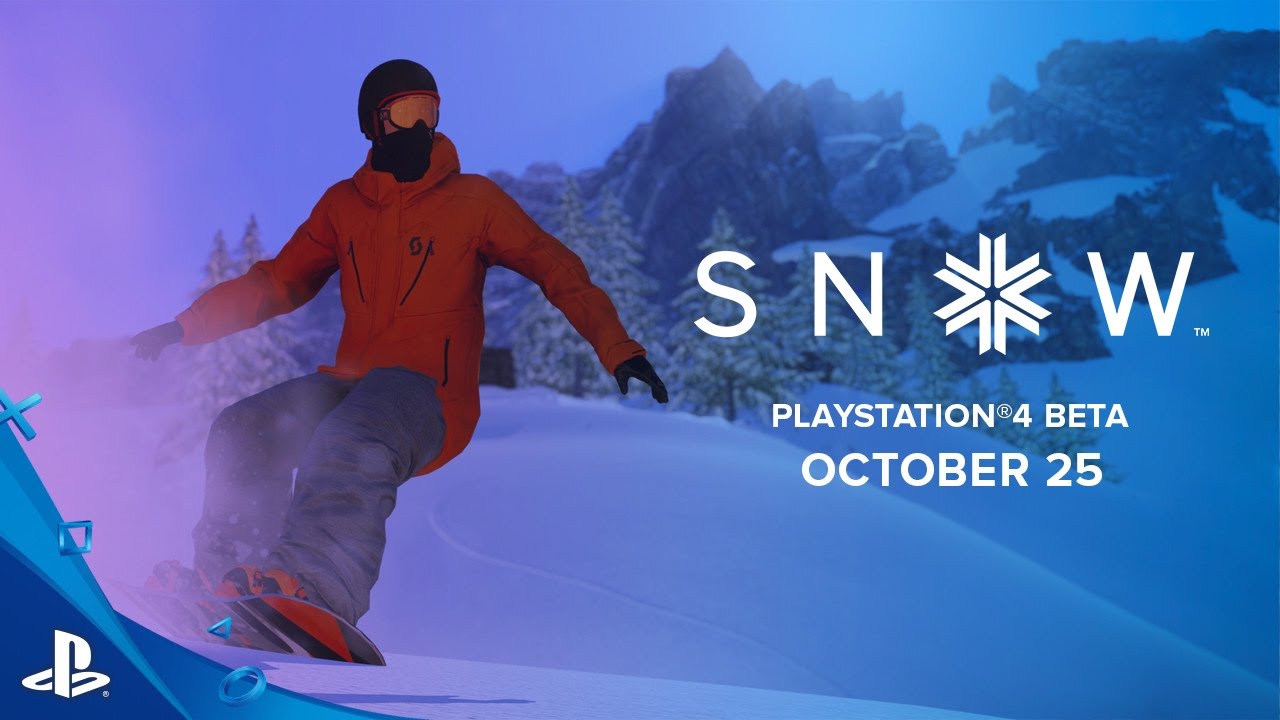 Nearly two years ago I had the pleasure of announcing that Snow, our free-to-play, open world winter sports game, would be coming to PS4 as a console exclusive. When this announcement was made, we had just launched our PC Alpha and have since been working through a long list of new features and content that we wanted in the game for Snow's launch on console. We've been working together with our incredibly supportive and insightful community to develop the game into the experience we believe best represents the sports and the majesty of the mountain — and we're nearly there.
So without further ado, I'm proud and excited to announce that on October 25 our massive, open-world mountain will be open to skiers, snowboarders, and snowmobiles in the PS4 Snow Beta!
Since we first announced Snow on PS4, a lot has changed. Sialia, our open-world mountain, is now full of unique areas to explore, including a cargo plane wreckage, an ancient castle, and a mountain observatory — to name a few. There are more than two dozen drop points on the mountain, each with a distinctive look and gameplay elements that provide countless new challenges. Perhaps the most significant change to Snow is the addition of snowboarding and snowmobiles, which offer new ways for players to ride the mountain and define their own unique style.
When it comes to unique style, choosing your sport is just the beginning. Thanks to partnerships with the biggest brands in winter sports, we boast one of the largest number of apparel partners of any winter sports game! No matter who you are, there are skis, boards, and lots of other clothing and equipment waiting for you in the in-game store!
In addition to the PS4 launch, we have also been working on another surprise. For the first time in nearly 20 years, the Winter X Games is coming to console! We've partnered up with ESPN and have been working closely with their team to recreate the exact course from the 2016 Winter X Games in Aspen. The mountain includes the Slopestyle, Super Pipe, and Big Air courses, all accurately reproduced for your riding pleasure. Players who successfully complete all three X Games events with Gold Medals will unlock the exclusive in-game X Games hoodie. So keep an eye out for players wearing this on our Multiplayer servers — they know how to shred!
The Snow Beta will cost $19.99 and gets you a lot more than a chance to see the game still in development. By joining the Beta, you will receive the Founder's Pack, consisting of more than $30 worth of clothing, equipment, and exclusive items. This includes two full outfits (including skis and snowboard) of the latest clothing and equipment from the biggest brands. The bundle also includes two PS4 exclusive items: a gold snowmobile and a gold drone — both of which will only be available on PS4 during the Beta this fall.
Those of you with PlayStation Plus are in for a treat. In addition to the Beta items described above, you will receive another exclusive outfit — dedicated to the 80s! This one-of-a-kind outfit is a complete look, including skis and snowboard. If you love the 80s like we do, you'll want to rock this rad outfit while you shred the gnar!
So that's it — Snow is launching on October 25 on PS4 and we can't wait to experience the mountain with all of you! There haven't been any winter sports games released on this generation of consoles yet, so we're proud that we get to be the first with Snow.
See you on the mountain!