Ready yourself for the Great War. Take the fight across land, sea, and air in Battlefield 1, which launches October 21 on PS4.
The latest chapter in the long-running series, Battlefield 1 immerses players in the spectacular confrontations and heart-wrenching stories of World War I. Push through the war-torn streets of France and charge across the deserts of Arabia in the sweeping single-player campaign. Or enlist in the 64-player combat in the franchise's latest multiplayer suite.
For a full list of new games coming to PlayStation this week, read on. And enjoy the Drop!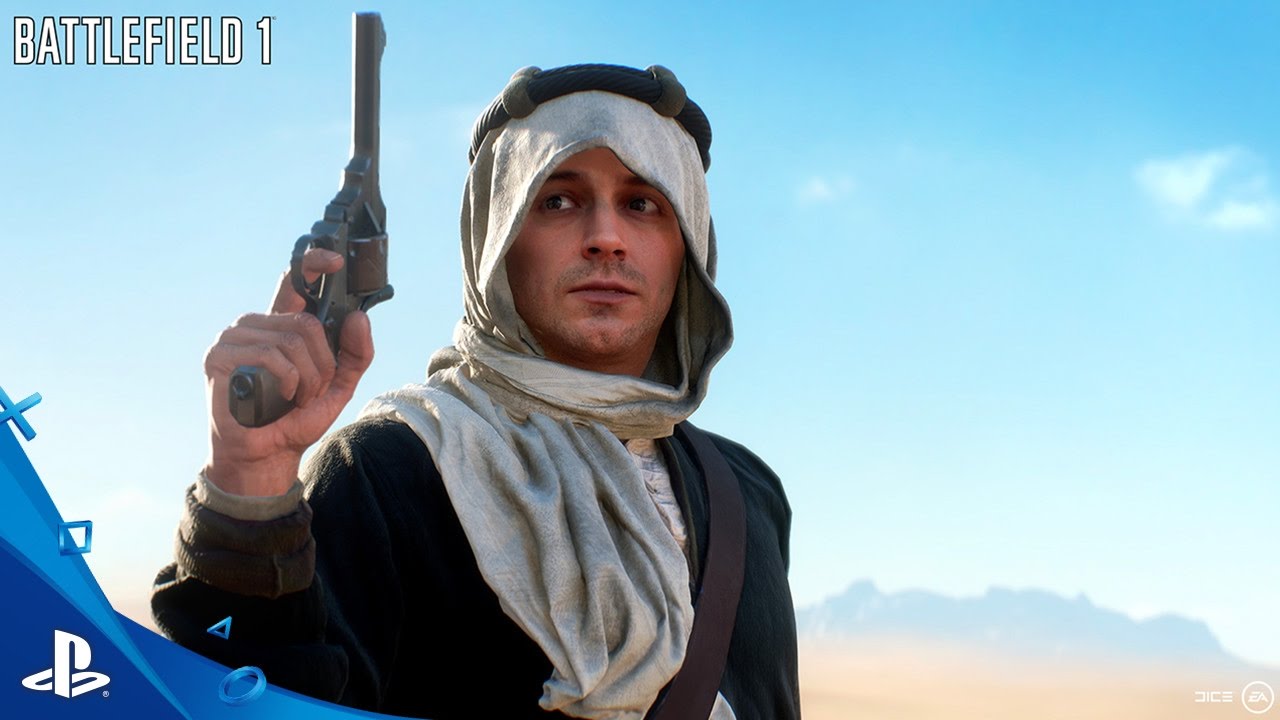 New Releases: Week of October 18, 2016
Batman: Return to Arkham
PS4 — Digital, Retail
Return to Arkham and experience two of the most critically acclaimed titles of the last generation — Batman: Arkham Asylum and Batman: Arkham City, with fully remastered and updated visuals. Batman: Return to Arkham includes the comprehensive versions of both games and includes all previously released additional content.
Battalion Commander
PS Vita — Digital (Out 10/20)
This release date has been updated.
Battlefield 1
PS4 — Digital, Retail (Out 10/21, Early Enlisters Edition Out 10/18)
Experience the dawn of all-out war in Battlefield 1. Discover a world at war through an adventure-filled campaign, or join in epic multiplayer battles with up to 64 players. Fight as infantry or take control of amazing vehicles on land, air, and sea, and adapt your gameplay to the most dynamic battles in Battlefield history.
The Bug Butcher
PS4 — Digital
The Bug Butcher is an intense action shooter, wrapped in stylistic 2D art, and smeared with juvenile humor where timing and fierce reflexes are paramount in protecting your fragile, squishy body! The gameplay has an extremely simple core mechanic that is easy to understand, but hard to master. Plus, who doesn't love a universe where you wield a beefy arsenal of military grade weaponry?
Exist Archive: The Other Side of the Sky
PS4, PS Vita — Digital, Retail
Exist Archive: The Other Side of the Sky is an RPG where Kanata and various others have been imbued with pieces of the dark god Yamatoga's soul, and are sent to Protolexa, for reasons unbeknownst to them. Battle enemies and the armies of Chasseur as you search out for your other teammates, complete quests and side events, and learn the truth of why you have been chosen.
HoPiKo
PS4 — Digital
The evil Nanobyte virus is out, gaming is over… It's time to hook up your power gloves and save your HoPiKo brothers! HoPiKo is an intense speed run platformer where you get to save gaming. Jump from platform to platform avoiding death, exploiting shortcuts and ripping through hundreds of hand-crafted levels.
The Jackbox Party Pack 3
PS4 — Digital
The threequel to the party game phenomenon features the deadly quiz show Trivia Murder Party, the say-anything sequel Quiplash 2, the surprising survey game Guesspionage, the t-shirt slugfest Tee K.O., and the sneaky trickster game Fakin' It. Use your phones or tablets as controllers, and play with up to 8 players, plus an audience of up to 10,000!
The Keeper of 4 Elements
PS Vita — Digital (Out 10/20)
The release date has been updated.
Lego Harry Potter Collection
PS4 — Digital, Retail
The Lego Harry Potter Collection brings Years 1-4 and Years 5-7 to PS4 for the first time with both top-selling games remastered on one disc! This compilation unites the creative prowess of Lego and the expansive world of Harry Potter, with an exciting journey full of spell-casting, potion-making, puzzle-solving, lessons, dueling, and much more for players of all ages to enjoy.
Mordheim: City of the Damned
PS4 — Digital
Play the first video game adaptation of Games Workshop's tabletop game Mordheim. Set in the Warhammer World's decimated Empire city, Mordheim: City of the Damned is a turn-based tactical game where you lead warbands into bloody and lethal skirmishes. The game blends RPG elements, fast-paced tactical combat, and intricate unit customization in a time wrought by chaos and rivalry where only the strongest survive.
Pixel Gear
PS VR — Digital (Out 10/20)
Pixel Gear is a pixel style VR shoot-em-up with a variety of humorous cartoon monsters and ghosts as enemies. Use your skills and weapons to defeat them, gain energy, and apply your skills wisely to slow down time and load up infinite bullets. Observe the environment carefully. And keep on shooting in the pixel battlefield!
SportsBarVR
PS VR — Digital
Bringing the virtual pub experience to your living room. SportsBarVR is the ultimate social experience available on PS VR, featuring an awesome set of bar games and an incredible pool simulation including 8 Ball, 9 Ball, Killer, and many more cue sports.
Superdimension Neptune VS Sega Hard Girls
PS Vita — Digital, Retail
An ancient war between Sega Hard Girls and Goddesses ravaged the world. The adventurer, IF, journeys across the wasteland and finds the Grand Library, a facility that grants her the power to travel back in time. Will she be able to use this power to unite the warring factions and restore peace to the world?
D.R.A.M. – Big Baby D.R.A.M.
Jimmy Eat World – Integrity Blues
Lady Gaga – Joanne
Alice Through The Looking Glass (plus bonus features)
Bad Moms
Killing Reagan – October 16 at 8/7c (National Geographic Channel)
The Walking Dead: Journey So Far – October 16 at 9/8c (AMC)
The Final Presidential Debate- October 19 at 9/8c (CNN)
The information above is subject to change without notice.