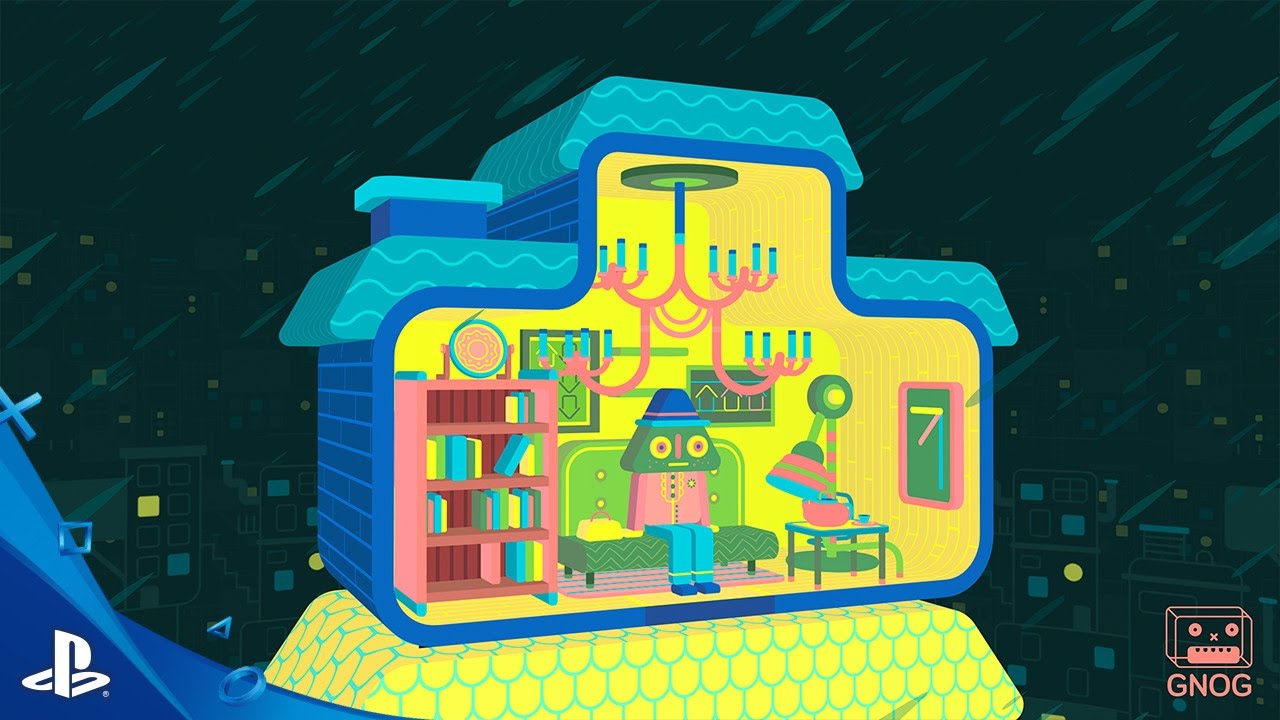 Hey folks!
It's been awhile since we last updated you all on the PS Blog, but now we're super thrilled to announce that as of next week you can pre-order GNOG!
While we always wanted to be a PlayStation VR launch title, we ultimately decided it was worth it to take a few extra months to work on the game (more on that below). We'll be releasing GNOG in early 2017. For those that can't wait, the pre-order not only saves you 10%, but also gets you a beautiful new PS4 Theme as an immediate pre-order bonus!
We've been getting better and better at explaining GNOG's curious design, and we're hoping our new trailer goes a long way toward introducing new players to the game. For this video, we knew we needed to showcase the cursor — the player's point of contact with the game world — and how it's used to grab and operate all the little widgets we've hidden in each level. It's a reimagining of point-and-click gameplay that's tailored for DualShock 4, and we spent a long time perfecting the cursor's look and feel. It's been extremely satisfying to hear so many people at playtests and festivals commenting on the great feel of the cursor; it gives the game the physical, tactile quality we always wanted.
PlayStation VR and Demo Disc
We're also really excited to note that every PlayStation VR headset ships with a demo disc, which features an exclusive VR demo of GNOG.
For our part, we strongly believe that virtual reality is the best way to experience GNOG. Every level is designed from the ground up to recall physical, real-world toys. That vision really comes to life in virtual reality. Allowing players to stand up and explore each world — peeking behind bookshelves, looking in drawers, or just getting up close with some of the details — really makes the levels feel like interactive sculptures. We expanded our backdrops to fully surround the player, which both grounds the experience and gives us the opportunity to hide hints and subtle winks. While the game can be played without a PlayStation VR headset, we feel that playing GNOG in virtual reality is a wonderfully unique experience.
What's Next?
While the news is super exciting for all of us here at KO_OP, there's still plenty of work to do. The full game loop of GNOG is complete, but we want to make sure we have time to make it as polished and as beautiful as possible. That means smoothing out animations, packing each level with extra detail and flourish, improving the flow and feedback of our puzzles, and so on (and so on and so on…)
We're also taking the time to revisit all of the audio work in the game with our musician & sound designer Marskye, fully realising every level's dynamic soundscape — keep an eye out for the soundtrack when the game is released! For now you can check out the full version of the song from the trailer:
All in all, it's arduous work, but it's been amazing seeing the levels themselves come together, as well as watching players understand and enjoy the game more and more with every layer of polish we add.
It's coming together beautifully, and for us it's like seeing the game with fresh eyes for the first time — we're just really excited to get GNOG into your hands! We'll be showing more of the game in the next few months with a fun and somewhat unique series of videos, so stay tuned for updates as we work towards releasing GNOG in early 2017.
Until then, we'd love to hear what you think, and what you'd like to hear more about, either here in the comments or over on our Twitter.