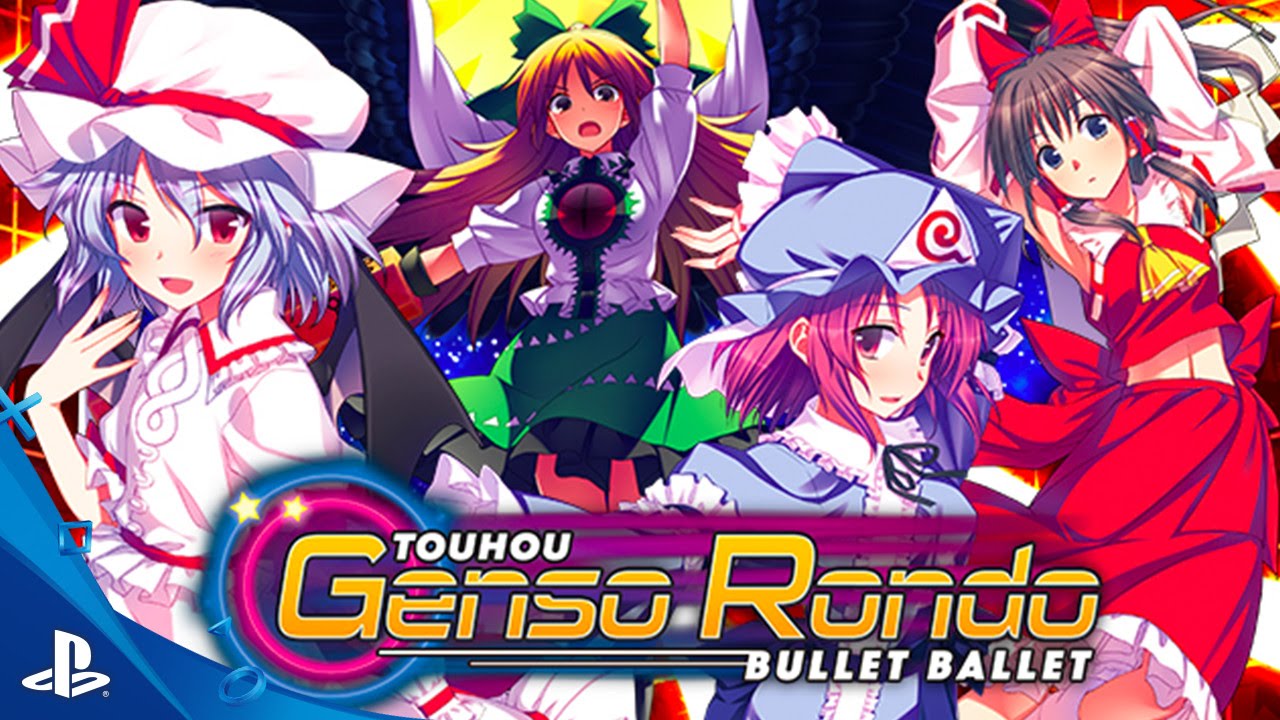 What happens when you mix ballet, MMA, magical girls, and bullet hell? Touhou Genso Rondo: Bullet Ballet, dood! This PS4 exclusive mash-up between a shmup and a fighting game will be hitting PlayStation Store and retail in North America tomorrow! In the two weeks after launch, we'll be giving everyone a one-two punch of extra fun by adding two new playable characters: Flandre Scarlet & Yukari Yakumo in free patches!
Okay, so that's a lot of news about a game that's been flying a bit under the radar, so lemme give you a quick primer! Touhou Genso Rondo is basically a mashup of your typical 1-on-1 fighting game with the signature bullet-hell excitement of the Touhou Project.
You'll find all the standard modes you're used to in fighting games, including Story, Arcade, and Boss Rush, along with local and online versus modes. Each fight will see you dancing between a beautiful-yet-deadly array of projectiles as you answer in kind in an effort to be the last one left standing when the air clears. A picture is worth a thousand words though, so check out our trailer for a thousand-thousand words worth of info!
So yeah, that's what the game looks like. Dazzling and dizzying, am I right?
You'll be duking it out against your friends or the CPU with some of the coolest characters of the Touhou Project – a massive universe that encompasses more than a hundred characters, each with a unique and interesting backstory and personal music.
The original world of Touhou was created by ZUN, a one-man dev team who has handled the game design, scenario writing, programming, character design, and music production for over 15 entries into the universe. Though he originally created Touhou back in 1996 as a way to create his own game music, the series has become a bit of a phenomenon thanks to the Play Doujin! scene that has grown around it and fostered a plethora of fan-developed games like Touhou Genso Rondo.
Because Touhou Genso Rondo was created by CUBETYPE, a relatively small team of Japanese developers, they've been insanely excited that we're bringing it to the West. Being the savvy publisher that we are, we harnessed that excitement and had CUBETYPE add three brand-new characters for this release! (Okay, let's be honest, they offered to add characters.)
When you pick up Touhou Genso Rondo: Bullet Ballet, you'll be snagging everything Japan got, plus Aya Shameimaru at release. On September 20, you'll get a free update that will add the winner of our fan poll contest, Flandre Scarlet, and two weeks later, on October 4, you'll get Yukari Yakumo added to your game! Once they've been added to the game, you'll get to use Aya, Flandre, and Yukari in Arcade, Boss Rush, and all the versus modes. Each of the three new characters will also get a unique DLC available on PSN for $1.99 that will include both their Story and BGM.
Alrighty then! So much goodness in one article, I'm sure you're salivating in anticipation! If so, you can check out the full roster on the official game site to settle on which character you'll main when the game comes out tomorrow. Already got a favorite? Let me know in the comments! Until next time, dood!