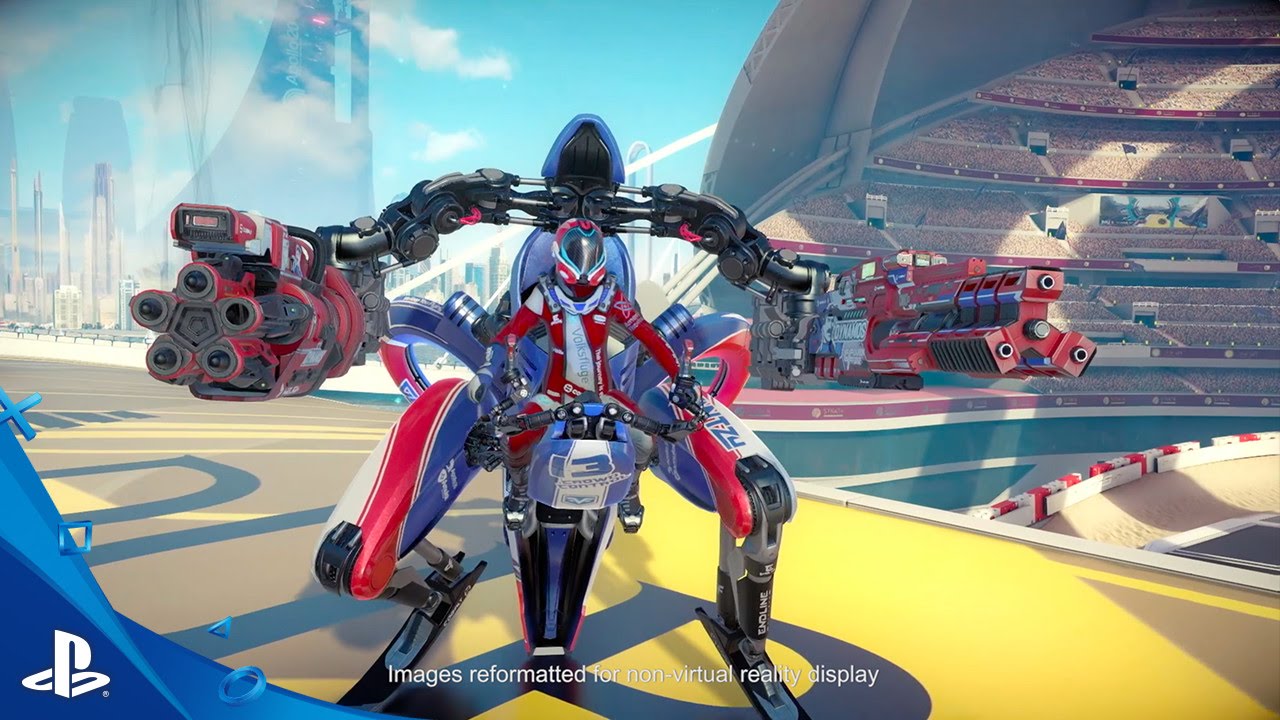 We've already shown quite a bit of the three-on-three online mode in Rigs Mechanized Combat League, Guerrilla's upcoming arena-based shooter launching exclusively for PlayStation VR. But today, we want to give you more details on the other modes included with the game.
Set in the near future, Rigs Mechanized Combat League mixes elements from different athletic fields like combat sports, motorsports, and basketball into an explosive cocktail. At the heart of the game are the Rigs — large, heavily armed athletic sport machines which you'll get to pilot as you compete for the number one spot in the Mechanized Combat League.
In addition to the three-on-three online mode, which sees you team up with two other players to challenge an opposing team of three players, the game features a one-on-one online mode in which you team up with two AI pilots to challenge an opposing player backed by two AI pilots. You can have a friendly match against someone from your PSN Friends list, or play an exhibition match against a randomly selected opponent.
Rigs Mechanized Combat League also offers an extensive offline single-player experience featuring a Career Mode. In Career Mode, you and your team of AI pilots rise through the leagues as you defeat other teams, earn fame and fortune, and gain access to new Rigs and pilots. In total, there are 24 unique Rigs to unlock, each with their own style of play. While climbing the ranks in Career Mode you will also impress sponsors and obtain exclusive sponsorship deals, liveries, and pilot outfits.
Speaking of pilot outfits: if you pre-order Rigs Mechanized Combat League today, you'll receive a set of exclusive Guerrilla-themed outfits including helmet, uniform, and visor graphics. What better way to show your allegiance to the founders of the Mechanized Combat League? The game launches alongside PlayStation VR on October 13, so make sure you secure your copy from select retailers here.