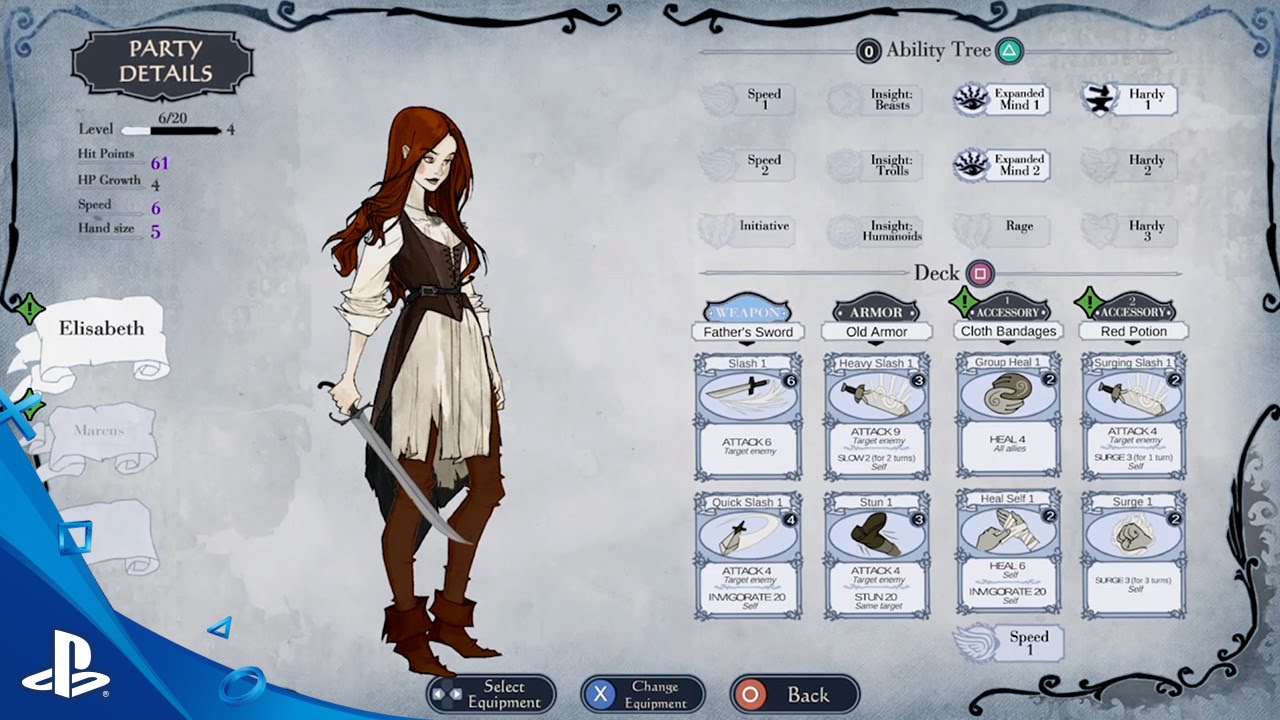 The Huntsman: Winter's War gave moviegoers a glimpse of a fantastical world with great promise of epic tales. Now, you can embark on your own unique journey within the expanded universe of The Huntsman: Winter's Curse on PS4. With gameplay inspired by the time-honored adventure and RPG genres, The Huntsman: Winter's Curse follows Elisabeth, a courageous young woman trying to uncover the whereabouts of her missing brothers in this surreal, animated world.
As you guide Elisabeth in her search, she will come across a multitude of fascinating creatures and characters, some of whom will aid in her journey. However, one should always be cautious of strangers; you never know when someone might have ulterior motives.
Elisabeth and her companions must risk confrontation with Queen Freya's soldiers, bandits, rabid beasts, Goblins, Wisps, and yet-to-be-seen entities. While Elisabeth's cunning will often allow her to outwit the enemy, she will not always be able to avoid combat. Sometimes she must engage in battle, players will choose from card-based abilities, granted from equipment, to perform attacks against their foes in turn-based active-time fights.
During the journey, Elisabeth and her party will obtain equipment in the form of weapons and armor that confer specific abilities to the wearer in the form of cards. Using these, players can customize the party members to form unique combinations of abilities to help overcome even the toughest challenges. You never know who, or what, Elisabeth will come across in her adventure, so it is always wise to be vigilant and inquisitive.
As a small, independent developer, it was an honor to be approached by NBCUniversal and have the opportunity to work with a licensed property of The Huntsman: Winter's War's caliber. From the beginning, we knew this would be a massive undertaking for our small Tucson studio.
We set out to engage players with not only great gameplay, but also a gripping story, and unique artistic style. We searched for a skilled writer who could combine the adventurous nature of the film and also expand upon the universe. We found that person in our own backyard, with local Tucson writer Janni Lee Simner. With Janni, our artistic lead, Darcie Banfield, and game designer Derek Chin — the vision of what this game would eventually become took shape. But it was thanks to the tireless efforts of our programmers and artist Abigail Larson's wonderful talents that this world and its characters were brought to life.
Even with industry veterans on our development team, we were all-hands-on-deck to make a game based on a major motion picture. There were countless sleepless nights during its development, but everyone on our team came out of this experience having learned a ton and extremely proud of our work. It is our great pleasure to bring this labor of love to PlayStation players.
All five books of The Huntsman: Winter's Curse first season will release simultaneously on August 16 on PS4.