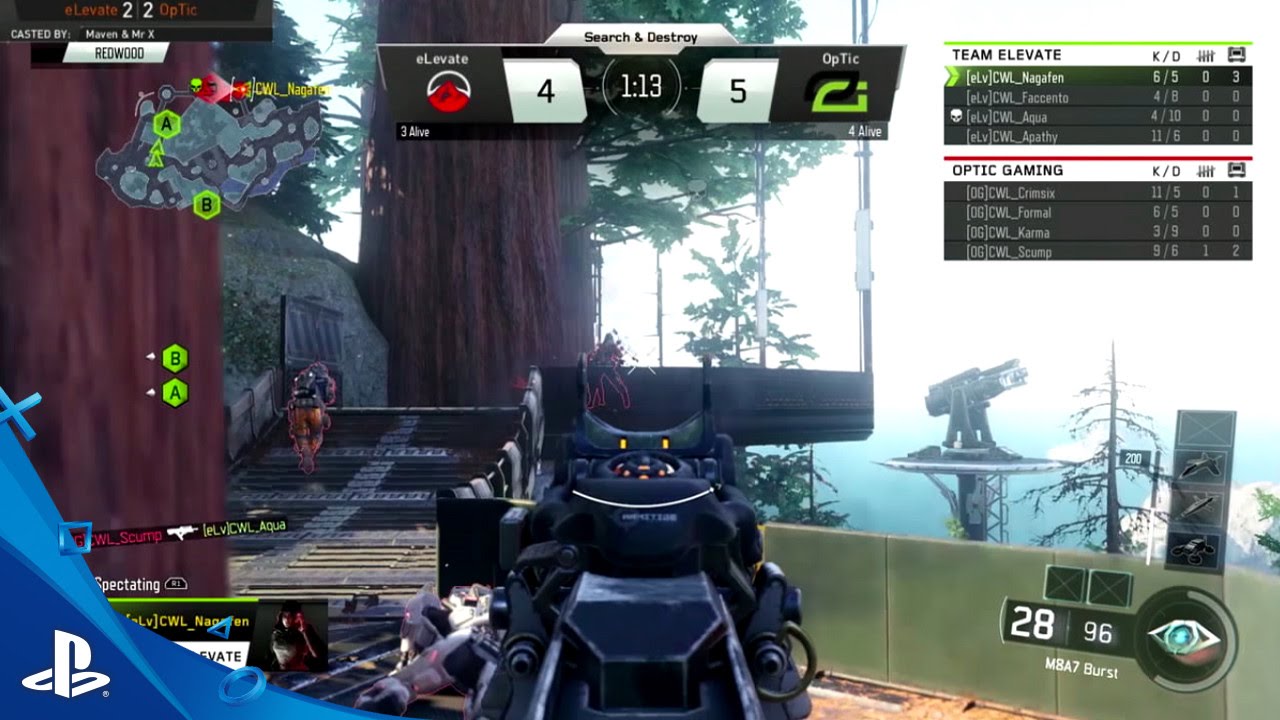 This year, the Call of Duty World League presented by PS4 provided many hours of intense gameplay. The CWL casters, Clint "Maven" Evans, Matt "Mr. X" Morello, Jack "Courage" Dunlop, and John "Revan" Boble have gone through and found the 10 best plays from the last 7 months of the CWL.
These matches from the North American, European, and Australian/New Zealand teams are only a taste of what will be on showcase at the CWL Championships, taking place September 1 through September 4 as part of Call of Duty XP. Enjoy!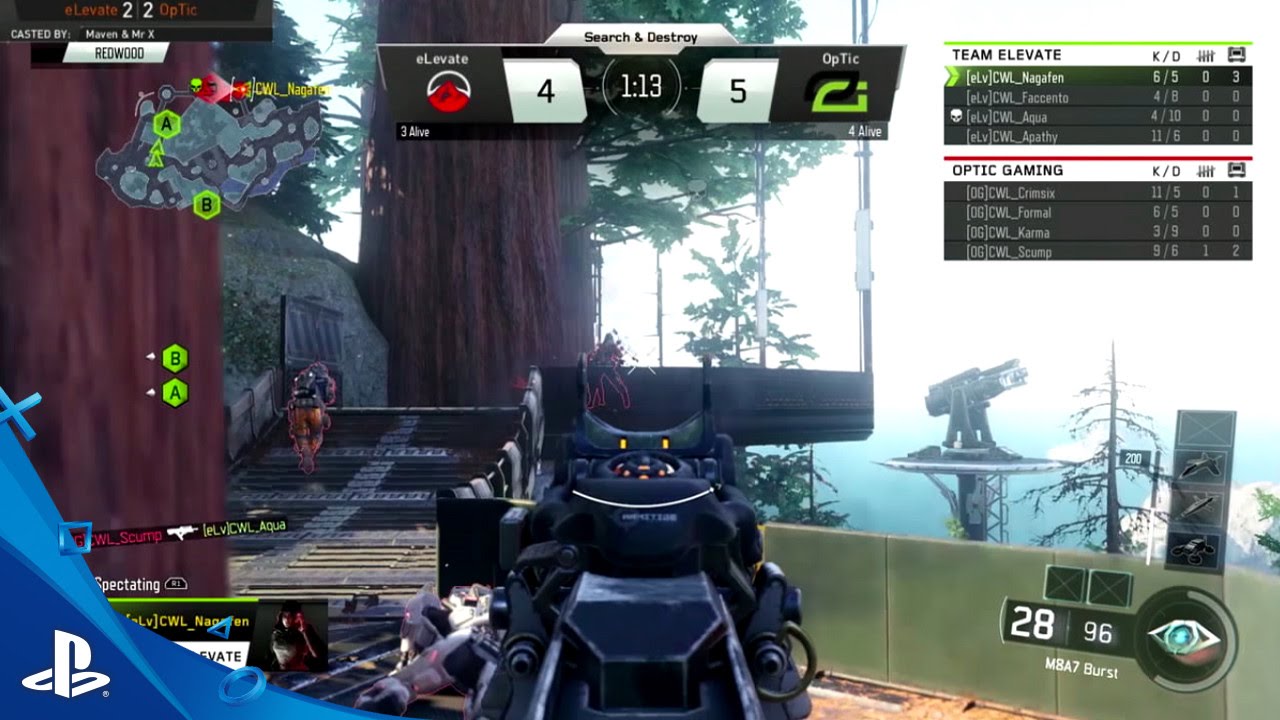 10.) Diabolic's Insane CTF Rampage — Maven
In a matter of 15 seconds, DT's Diabolic returns two of his team flags back to his base, brings his enemy flag to his base, and earns a five kill streak! His insane play around the objective allowed him to use specialist ability Heatwave twice in the span of seven seconds.
9.) Classic Play — Maven
Rise's Classic enters the Search and Destroy round at 5-1. He is able to plant the bomb and then systematically pick apart all four players of Cloud9 for the ace, a clean sweep of the other team. The final moments conclude with a 1v2 clutch assisted by his perfect use of specialist ability Active Camo. He then sat at an astounding 9-1 going into only the fifth round of the mode.
8.) A 20 Killstreak?! — Revan
It's very easy to get caught out of position and get taken out in Call of Duty, so to go on a 20 kill streak is unheard of in a competitive situation. It makes it even more impressive that it's on Infection, a map known for long engagements and difficult for most SMG players. Orbit's Nimble absolutely dominated the map in a way that made everyone sit up and take note.
7.) Tojor's 1V4 S&D Glitch Keeps Giants Alive — Revan
In the toughest situation you can find yourself in during Search and Destroy, Giant's Tojor stays calm and collected after picking up two initial kills, he then shows decisive and smart play as he approaches the bombsite. He finds the third kill through an enemy's specialist ability, Heatwave, only to use his specialist ability Glitch, and jukes the remaining player to finish the clutch.
6.) Aqua Showing Off — Revan
After surviving the initial engagement when retaking a bombsite, eLevate's Aqua follows his teammate with two impressive sniper shots to clear out the street, then promptly turns around and gets the round-winning kill.
5.) OpTic's Crazy Uplink Comeback — Courage
OpTic is down by two possessions with 25 seconds remaining in a swing game three. After a nice dunk by Scump, OpTic does a great job of forcing EnVy to spawn farther away so it can rally in another score. OpTic's Crimsix has the most important kill of the game, cutting down Envy's Slasher before he can throw the drone away from OpTic. The drone is then passed forward for a swift dunk with four seconds remaining.
4.) Vortex With the Fury Kill Ace — Courage
Getting an ace (knocking out all four of the opposing team) is already a tough task in Call of Duty. Getting an ace in four seconds is almost unheard of. With precision shots and great positioning behind the B-site, Exertus's Vortex is able to clutch a situation against all odds.
3.) Nagafen with the S&D Ace — Courage
Game Five. Round 10, an intense place in Search and Destroy. eLevate's Nagafen in a 1v4 against one of the most historic organizations in competitive Call of Duty. Perfect accuracy gives him three kills from one clip of his M8 assault rifle. Because of this he earns his specialist ability, Active Camo, which is one of the best specialists for a 1v1 scenario. Envy's Havok tries to clean up Nagafen but camo is popped and an easy engagement is won.
2.) Is that Even Legal? — Mr. X
We had never seen 60+ kills during a CWL regular season match. To hit that mark or even get close to it is a crazy scenario where you're making all the right plays and connecting with all your shots. H2K's Legal set a mark that has yet to be attained by any other player.
1.) Nagafen Sneaks Under Platform for a Three-piece — Mr. X
This play really showcased the movement system in Black Ops 3. eLevate's Nagafen hits an amazing lower tree wall-run, which nobody was really doing at the time, to sneak behind three players who couldn't see him, making the play below the platform.