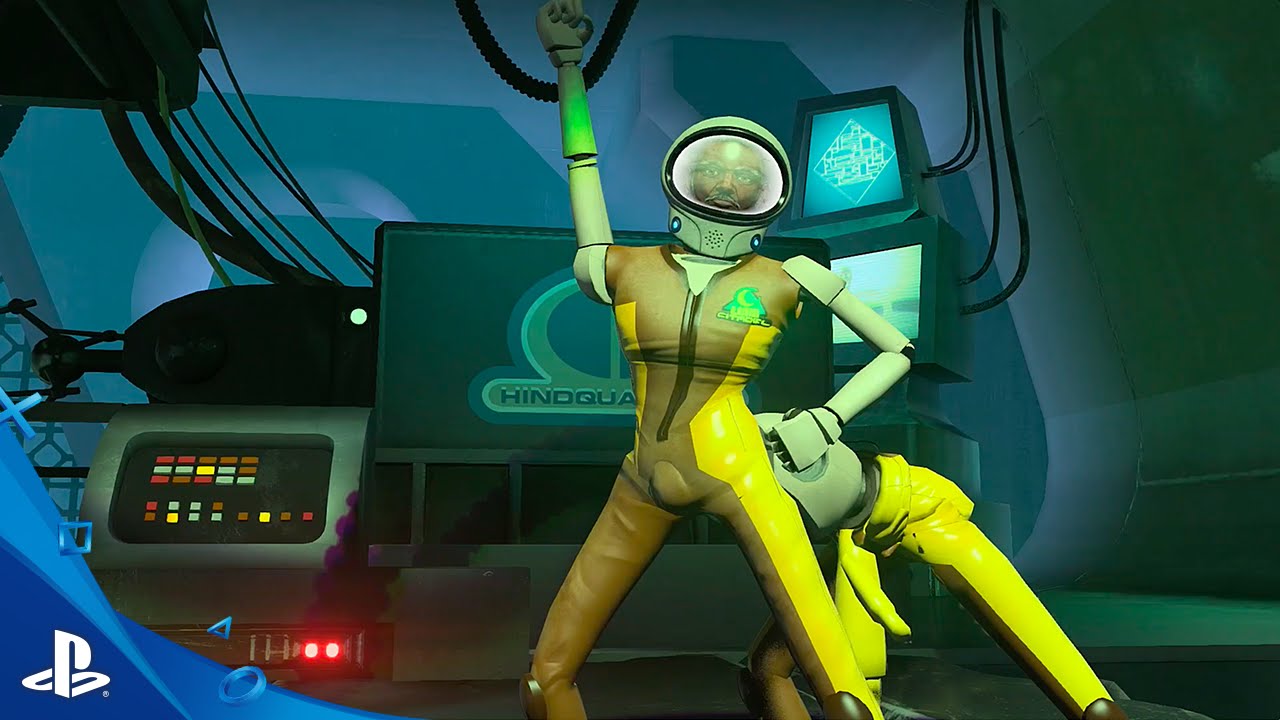 I was an impressionable six year old out camping when I first heard Vangelis. Some family friends brought a tape of a radio show called Hearts of Space and "To the Unknown Man" was playing. Instead of sleeping, I found myself staring up at the stars with my imagination going wild.
That music was the catalyst for an insatiable appetite for electronic music during my childhood. I was a rabid fan of Isao Tomita, Wendy Carlos, Vangelis, Tangerine Dream, Jean Michel Jarre, and later the weirder stuff by Xenakis and Stockhausen.
When I heard that Headlander was following a retro-future narrative inspired by Logan's Run, Silent Running, Zardoz, and other 70's sci-fi, I simply tapped my already fiercely nostalgic mind for content. I knew what influences I had to honor in this score, and knew what tools I was going to have to use to satisfy my needs. Right off the bat, I decided on using tape and analog synthesizers. I'd still use my software of choice, Logic Pro, but mostly just as a recording device.
In Headlander, there are nods to Vangelis when you walk the halls of the Pleasure Port. When Grid Clash begins, you will hear Wendy Carlos inspired fanfare. When you get to the Computer Core, you'll hear the more avant-garde colors of Stockhausen and Xenakis. Behind the walls of the pleasure port, you'll hear an ambient score that is referencing Brian Eno. I love this era of electronic music dearly, and I want to reintroduce the world to these colors and aesthetics while visiting this alternate timeline.
I needed the right tools for the era, so I borrowed, rented, and bought some tools for the task. I acquired some modern takes on vintage synths. I am using A Prophet 8, Moog Voyager, Dave Smith Mono-evolver, Korg Monotron, and arp Odessey. I also was able to borrow some vintage synths from electronic music artists Jeff Taylor and Frank Garvey. These included the Yamaha CS15, Moog Voyager, Korg MS20, and a vintage Arp Odessey. I also used a Roland SH101, which is from 1983, yet stands tall amongst its older brothers. All are era-appropriate for the 70s, and I feel give the soundtrack an authenticity that I would not have achieved otherwise. For guitar work, I collaborated with Jay Rubin of Ghost Cat Studios.
The score is 70-80% analog. Originally I wanted to go for 100%, but the needs for the game outgrew this limitation. I also included Reaktor 6 and a couple of samplers for some tasks. I wanted to record everything to tape, but the limitations and idiosyncrasies of tape made it VERY hard to be light on my feet, so I used it more sparingly. In the walls of the Pleasure Port there is a song that is procedurally generated. I gave the computer some rules, attached some instruments, and went to make coffee while my computer made music for me. This was inspired by the generative music systems of Brian Eno and John Cage.
I hope that everyone who plays Headlander enjoys this soundtrack. I was honored to compose this score. These days, scores are often hybrids of orchestral and electronic elements, all striving to be modern and huge — I love to write this kind of music!
Headlander was a special treat, though. It's a slice of my own personal nostalgia, my love letter to these giants of electronic music. Who knows — maybe if people love this soundtrack it will rekindle interest in the music that inspired it.
I hope so.
---
PlayStation Store PLAY 2016
PLAY is our annual summer program featuring a diverse lineup of new games and special offers. Purchase two or more PLAY 2016 titles and get a PS Store 20% off coupon! For more details, click here.