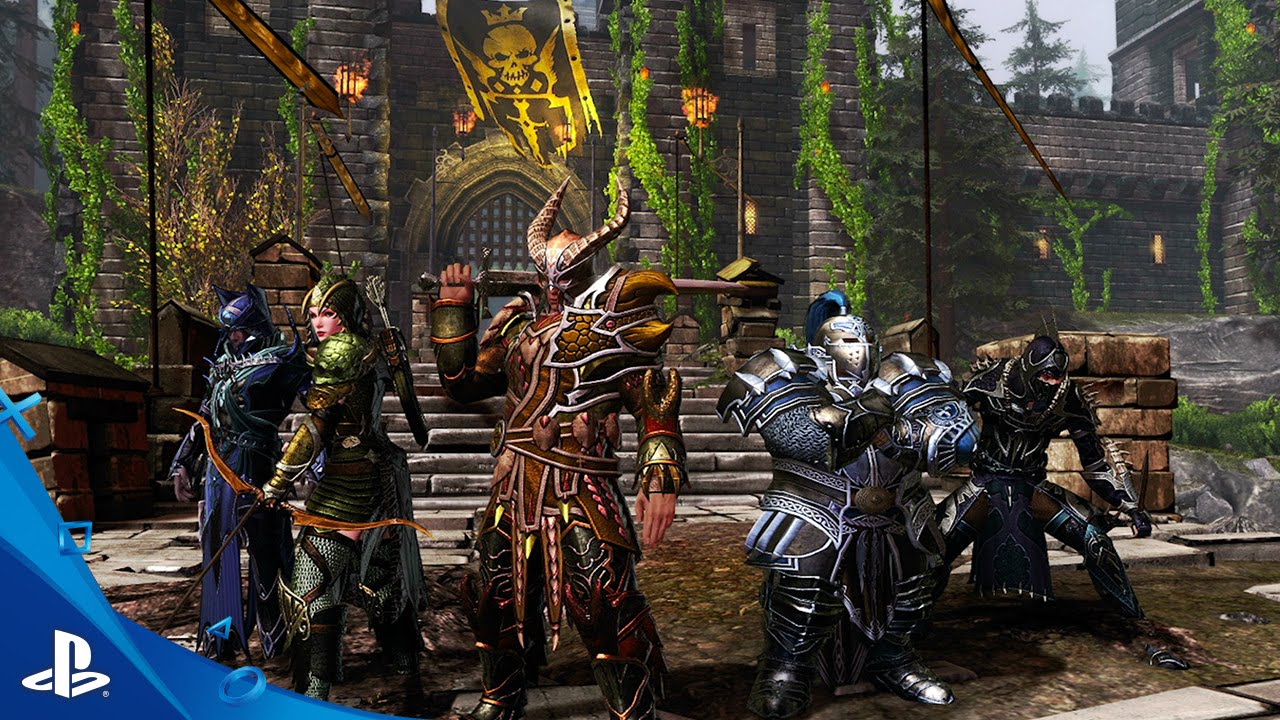 The gates have officially opened for Neverwinter on PS4! Step foot into the Forgotten Realms to begin your adventure through ancient cities, sweeping fields, and fiery mountains.
Before you get your hands on our free-to-play MMORPG, we thought we would share five facts about Neverwinter for the PlayStation.Blog readership.
1.) It's completely free to play!
Neverwinter is free to play for all PS4 players –PlayStation Plus is not required! This means that all nine expansions and eight classes are yours to explore. All you need to do is head to PlayStation Store and download Neverwinter in order to begin your adventure. Launching free on PS4 also means that future content including our tenth expansion will launch for free on PS4.
Every account is also offered two free character slots, which means you don't have to stick with one class if another piques your interest. Everything you see in-game can be obtained with in-game currency giving a true free-to-play MMORPG experience. You won't find another game like Neverwinter!
2.) Free Electric Tiger mount and PlayStation Plus Cosmetics
In celebration of our launch, all adventurers can obtain a free Electric Tiger mount, which is exclusive to PS4. Simply complete the tutorial and head to the Rewards Claim Agent near the top of Protector's Enclave.
This electrifying feline increases your mounted movement speed by 50%. Though named as such, this magically-altered beast cannot actually conduct electricity, meaning you'll be safe and sound around it.
In addition to the free mount, we are also giving PlayStation Plus members a free fashion and emote pack!
3.) Are you a Dungeons & Dragons fan?
If you're a fantasy fan, you've probably heard of Dungeons & Dragons and perhaps partaken in a campaign yourself. Neverwinter, a city in the Forgotten Realms, is based off of the D&D franchise from Wizards of the Coast.
You'll even meet fan-favorite characters such as Drizzt Do'Urden, Minsc & Boo, Elminster Aumar, and many more. We have also teamed up with Wizards of the Coast to bring unique storylines to Neverwinter that follow their pen and paper RPG. If you've played some of their latest expansions, including Tyranny of Dragons and Rage of Demons, you'll find several familiar faces and storylines within our game. We even had acclaimed author R.A. Salvatore write an entire quest line exclusively for Neverwinter!
4.) Leveling Your Characters
Being a continuously changing MMORPG means you're about to walk into a ton of content in Neverwinter. One question that we've been asked before is: what is the best way to level your adventurer?
As you play through Neverwinter, you'll encounter our main story arc, which we highly recommend playing for maximum XP gains… and some Trophies, of course. In addition to that, we'd also recommend using systems like professions once you hit level 10 to find additional means of gathering small chunks of XP. Finally, gathering a group of friends, starting a guild, and building up your Strongholds will give you even more quest options as you push your way to the level 70 cap.
5.) Don't Forget to Queue
Playing through Neverwinter will bring you all over the Sword Coast from the Blacklake District all the way to Icewind Dale. One thing we highly recommend you do along your adventures is queue for our dungeons, skirmishes, and PvP matches. At the beginning stages of your character building, these queues will give you loot needed to help you tackle some of the new zones.
Once you've hit level cap, the dungeon and PvP queues will help you get the best loot in the game as you maximize your character's potential. We will also have large group queues that will be available at launch including a 25-person raid against the five-headed dragon queen, Tiamat. Band your friends together and tackle some of the most fearsome monsters in the Dungeons & Dragons franchise.
Those are just five quick tips for our massive MMORPG. Have more questions? Ask them below in the comments and we'll try to answer as much as we can. Look forward to seeing you all in Neverwinter!