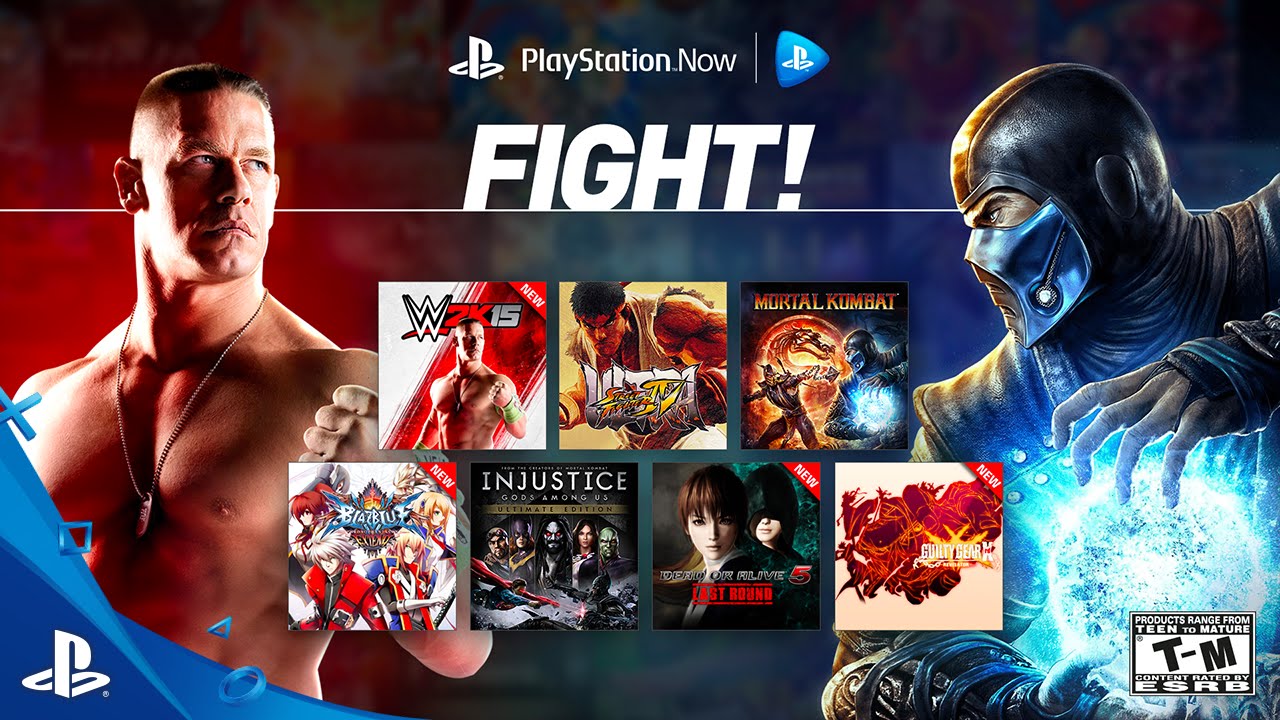 PlayStation Now is adding eight bone-crunching hits to our ever-expanding collection of games. This month's new contenders include WWE 2K15, Guilty Gear Xrd Revelator, Dead or Alive 5: Last Round, BlazBlue: Chrono Phantasma Extend, and Arcana Heart 3: Love Max!
Veterans of PS Now will recognize our returning champions, including Mortal Kombat: Komplete Edition, Injustice: Gods Among Us Ultimate Edition, Ultra Street Fighter IV, King of Fighters XIII, Street Fighter III: Third Strike Online Edition, Virtua Fighter 5 Final Showdown, Skullgirls Encore, and many more.
Here's a short description of each of the new games this month:
WWE 2K15 (New)
WWE 2K15 delivers authentic WWE gameplay, closer than ever to what fans see on WWE TV. With a host of gameplay advancements and innovative features, WWE 2K15 brings the atmosphere of WWE to your home.
Guilty Gear Xrd Revelator (New)
Guilty Gear Xrd Revelator rips along at a blistering 60 frames per second and features cross-platform PS4 and PS3 system compatible battles. Choose from more than 20 insane fighters as you battle for glory in the post apocalypse.
Dead or Alive 5: Last Round (New)
Two new playable characters join to make the largest roster in DOA series history! Two fan favorite stages make their triumphant return with updated graphics and gameplay. With amazing effects and shading technology, the Dead or Alive fighters look better than ever!
Deadliest Warrior: The Game (New)
Deadliest Warrior: The Game allows you to choose from history's greatest warriors, equip them with signature weaponry, and go head to head against the greatest fighters that ever lived. Deadliest Warrior features five play modes, customizable warriors, and true to life action with interactive environments.
Deadliest Warrior: Legends (New)
Take control of history's greatest warriors and face the likes of Alexander the Great, Attila the Hun, Genghis Khan, Hannibal, Hernan Cortes, Shaka Zulu, Sun Tzu, Vlad the Impaler and William Wallace. With enhanced graphics and nine arenas, new fighting options like grapples, pushes, ring outs, feints, projectile targeting, and new final strikes will expand your tactical options.
Bellator MMA Onslaught (New)
A first of its kind, this is a fast-paced arcade style MMA fighting game with easy to understand controls that enable players to quickly master the clinch and ground game. Design your own fighter and compete against other players' creations and the best fighters Bellator has to offer to level your fighter, master MMA techniques, unlock moves, earn belts, and climb to the top of the world rankings.
Arcana Heart 3: Love Max!!! (New)
An explosive, fun-filled 2D fighting game from the teams that brought you Guilty Gear and BlazBlue! Choose between 23 adorable fighters and 23 arcana — celestial beings who can change the balance of your character — and stop the evil Drexler Institute from destroying Japan!
BlazBlue: Chrono Phantasma EXTEND (New)
The definitive installment of the renowned 2D fighting game franchise, BlazBlue, can finally be played in your living room. Uncover the secrets of the Chrono Phantasma Extend.
Last Chance to Score 3 Months of PS Now for only $29.99
The time has come to stage your gaming getaway. The PS Now summer discount ends on July 11. So be sure to lock and load your 33% discount before it's too late. If you haven't given game streaming a shot, there's a 7-Day free Trial to get you started. With 400+ games including top franchises like Borderlands, BioShock, WWE 2K, NBA 2K, XCOM Enemy Within and more, there's never been a better time to join.