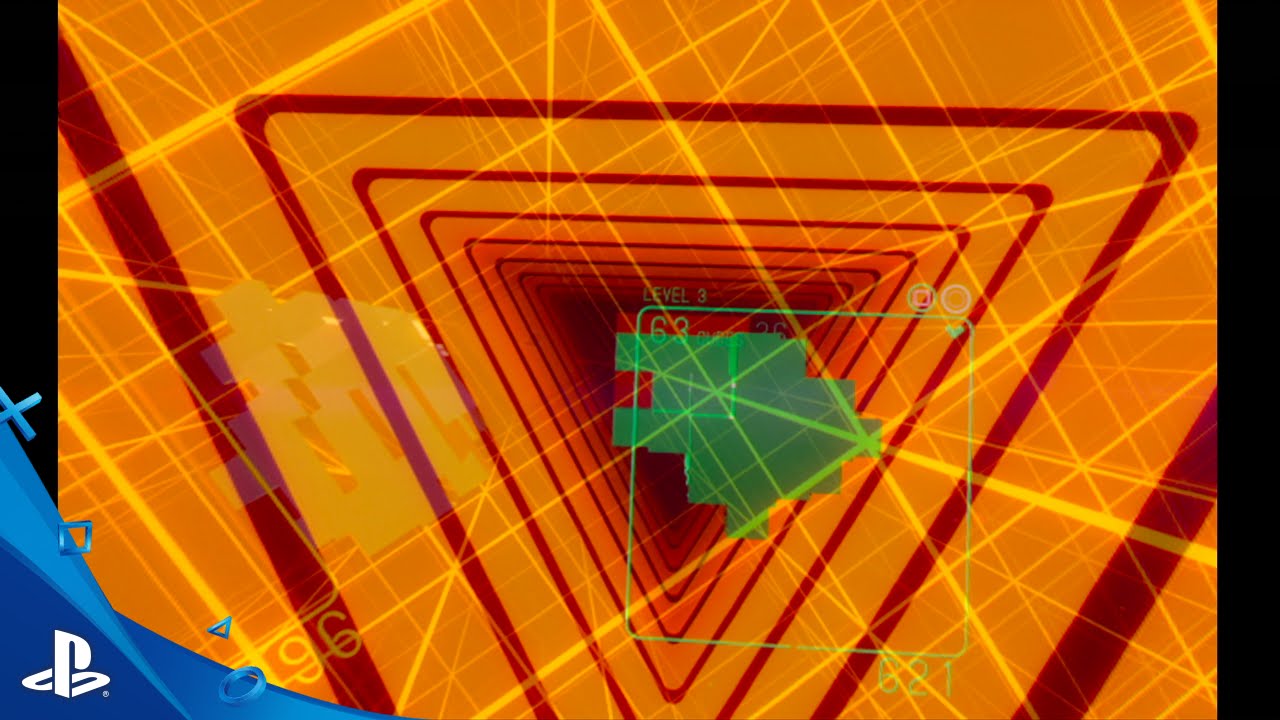 Hey there! kokoromi here with an update on SuperHyperCube.
In our last post, we shared with you a bit of the game's history and our aesthetic inspirations for the game, from iconic film sequences to immersive art movements. We want you to feel like you are a part of a completely separate reality of warm, glowing light and abstract space. We've put tons of detail into the game's retro-futuristic look and feel.
In this post we'd like to share a bit about the gameplay in SuperHyperCube, to give you an idea of how things work. We've spent the past year refining our mechanics, adding new elements and stripping away others to hone in on the right level of challenge and create a streamlined gameplay experience. Without giving away too many secrets, here is a bit of what you can expect when the game launches on October 13.
SuperHyperCube is very simple: you start off with a single cube, a cube that matches a hole in an ominously approaching wall. The object of the game is to fit your cube through the wall. Easy, right? Fitting cubes through holes is the heart of the game, and we were determined not to stray too far from it.
Of course, we've brought in a few additional challenges. Once you pass through the wall, additional cubes will snap on to your original cube, creating a random cluster of cubes. As you progress through the game, your cluster continues to grow to hundreds of cubes, and it is your job to rotate it so that it fits through the hole in the oncoming wall. The trouble is, the cluster obscures the shape of the hole in the wall, so you have to look around it in order to properly see the hole, and get a better sense of the shape of your cluster. This is where headtracking comes in, and why you can't play the game without it.
Once you've aligned your cluster to the hole, you can either sit tight and naturally pass through the wall, or if you are confident in your success, you can Boost (a kind of quick-drop) to accelerate your cluster through the hole. As you Boost, you subsequently charge power-ups that can help you get out of tight situations in the game.
The first power-up is a Time Warp, a bullet-time effect which allows you to temporarily slow down time, giving you extra opportunity to align your cluster to the oncoming hole. The second is Smash, which gives you the power to blast through the oncoming wall, leaving it in shattered fragments. Nothing is more satisfying than turning the tables on those smug walls!
There are also special trick walls within the game that serve as gateways to new levels, each one a new world with its own ambience and aesthetic. All in all, there are 10 levels to master, each made up of 10 walls. See how you match up against your friends, or players from around the world, on the leaderboards… or simply try and beat your own personal best scores and stats!
There you have it. One game, 10 levels, 100 walls. Are you up for the challenge? If you can't wait until October, SuperHyperCube is currently playable in select GameStop and Best Buy locations throughout the U.S. and Canada, and if you are lucky, you may catch it at other game and VR festivals near you.
<3 kokoromi