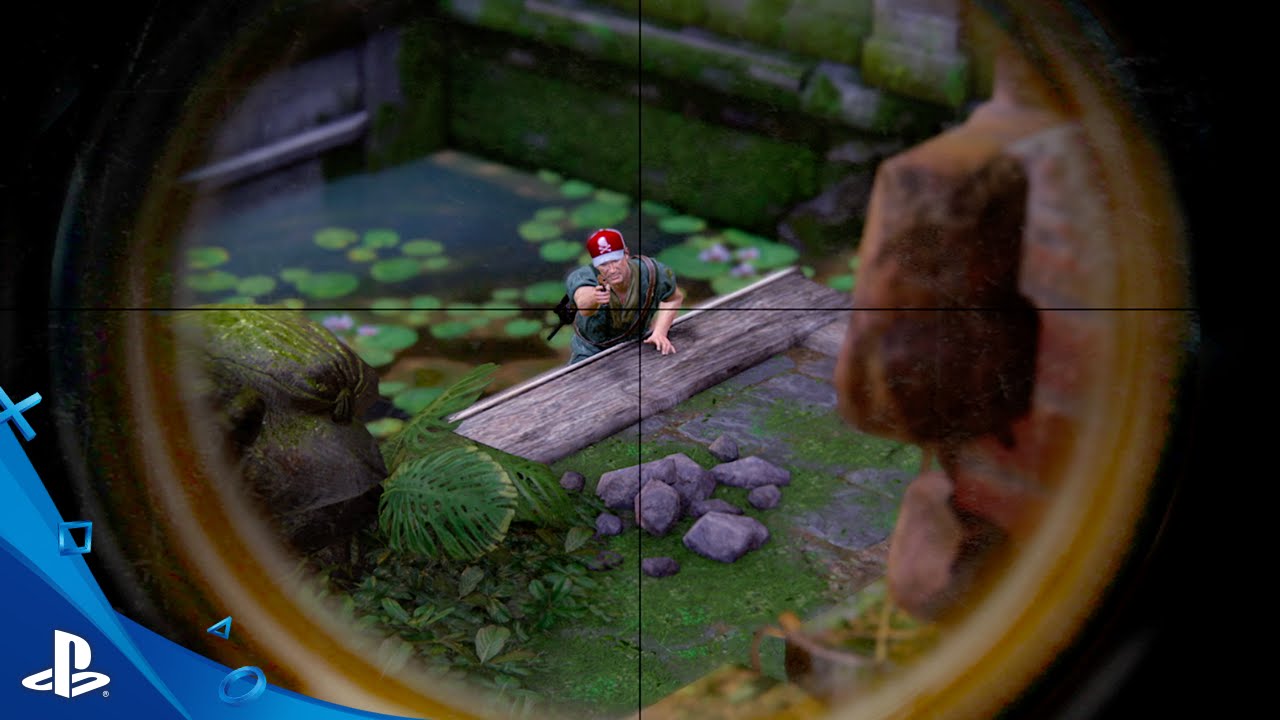 Naughty Dog has been floored by your reception to Uncharted 4 Multiplayer since it was released on May 10. Since then, we've seen over 1.8 million people play nearing a total of almost 54 years of matches played. Multiplayer continues to be important to the team and we're continuing to work on patch deployments to deliver improvements and gameplay tuning. Our first major post-launch update, patch 1.08, launches today and includes our first MP DLC drop, a Level system and an entirely new Rank system with special rewards. Yes, this is a big update (patch 1.08 is just over 1.3GB in size).
Lost Treasures
Lost Treasures is our first post-launch content drop, and includes our first map release, new gameplay items, and amazing-looking character skins.
Sunken Ruins Map
As promised, all DLC Maps are included with purchase in U4 MP, and our first map is Sunken Ruins. You may recognize some areas from the single-player campaign, but the Sunken Ruins map is a small, fast-paced map with tight fronts and some hidden water flank routes.
Gameplay Items
You can now purchase DLC Gameplay Chests with Relics. These unique Chests will grant you all the new gameplay DLC items, including the new P90 Long Gun or the incredibly exciting Path of Indra Mystical that allows you to teleport your teammates. You will never get duplicates of any item you have already unlocked through our DLC Gameplay Chests.
The full list of new gameplay items is:
Weapons
P90 – A full auto submachine gun with a very large magazine
Arrowhead A3c – A full auto long range variable rifle (choose to scope in or not)
Enforcer G26 – Semi-auto very fast rate of fire pistol
Agarwal .40 – Semi-auto hard-hitting 40-caliber pistol
Harbinger Sniper – A Heavy Weapon sniper gun
Boosters
Enhanced Radar – increases the range of radar and show directional arrows for enemies
Gunslinger – swap weapons faster and reload faster while rolling
Hardened – reduced damage wobble
Gifting – give allies a full gear recharge
Mystical
Path of Indra – teleport to any ally
Vanity Items
In addition to new gameplay items, we have also introduced a wide variety of Vanity items for all our beloved characters.
Over 50 new Skins and Pre-Sets
Over 70 new Hat and Face Wear items
An assortment of new Taunts and Weapon Skins
Some of the new items (there is a new skin for each character for example) present certain characters in in some fantastic Pirate and Military themes – who doesn't want to play as Pirate Sullivan or Military Lazarevic? Our Character team put in a ton of time and love working on all these new Skins and it shows.
Patch 1.08
Level System
One of the most significant pieces of feedback we've received was that Uncharted 4 Multiplayer did not release with a Level System. We're glad to say that we are addressing this in 1.08, which introduces a system that many of you will be familiar with. Our Level System features 70 levels, with each level awarding you with items ranging from Relics to Chests. Every 5 levels you will earn a vanity item that cannot be attained through any other method. They are unique and a great way to show off your veteran status. They are quite mystical, actually…
You will level up by earning XP which comes from three sources: completing matches, earning score, and earning medals. We have also introduced a wide variety of new medals into Team Deathmatch and Ranked Team Deathmatch.
Ranked Team Deathmatch
The Multiplayer team at Naughty Dog is extremely competitive and this is a big reason we did a full revamp for Ranked Team Deathmatch Mode, which is also included in 1.08.
Ranked Team Deathmatch will now be occurring over the course of Seasons. Season One will last 60 days, ending on August 20, 2016. When the Season is over, we'll take a short break before the next Season starts to allow us time to make and implement any changes and updates.
As you reach Gold, Platinum or Diamond, you will be awarded with a vanity item. These vanity items will be available for Ranked Team Deathmatch for the Season, so if you do not reach the needed Rank for a reward, you may never be able to get that reward again.
We have also made Rank a much easier system to understand in how points are awarded/taken, removed the restrictions for parties, and introduced a forfeit option. This patch will also introduce an entirely new goal for the highly competitive players among you – Master Rank.
I highly suggest you visit our Ranked Team Deathmatch details page for some more insight into how this mode works – we think it's awesome and everyone should be playing it!
Triple Pack Update
For those of you who purchased the Triple Pack, Multiplayer Pack 1 of the Triple Pack is available today. Your items can be found unlocked in the customization and loadout menus.
The Triple Pack contains:
P90 Long Gun
Gifting Booster
Pirate Drake Skin
Pirate Commodore Hat
The Rubber Leg Taunt
We will continue to hand pick content for inclusion in the Triple Pack for those who have already purchased it or those who purchase the Digital Deluxe version. The Triple Pack was a great launch offering, but we'll soon be offering the Explorer's Pack which includes the much anticipated single-player DLC and 3,200 Uncharted Points. This will provide players with even greater choice on which items they prefer to own. You'll start seeing this roll out in the coming weeks.
Improvements
In addition to all the above updates, we have made a number of more minor improvements that work together to make Uncharted 4 Multiplayer even better. Check out the full details for 1.08 on our Patch Notes pages.
The ability for a player to accumulate an offline Relic bonus; log back in and play games to pull Relics from your offline bonus
Leaderboards have been fixed
The Brute Sidekick can no longer detect players behind them unless they are damaged
Spirit of the Djinn – Increase Duration mod will now grant you an additional 5 seconds for each KO you get while your Djinn is active
The Farmer Booster has been totally revamped so you can deal with Sidekicks more effectively
Damage wobble and blind-fire have had significant balance updates
Most of these improvements will have a deep impact in how Uncharted 4 Multiplayer plays and we are looking forward to hearing your feedback. We will continue to make updates to deliver the best Uncharted Multiplayer experience possible.
Don't forgot to join us on our next Twitch broadcast later this week as we do a rundown of Ranked Team Deathmatch and answer your questions to any and all of the new content that was released as part of patch 1.08. We'll be broadcasting on our Twitch channel at 11:30 AM PT / 20:30 CET on Thursday, June 30.
See you online!