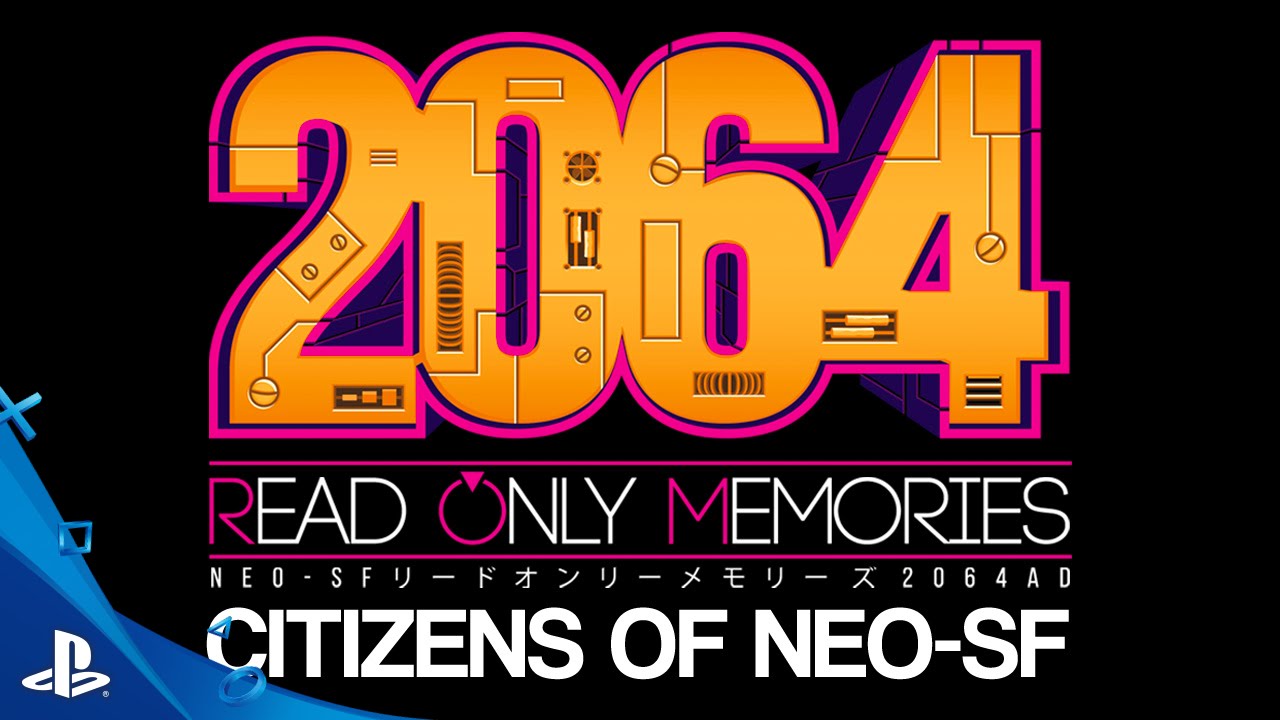 We're very excited to announce that 2064: Read Only Memories will be coming to PS4 and Vita on August 16!
I'm a big fan of games that let you explore a new world but also let you carve your name into it. That's why we've worked to really cultivate a complex world for players to explore in a way that's personalized to them.
In 2064: Read Only Memories, you are hurled into a mystery that quickly escalates until you're in well over your head. You play the role of a journalist trying to find your missing friend while uncovering the truth and hopefully a good story. This journey takes you through the places and people of Neo San Francisco in the year 2064. As you explore, you will meet a host of colorful characters that may help, or hinder, your path to the answers you're seeking.
Initially, our characters could only express themselves through animation and sound effects. Bringing in voice acting added a new layer of expression and immersion that we couldn't fully explore before. Sometimes tone can easily get lost in the writing, and the addition of voice acting not only helps make things more understandable, but it also greatly complements and strengthens the content that we already had.
With our new voices, we've worked super hard to find an amazingly talented and diverse cast to tell the story. Some of these characters may be more familiar than you expect, from Melissa Hutchison, voice of Clementine in The Walking Dead, to UpUpDownDown's Austin Creed (a.k.a. WWE Superstar Xavier Woods), and even Jim Sterling, host of The Jimquisition. You will find 29 fun, scary, goofy, but most importantly very memorable voices in 2064: Read Only Memories.
We've been sitting on all of these big names and I'm thrilled to finally announce that we'll be bringing these voices to you exclusively on PS4 and PS Vita consoles on August 16 2016! It will feature cross buy support, because I hate being torn between going portable or having a bigger screen while being confined to a pretty cozy couch.
You'll definitely love 2064: Read Only Memories if you're a fan of games like Phoenix Wright, Dragon Age, and The Walking Dead. Anyone who loves a good story and interesting characters can easily lose themselves in the world of Neo-SF.
Since announcing our game would be joining the PlayStation family of big indie titles, we've worked hard on bringing something that we think is really going to push the boundaries of what sort of characters and stories you can expect to find in a game.
I know a lot of you have played the demos and met us on the show floors and we thank you for the patience and support and feedback these last few years. We can't wait to bring our labor of love to PS4 and PS Vita.
Hope to see y'all in Neo-SF on August 16!