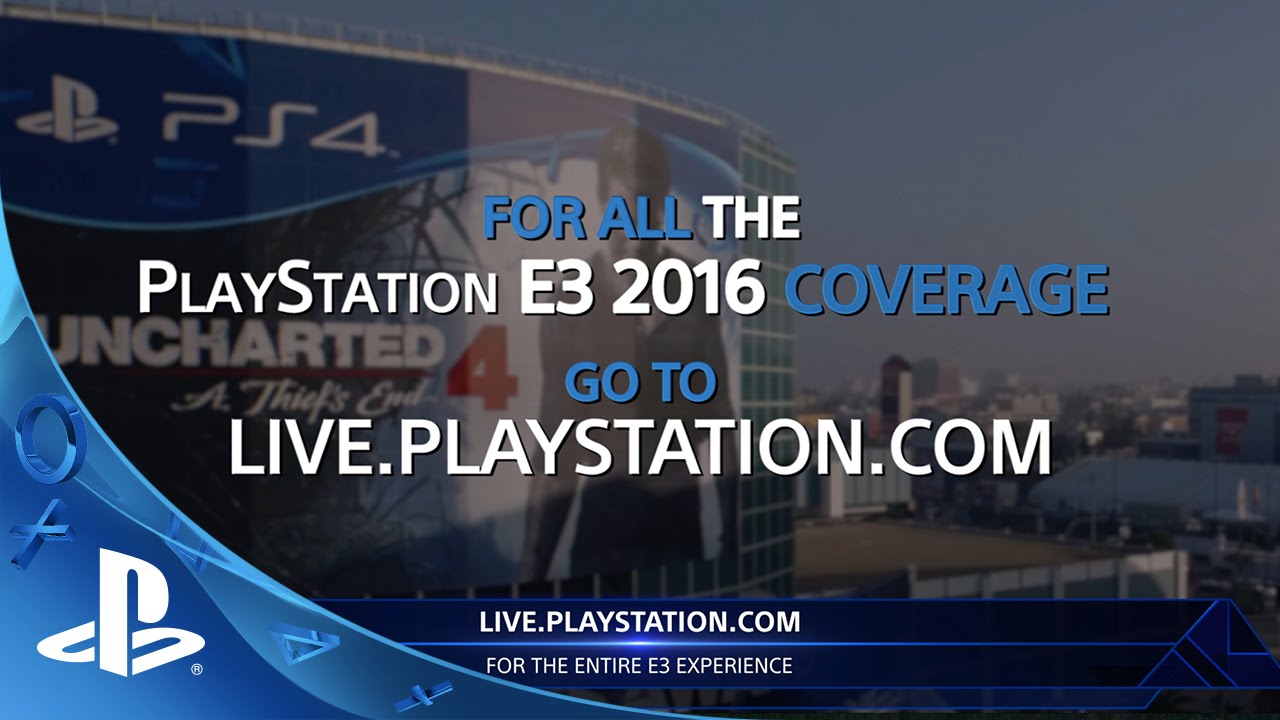 Okay! We're one week from the big show, so I suppose I should reveal what we've been working on for the past few months.
live.playstation.com will be the premier destination for all PlayStation video coming out of E3 2016. That includes our PlayStation E3 2016 Press Conference and our three-day PlayStation LiveCast show featuring live demos, interviews, and demos of more than 60 upcoming PS4 and PlayStation VR titles. There will be LOTS to watch: More than 18 hours of original, live video content, in fact.
A cool detail about live.playstation.com is that it will offer up some digital goodies for those who sign in with their PSN IDs starting June 14. Watch the video below to get a quick look.
As far as programming hours go, here's what's in store:
Monday, June 13 | PlayStation E3 2016 Press Conference | 5:30pm Pacific Time
Tuesday, June 14 | PlayStation LiveCast show | 12:00pm to 6:00pm Pacific Time
Wednesday, June 15 | PlayStation LiveCast show | 10:00am to 5:30pm Pacific Time
Thursday, June 16 | PlayStation LiveCast show | 10:00am to 3:00pm Pacific Time
So to be clear, there are a ton of ways to experience PlayStation at E3:
live.playstation.com (unlock rewards, compatible with desktop or mobile)
The Live Events Viewer app on PS4 and PS3
Our PS4 community Event (RSVP for a reminder!)
At our PlayStation E3 Experience in 85 cinemas across North America
Not bad, right? Now, if you're actually physically going to E3, I thought it might be helpful to reveal some of the playable games at the PlayStation booth in the West Hall of the L.A. Convention Center.
Game
Developer / Publisher
Platform
Gran Turismo Sport
Sony Interactive Entertainment
PS4
Killing Floor 2
Tripwire Interactive
PS4
Let It Die
GungHo Online Entertainment America
PS4
Don't Starve: Together
Klei Entertainment
PS4
Headlander
Adult Swim Games
PS4
Rain World
Adult Swim Games
PS4
Mother Russia Bleeds
Devolver Digital
PS4
Eitr
Devolver Digital
PS4
Aragami
Lince Works
PS4
ABZÛ
505 Games
PS4
Darkest Dungeon
Red Hook Studios
PS4
Everything
David OReilly
PS4
Cryptark
Alientrap Games
PS4
King of Fighters XIV
ATLUS
PS4
Yakuza 0
SEGA
PS4
XING: The Land Beyond
White Lotus Interactive
PS4
Loot Rascals
Hollow Pond
PS4
Thumper
Drool
PS4
Night in The Woods
Infinite Fall
PS4
GNOG
KO_OP
PS4
Brut@l
Stormcloud Games
PS4
Masquerada: Songs and Shadows
Ysbyrd Games Worldwide
PS4
Furi
The Game Bakers
PS4
Manifold Garden
William Chyr Studio
PS4
Shadow Warrior 2
Devolver Digital
PS4
EVE: Valkyrie
CCP Games
PSVR
Harmonix Music VR
Harmonix
PSVR
Headmaster
Frame Interactive Studio
PSVR
Rez Infinite
Enhance Games
PSVR
Super Hypercube
Kokoromi/Polytron
PSVR
Thumper
Drool
PSVR
Wayward Sky
Uber Entertainment
PSVR
100ft Robot Golf
No Goblin
PSVR
Battlezone
Rebellion Interactive
PSVR
Psychonauts in the Rhombus of Ruin
Double Fine Productions
PSVR
So there you go: that's PlayStation at E3 in a nutshell. We've still got a lot of work to do, but let me know if you have any questions in the comments!