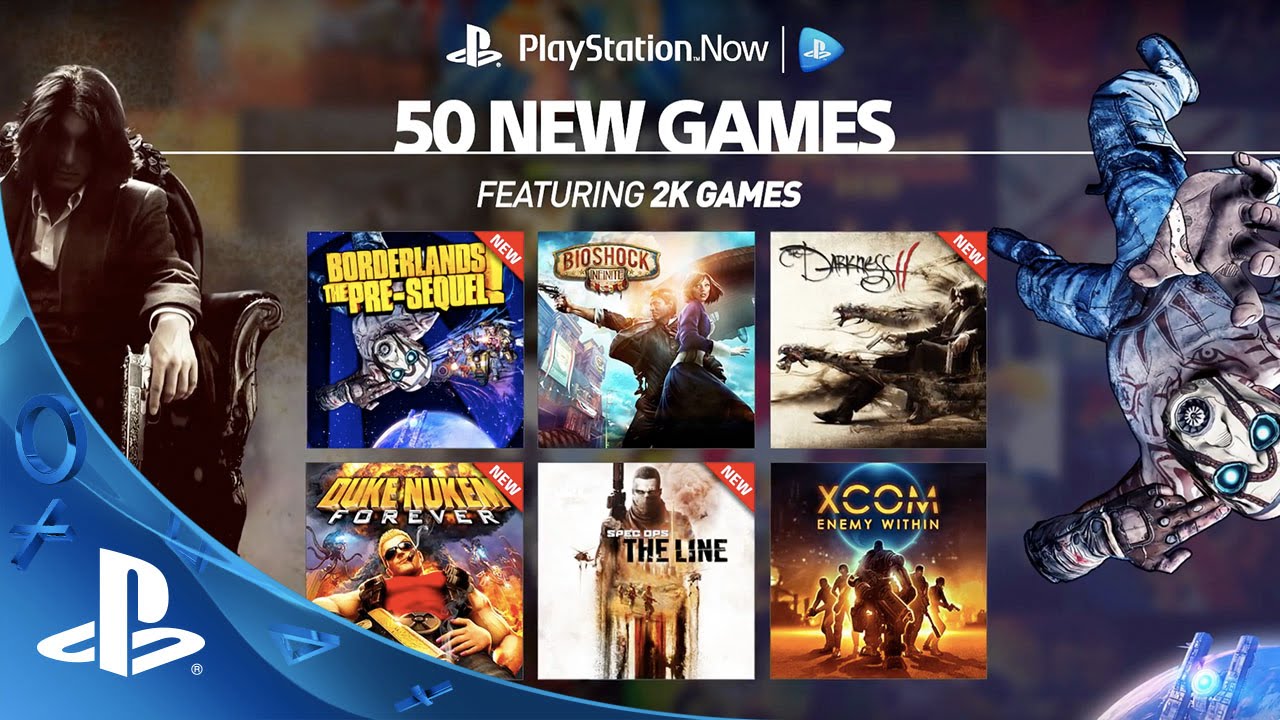 Play new additions from 2K
PlayStation Now will be adding 50 games tomorrow, including Borderlands: The Pre-Sequel, The Darkness II, Spec Ops: The Line and Duke Nukem Forever from the illustrious and immensely talented folks at 2K. In addition to these new additions, you can also play some of 2K's other top hits, including Borderlands, Borderlands 2, BioShock, BioShock 2, BioShock Infinite, XCOM: Enemy Within and NBA 2K14.
Here's a bit about the new 2K titles we're adding this month:
Borderlands: The Pre-Sequel
Launch into the Borderlands universe and shoot 'n' loot your way through an exciting adventure that rockets you onto Pandora's moon! Play as four character classes while carving a path of destructive mayhem across Pandora's never-before-seen low-gravity moonscapes with all new moves, weapons, and vehicles! (Rated Mature)
The Darkness II
The Darkness II is an intense first person shooter that puts you in the role of Jackie Estacado, don of a New York crime family and wielder of an ancient supernatural force of chaos known as The Darkness. (Rated Mature)
Spec Ops: The Line
It's been 6 months since Dubai was wiped off the map by a cataclysmic sandstorm. Thousands of lives were lost, including those of American soldiers sent to evacuate the city. Today, the city lies buried under sand, the world's most opulent ruin. (Rated Mature)
Duke Nukem Forever
Put on your shades and prepare to step into the boots of Duke Nukem, whose legend has reached epic proportions in the years since his last adventure. The alien hordes are invading and only Duke can save the world. With hours and hours of over-the-top single player action, and a range of bodacious multiplayer modes, rest assured knowing the fun will last. (Rated Mature)
Enjoy a Gaming Getaway – with 400+ games this summer for only $29.99
We're also very excited to announce two other bits of news today. First, with the addition of tomorrow's 50 new games, the PS Now Subscription catalog will have expanded to total more than 400 games.
Second, we're announcing a special discount on the 3-Month Subscription (a savings of 33%) that will be available in the U.S. and Canada starting tomorrow and ending July 11, 2016. The discount will apply only to the first subscription period purchased during the promotion, and subsequent periods will be charged at the full price of $44.99 for a 3-Month Subscription. Full details and eligibility requirements are available here.
The full list of 400+ PS Now games can be found on our website, at the bottom of this page. If you're new to the service or have been sitting on the sidelines before giving it a try, we hope you'll consider this a great time to give the service a try. Here's the link to the 7-Day FREE Trial.