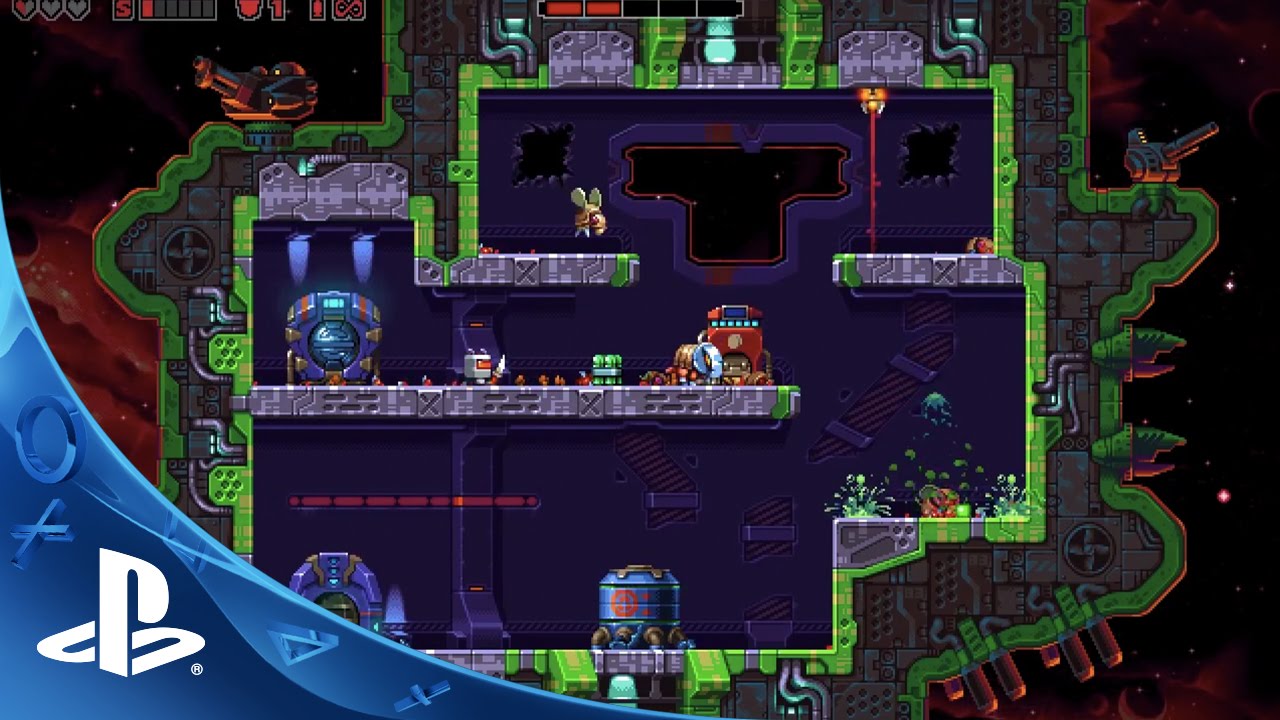 Guns, gore, and dubstep. That's a beautiful recipe to me. That's the recipe I worked from when making Super Mutant Alien Assault (SMAA), which I'm proud to announce is launching on PS4 this summer.
SMAA is a fast, brutal arcade platformer. You have to fight off an alien assault across 12 rapid-fire, single-screen levels. Each level offers a random combination of platform layout, objective, vending machines, and enemies.
Core to the challenge are randomness and permadeath. You never know what weapons and abilities you will have or what enemies and bosses you will face. The only way to beat the game is through sharpening your skills and amassing knowledge through using the vast array of weapons, explosives, and abilities at your disposal.
SMAA is a game that evolves. Weapons, abilities, modes, enemies and bosses will unlock as you play. Every time you jump back into the fray, there will be something new to mix up the gameplay.
Guns
Ever since playing Unreal Tournament I've realized how much fun it is to have a diverse range of weapons that feel good to use. With each offering specific strengths and weaknesses, every gun needs to be thoughtfully used. Sometimes you don't have the right gun for the right situation. But that just forces you to play harder, think smarter, adapt quicker. When you win the battle in those situations, well, that's when you feel like a true hero. These lessons stick with me and are a core part of what shaped my design for the weapons in SMAA.
Gore
In a game, everything needs to feel good — especially combat. Gore is paramount to this. But gore has a hidden cost you just wouldn't know about unless you're a developer. It leads to a more restrictive classification rating, limiting your potential market size. It costs in CPU cycles, reducing what else you can add to the action on screen. It's not easy spawning hundreds of particles of blood, body pieces, and dead bodies that have real physics and interact with the level — gore that doesn't just disappear, but stays where it fell so you can look around the bloody battlefield when the fight's over to see the story of your struggle. None of that comes easily. And I just want you to know, I fought for that. Because it's important.
Dubstep
That perfect drop at the perfect time. Nothing beats dancing with death and blasting aliens in the face to some finely crafted dubstep. And this isn't just any dubstep. For a full year of development, I was scouring the web for the finest dubstep I could find. What I found changed my music libary forever. If you like dubstep, you're in for a real treat. If you don't like dubstep, that's okay too. I think you will agree it's the perfect sound for the intense brutal action of SMAA. You may even get converted.
Who is behind this game? The official dev team is me. I'm the sole programmer and game designer. Keep that in mind regarding any expectations you might have for game size. Having said that, I'm not so crazy I'd try to do everything myself. I contract out the art and license the music. I also had help from many other people in the form of testing and feedback. Of course the whole team at Surprise Attack Games, my publisher, has given me huge amounts of help in many ways.
This has been a fantastic journey for me. A bit over two years ago I decided to take on the risk and challenge of chasing my biggest dream, to make games full time. I'm incredibly proud of Super Mutant Alien Assault and super excited to share it all with you in few months' time.