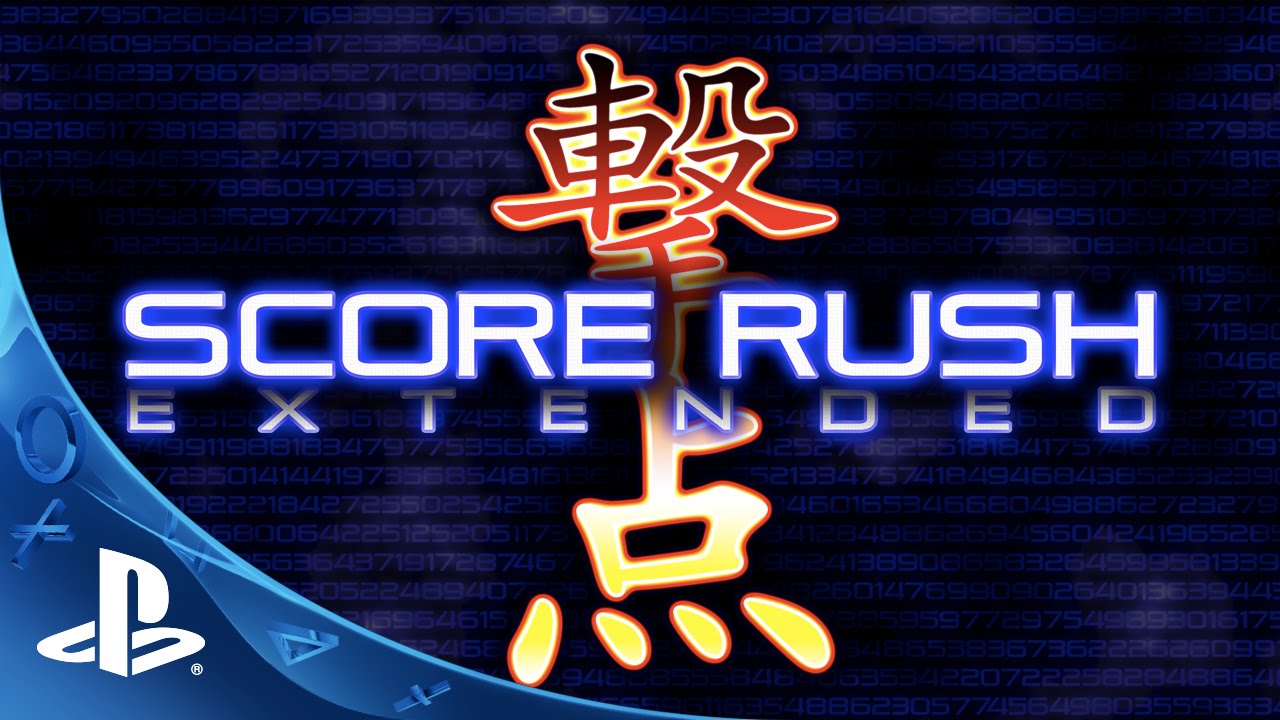 Greetings, PlayStation fans! I am Matthew Doucette of Xona Games, an indie game studio known for its intense retro games. We are proud to announce Score Rush Extended — the award-winning 4-player shmup — is launching on PS4 on May 31, 2016!
I co-founded Xona Games with my twin brother, Jason Doucette. We have coded games since we were seven years old; Xona Games emerged from our childhood passion. We had a vision of what 2D games could become: More sprites, more particles, and more intensity. Score Rush Extended was born from that idea.
Score Rush Extended is a widescreen bullet-hell dual-stick shmup — a 4-player overhead-scrolling 2D shooter filled with power-ups, enemies, and bosses. The PS4 version boasts updated gameplay and brand new artwork and features Dual Play (control 2 fighters as once) and Boss Rush modes.
The original Score Rush was an experimental game. Despite critical and commercial success, the game never felt complete. To that end, Score Rush Extended offers online scoreboards, unlockable Trophies, and even DualShock audio that helps distinguish events happening to you as opposed to your friends during a 4-player game.
Our inspiration derives from games such as Raiden, Thunder Force, Gradius, and even Contra. I also love dual-stick shmups — I won the Geometry Wars 2 PAX East 2013 contest; however, the gameplay was not inspired by arena shooters, but rather by scrolling shooters. The dual-stick setup allows for maximum control and adds variety to the genre, a win-win situation.
Our goal was to make the most philosophically pure shoot 'em up — to truly test how skilled you are in a way no other shmup has. A key piece was redefining the scoring mechanic: removing all bonus points and measuring only domination itself. No gimmicks. No hidden points. No puzzles. To get the highest score, destroy everything as fast as possible. An example, does saving bombs or lives – something that normally awards bonus points — help destroy enemies? No. So, no points are awarded. Purity!
Our philosophy is to empower the player. We built the most finely-tuned game we could. Its speed is optimized for maximum precision. We give you the best controls possible to let you dominate the screen. We also adopted a small 4×4 pixel hitbox and a slowdown button – mechanics born from Japanese bullet hells.
A few more features worth mentioning:
32 firing options – up to 256 with 8 fighters; lost upon death
3 difficulty modes – Normal, Expert, and Godlike
Color-coded power-ups seek the weakest player
Hard-rocking Dragon Music soundtrack
Score Rush Extended feels like our first true release and it will define the future of Xona Games. I appreciate and thank everyone for reading about our work and efforts.