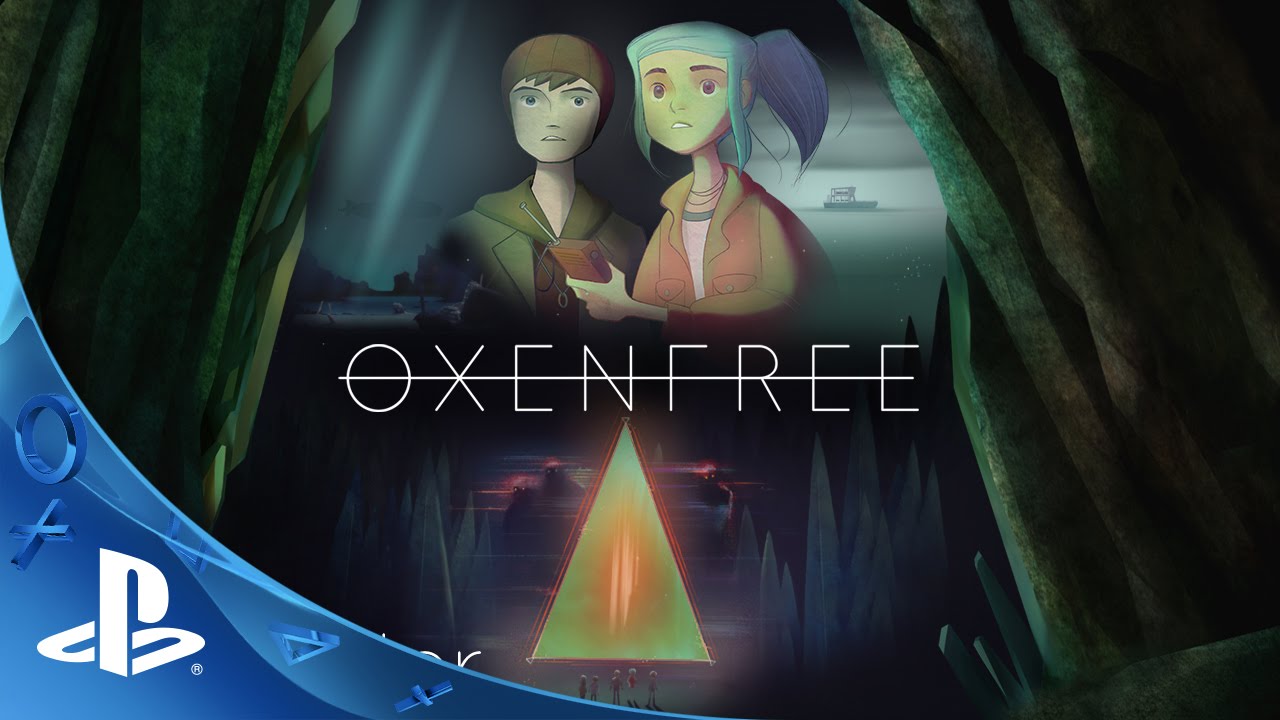 Hi, I'm Sean from Night School. We're losing our minds over here!
We've been driving toward this day for a long time, and are ridiculously hyped to announce that on May 31, everyone can enjoy Oxenfree in its coolest, scariest, most mind-freakiest form on PS4.
A quick catch-up on Oxenfree: it's the debut game from our studio, centering on a girl named Alex who brings her new step-brother Jonas to an overnight party on a decommissioned military island that goes horribly wrong. It's a supernatural mindscrew of an adventure with tons of different outcomes and story paths that let you shape Alex's life, the fabric of time and space, and the fate of a bunch of really pissed off ghostly creatures. Think Freaks and Geeks but with possession, time loops, and terror.
When my cousin Adam and I started the company a couple years ago, we set out to make a game where players could interact with a big, dangerous story in new ways. With Oxenfree, we wanted to cast you in a thriller that was frightening, funny, and meaningful in varying doses. And unlike many other narrative games, we wanted you to play through it all with no cutscenes; freeing you up to explore, talk, and solve mysteries fluidly.
We've added all kinds of improvements to push the experience beyond anything the public has seen yet, including transforming your DualShock 4 into the game's supernatural radio via the controller's speaker and light bar. But the most thrilling addition is the creation of a surreal New Game+ mode that will continue Alex's story with a new purpose.
I'm gonna try to do this without getting all spoilery. When you ________ the game the first time and come back to the game anew, Alex will have different, déjà vu tinged dialogue choices. Suddenly you realize that Alex is ________, and now you must ________ if you want to see tomorrow.
Okay, this is proving more difficult than I thought! Just know that with this new content, Alex's story will continue beyond the traditional "ending" into different locations, conclusions, and a completely tweaked understanding of the events on the island.
We are extremely grateful for all of the love the game is getting, and honored to have received the IGF award for Excellence in Visual Art a few weeks back. Since we humbly agree that the game is pretty purty too, we've created a Dynamic Theme, also debuting May 31. It'll showcase an evolving Edwards Island, changing to reveal timed events from the game. So turn on your PS4 at 8 PM and you'll see the boat arriving. But turn it on at 1 AM and you'll probably see something crazier.
Can you tell we are stupidly giddy for you to play it? Well, we are! Launch can't come soon enough! We suggest you stock up on adult diapers, or at least bring a couch buddy before diving in.