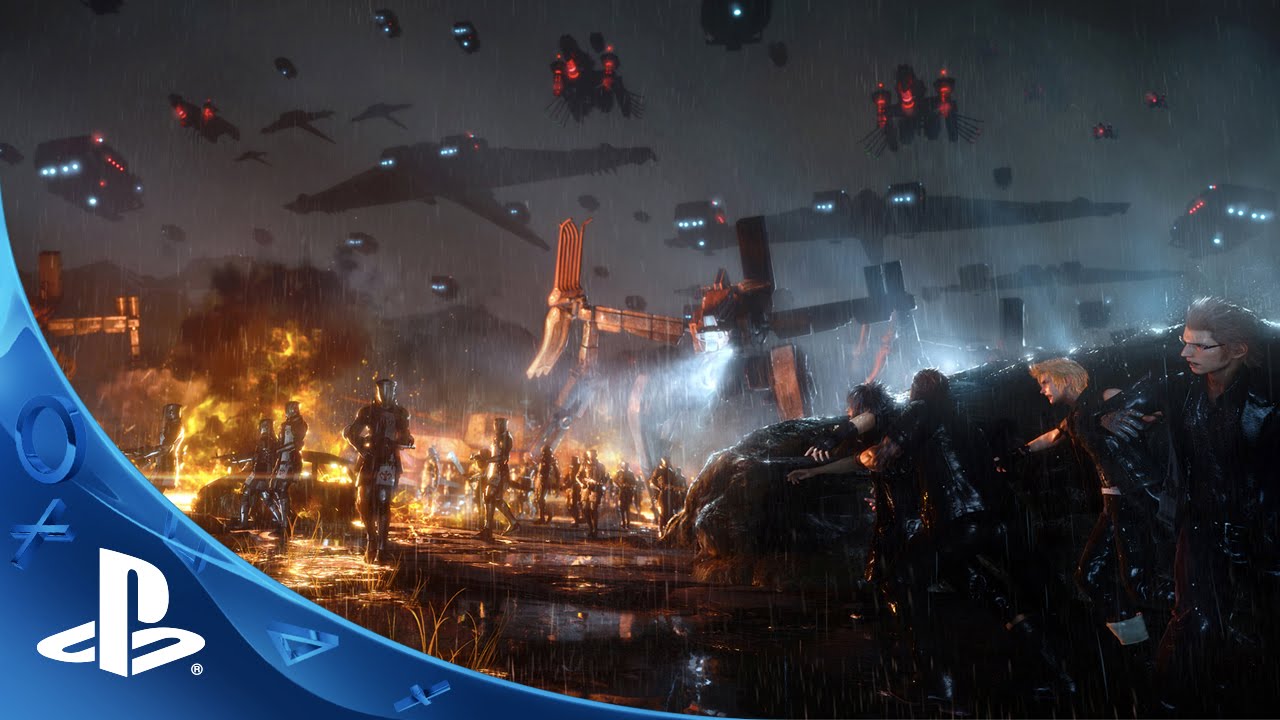 Uncovered: Final Fantasy XV is a wrap! For months we've been teasing what we were going to do with a mysterious "March Event" with the hope that we would announce the release date for the next Final Fantasy.
With Final Fantasy XV we had to bundle things down into 15 items… so if you missed it, here's the quickest recap of all time!
Hironobu Sakaguchi — the man, the myth, the legend — took center stage to open up the show to talk about how he's looking forward to Final Fantasy XV becoming a challenger yet again.
A brand-new trailer titled Reclaim Your Throne showed off new combat and a new rendition of the classic song Stand by Me, which is the theme song to Final Fantasy XV.
Yoshitaka Amano, legendary Final Fantasy artist, designed a brand-new animated project titled Big Bang!
Stand by Me was revealed to be sung by none other than Florence Welch of Florence and the Machine.
All-new gameplay was unveiled featuring chocobo riding, updated battle mechanics, magic, and how Titan is summoned.
World of Wonder: Environment Footage brought a soothing tone to showcase how vastly open world the game is looking to be.
A brand-new surprise, Brotherhood Final Fantasy XV was announced! A five-part anime series telling the backstory of all of the friends — the announcement trailer and episode 1 are available to watch here.
Kingsglaive: Final Fantasy, a fully CG movie was announced! Blurring the lines between animation and reality, Kingsglaive tells the story of Nyx — a member of the elite armed forces, the Kingsglaive.
A partnership between Audi was uncovered to show a one-of-a-kind exclusive Audi R8, themed after the world of Kingsglaive .
An all-star voice cast for Kingsglaive was revealed! Aaron Paul, Lena Headey, and Sean Bean headline this star-studded affair.
Justice Monsters Five, a brand-new mobile game was showcased to the world for the first time — a brand-new pinball mini-game will be available on smartphones later this year.
A completely free and quirky demo, Platinum Demo — Final Fantasy XV was shown. Set in a whimsical dreamscape, you play as a child Noctis traversing the world with your new pal, Carbuncle.

Two blockbuster editions were announced! The deluxe edition which contains both Final Fantasy XV and the Kingsglaive movie will be available in limited quantities. And in even more select quantities is the ultimate collector's edition (which contains more content than this entire blog!) — pre-order your edition of choice here!

The release date was finally uncovered and confirmed! September 30, 2016 worldwide!
Lastly, the Uncovered Extended trailer debuted even more gameplay and dove deeper into the story.
We have a solid six months to make 2016 the year of Final Fantasy XV, so we hope you're just as excited for Final Fantasy XV as we are!
Now more than ever, please be excited.
What were you most surprised by?