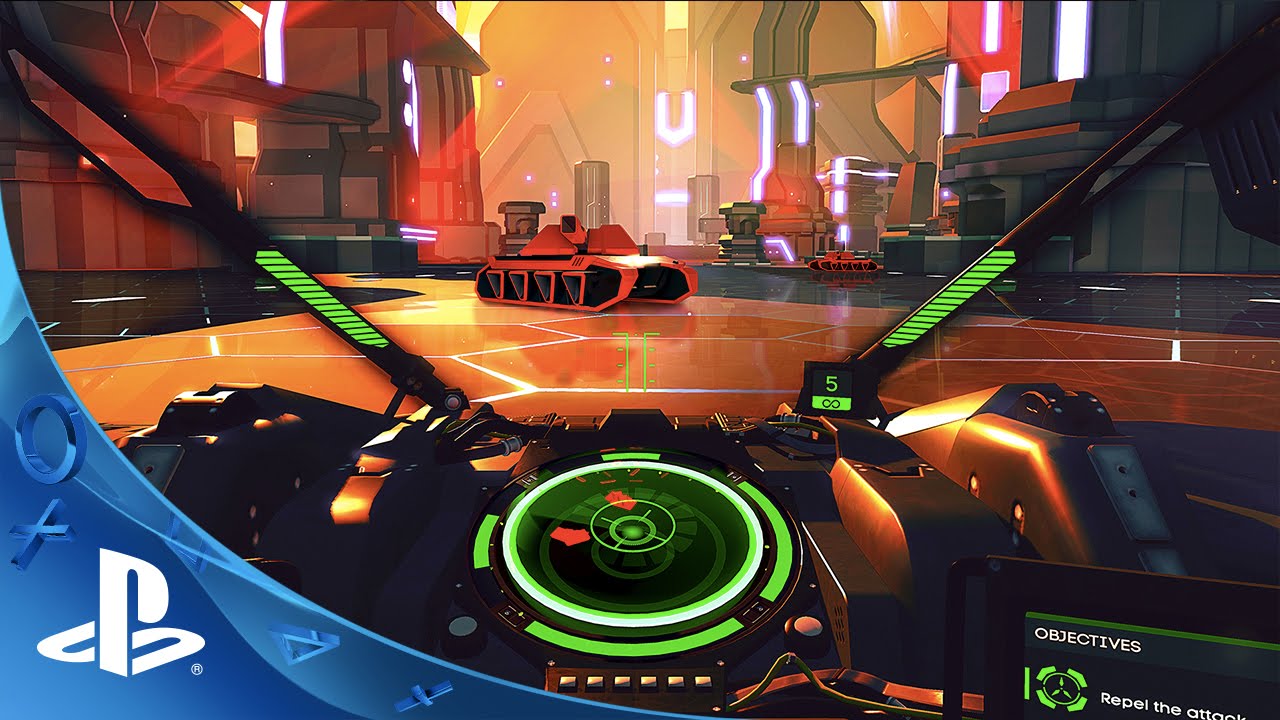 So who's sitting with bated breath eagerly awaiting the PlayStation's VR event tomorrow? I know we are! From the reveal of Project Morpheus to the unveiling of PlayStation VR, we feel like virtual reality has been in the news for a while (We announced Battlezone nearly 10 months ago — I can't believe it!), but only now are players starting to see what kind of complete game experiences they'll be getting in virtual reality.
And now it's Battlezone's turn to show what it's made of!
We've chatted about it a little before on PlayStation.Blog, but it's probably worth repeating that yes, there's a sizeable single-player campaign at the heart of the Battlezone, but there's also something a little bit different going on underneath…
Today we're showing off a new campaign trailer that gives you lovely, sweeping views of some new levels we've been working on, including a stunning night-time arena, glowing industrial environments, windswept ice wastes, and a heavily updated version of the "neon" level seen in the game's original teaser.
Oh, and don't forget to check out the completely redesigned cockpit packed with cool new details and panels!
As a player, you'll experience explosive vehicle tank combat across all these different environments — and more — but what's most exciting is that once you've completed the campaign, your next playthrough will be very different.
The campaign map where you pick missions is structured across a series of interlocking "hexes" that need to be completed to progress to the finale, and it's up to you to forge a path through the campaign of your own choosing.
However, if you restart the campaign at any time, the hex map is re-generated procedurally, and dozens of environments, levels, and mission types are blended together in a different combination. So each hex is now completely different from what it was before!
With each playthrough you'll unlock more of the complete arsenal, increasing the pool of weapons and special equipment you'll be offered as you progress.
This means that no two campaign playthroughs will be ever be the same as maps, missions, and the weapons at your command change radically with each attempt.
Obviously we're hoping that Battlezone will be one of the first PlayStation VR games players buy, but we're also designing it to be the one you return to time and time again… once VR has taken over the world, of course!
Anyway, that's probably enough from me — look out for more Battlezone news and previews all this week from GDC!