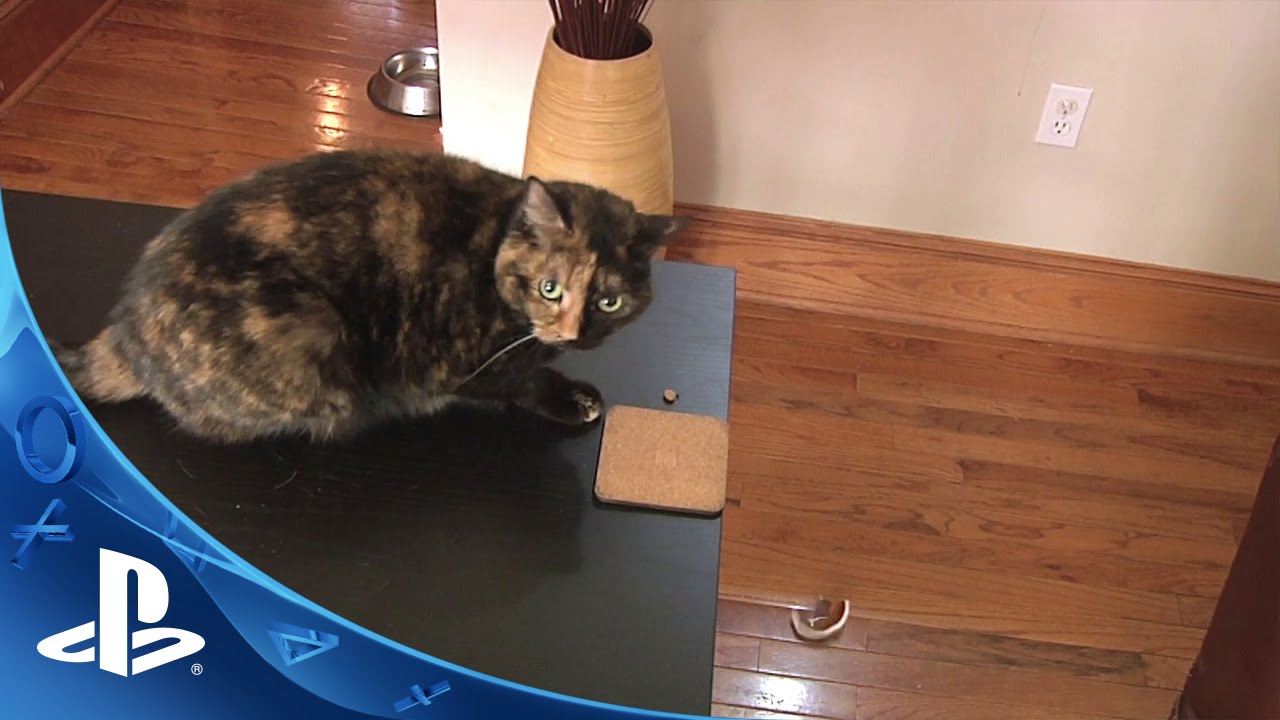 Hey there! I'm Chris Chung, an indie developer and crazy cat guy who made Catlateral Damage, a silly game about being a house cat on a rampage.
Today, Fire Hose Games and I are excited to announce that we're launching the game on PS4 on March 22nd, with a 20% discount for PS Plus members! Me-wow!
Catlateral Damage is a first-person destructive cat simulator where you play as a cat and make messes. The controls are very similar to other first-person games, but there are no guns, shooting, or violence. Instead, you use your paws to cause as much destruction as possible in your owner's house by knocking all of their belongings onto the floor. It's quite a meditative experience that allows you to better empathize with the felines in your life.
And it's not just limited to your house; you can also wreck a log cabin, a mansion, and even a supermarket and museum! All levels are procedurally generated, so you can litter-ally be a cat fur-ever. (Sorry, cat puns are like my thing now.)
There are two game modes: Objective Mode and Litterbox Mode. In Objective Mode, each level you play has a time limit and an objective. Your objective is simply to knock the target number of objects onto the floor within the time limit.
In Litterbox Mode, you pick a level type and play for as long as you want! No time limit, no objective, just pure kitty chaos. In both game modes, you can collect upgrades by playing with various cat toys to improve your movement and swatting abilities. There are also random events that will occur periodically, some of which reward you with power ups and some that are just for fun. My favorite events are moon gravity and disco. They make absolutely no sense.
The game originally started as a simple prototype back in 2013. I created it in 7 days for the 7DFPS game jam, where the only prompt was to make a new, interesting first-person shooter. I've always wanted to play a game where you could see through the eyes of an everyday house cat, and I used my personal experience growing up with lots of cats for reference. My primary inspiration was my childhood cat, Nippy, who loved to cause trouble to get what he wanted. I somewhat selfishly created the game I wanted to play, but it turns out lots of other people wanted to be a cat in a game, too!
In 2014, we ran a successful Kickstarter where 2,500+ other cat lovers helped make the game a reality. Not only did they contribute funds, but a bunch of them also provided the playable cats and cat photos you see in the game. There are more than 250 photos of real cats owned by real people that you can find and collect. That has to be a world record or something, right?
In any case, this is a game that is about cats, for cat people, and made by cat people. My cats, Wil & Lyn, even helped with development sometimes! (Who am I kidding? They mostly just slept and asked to be fed. Typical.)
And now you can be a cat on PS4! Feel free to leave me any questions (or cat puns) in the comments. I hope you enjoy the game when it launches on March 22nd! Thanks!