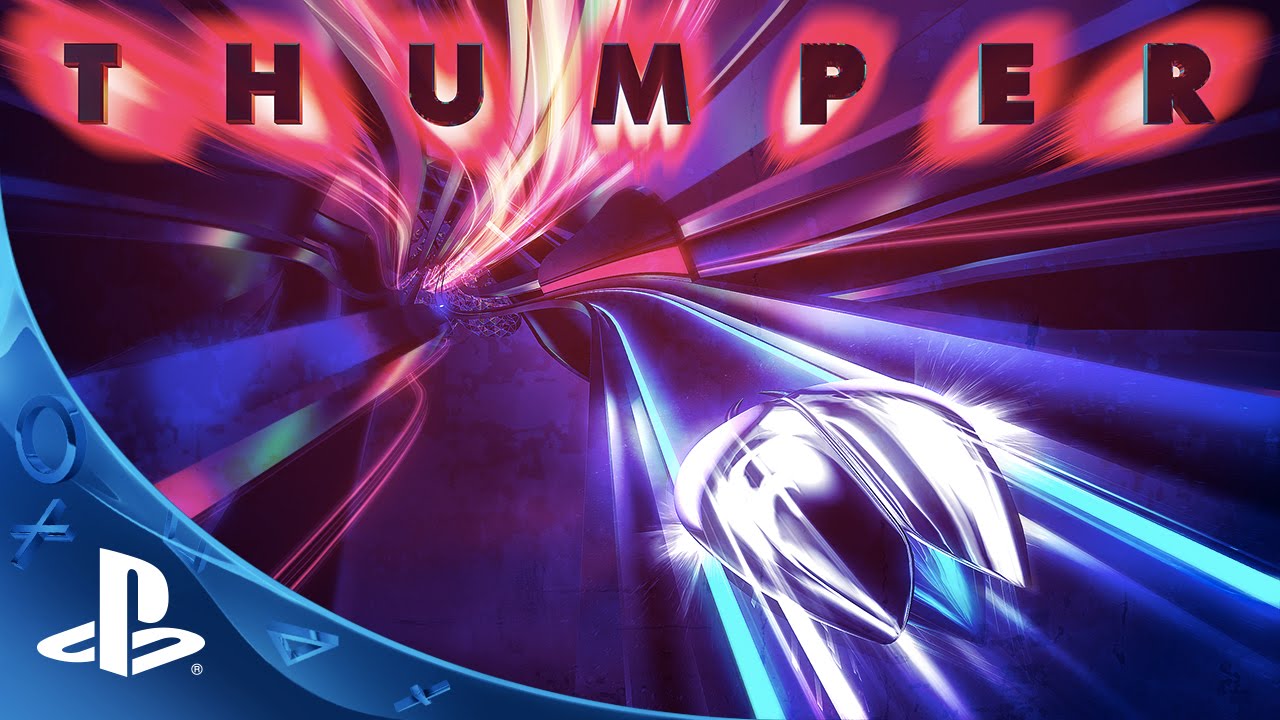 This is Marc from Drool with an update on Thumper, our rhythm violence game on PS4. In Thumper, you are a space beetle hurtling towards a maniacal giant head. The gameplay and controls are stripped-down and simple, so it's easy to pick up and play. We've worked hard to make Thumper accessible and fun for both hardcore rhythm gamers and more casual action game fans.
But as you delve deeper into Thumper, it won't be easy. Our focus on simplicity lets us push the sense of speed and physicality to extremes you've never felt in a rhythm game before. Before you know it, you'll be careening through an onslaught of winding tracks, obstacles, enemies, and bosses. Check out our latest trailer for a glimpse of unrelenting "rhythm hell" from one of our advanced levels. And let us know what you think!
In the trailer, if you look closely, you'll notice some new gameplay mechanics you'll need to master. In early levels, your movement is limited to a single high-speed lane. But as the difficulty rises, you'll slide and skitter across multiple lanes of rhythmic cues and obstacles. We're still fine-tuning the controls and feel of multi-lane gameplay, but we're psyched about the unique and brutal gameplay we can create with it. It's expanded our level design palette and now we're developing lots of new ways to kill you!
Finally, Thumper is not only debuting on PS4. It's also coming to PlayStation VR. To be honest, at first we weren't sure whether Thumper would be a good fit for VR. We've spent the past few years obsessed with making Thumper the most intense two-dimensional experience possible. Wouldn't a VR version be too intense? Well, against our better judgement, we recently got the game running on PS VR just to see. We can confirm that not only is it intense, it's completely overwhelming!
Developing for PS VR has been so exciting because Thumper's gameplay translates perfectly and feels amazing on high frame rate display. At the same time, VR transforms the experience in ways we didn't expect. We'll have more to say about Thumper VR soon, but one thing is for sure: the entire game will be playable in both 2D and VR.
Whether you play on a massive TV and sound system or fully immerse yourself with PlayStation VR, you'll feel the rhythm violence when Thumper debuts later this year.