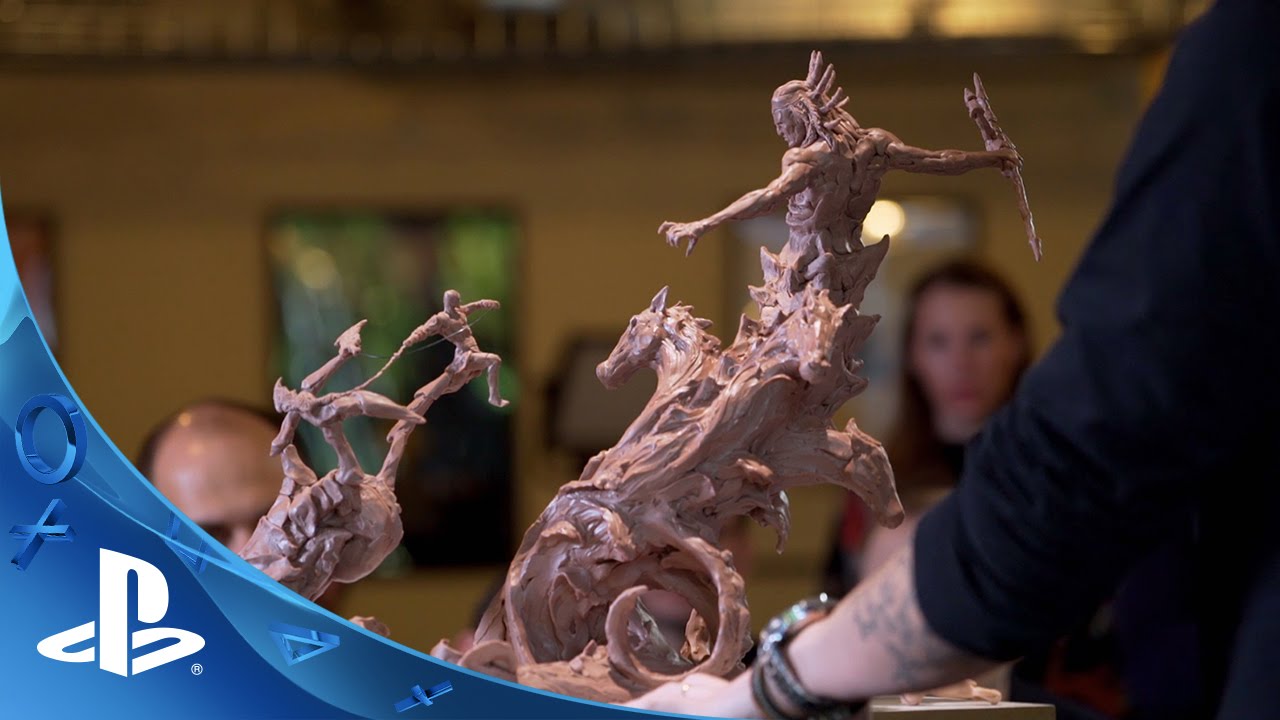 Santa Monica Studio Creatives is a series focusing on four unique individuals of our family whose journey to our studio is as inspiring as their creative talents within. While their stories are candid, raw, and anything but normal, their expert crafts and collaboration within our walls hits the heart of what matters most to our studio culture — the team is everything. To learn more about this video series, please visit sms.playstation.com/creatives.
Thinking back on how I decided to work with video games, I can't really find the specific time when it happened.
I look at this last generation and how they are growing up connected to technology and how my son's generation is going to grow up even more connected. It's almost like they're already born knowing how to use tablets and computers. My son was already playing games with a tablet when he was 9 months.
I remember playing with clay when I was a kid and being amazed by drawing, trying to copy things from magazines and television. As I grew older this was always present with me but I had no idea of having a career or having a future doing this. I remember getting my first computer and starting to use "paint" and trying to recreate drawings from paper to the computer.
The Internet wasn't really present yet so everything was a big discovery. I was also not a big gamer at that time — I remember playing classics like Mario, Alex Kid, Mortal Kombat, Donkey Kong, Battletoads, etc., but that was a world so far, far away I had no idea how that was being made.
When the internet began to evolve, I started to create websites — that's how everything started to connect for me. I started making little flash animations, then 3D logos, finally after some time I was creating bigger things with 3D and started falling in love with it. I spent all my free time for many years and learned everything about the software. Internet was amazing!
Having that 3D knowledge helped me get my first job when I was 17 with advertising. Even at that time being a hardcore gamer I still had no idea that I could pursue that as a career and that what I was doing was connected. I learned so much working with many different studios and after a couple years the software ZBrush came out — it was a mix of drawing, sculpting, and painting. Everything started to make sense to me even more. I started to create pieces for my portfolio and focus my work to become a Character Artist.
After a couple of years studying and sharing my work online I started to get opportunities to work in the video game industry. I had the chance to design and create more, and it finally felt feel like I was a part of something that was always present in my life.
I look back now and think about how everything happened. It's crazy how it all came together and led me here to Santa Monica Studio. Having no access to information in the beginning was good and bad at the same time. It made the path much more difficult, but allowed me to try different things and appreciate more what I have now.
Going back to the thought about this generation, having access to Internet helped me so much with my career that I can't even think of how much it will influence the life of my kid. One thing is for sure: there will be a lot of awesome games for him to play. Battletoads being one of them.