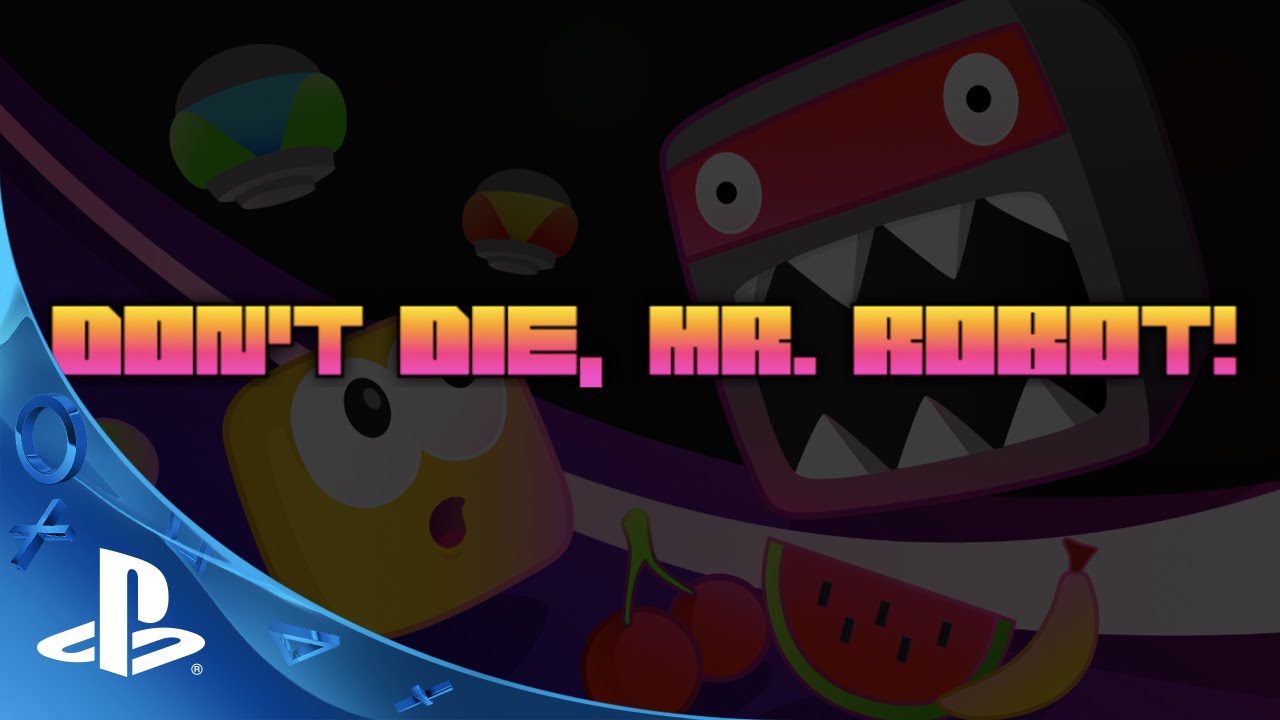 Deep in the electro-abyss lives a little robot who loves to eat exploding fruit. He also quite likes staying alive. That's where you come in…
Hey gang! Mike and Charlie here from Infinite State Games. We're proud to announce that our cult PS Vita arcade game Don't Die, Mr. Robot! launches tomorrow on PS4!
The PS4 version has a lot of tweaks and improvements, too. We've pumped up the visuals to target a silky smooth 60 frames per second with full HD. We've tweaked the soundtrack so it sounds even more rad on a big screen. We've massaged the controls to perfection, and we'll be bathing your lap with technicolour neon glowy goodness emanating from the DualShock 4 lightbar.
Who doesn't want a glowing lap plus manic bullet-dodging good times, eh?
It's cross buy too, so you'll get the PS Vita version for free if you don't already have it. Oh, and we've made it a super affordable price that means anyone can get into an exploding fruit trance without breaking the bank.
Don't Die, Mr. Robot! on PS4 has all this, plus the hot game modes that made the PS Vita version a fan favorite:
The brutally addictive Arcade Mode brings arcade glory into your living room with a compulsive death drop into the fruity electro-abyss.
The intense Score Attack mode that gives you two and a half minutes to push the scoring mechanism to its limits, or to die loads and do real badly. It's up to you!
The misleadingly named Chill Out mode, which is far from relaxing at all. (Sorry, we just thought it would be really funny.)
Remix Mode, which gives you 50 missions of mixed-up rules and gameplay variations.
Each game mode shares leaderboards with the PS Vita version so if you don't manage to get top score at home, you can keep your streak by playing on the go. There are loads of other surprises in store too, so turn your TV up loud, get your controller ready, and dive headfirst into some good ol' bullet dodging action!
We've had a huge amount of fun making Don't Die, Mr. Robot! on PS4 and we really hope you guys out there get a kick out of it when it hits the store tomorrow!
<3 Mike & Charlie (Infinite State Games)