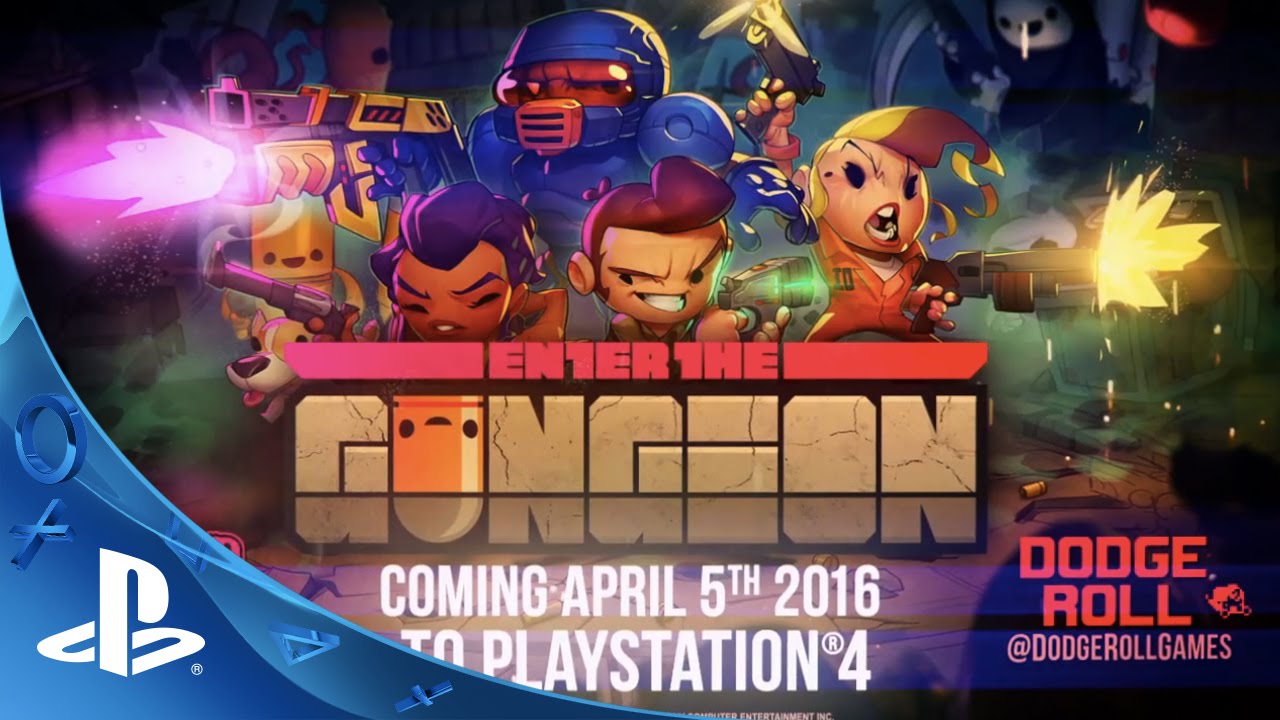 Enter the Gungeon is done. Well, basically done. There is still work to do: bug fixing and balancing, and planning for updates — but we are at the end of the tunnel and our gunfight dungeon crawler will be available on PlayStation 4 on April 5. When I look at our game in its finished form, I feel incredibly proud of what our small team has been able to accomplish over the last two years. The game is so much bigger than our original vision, but it is also much better, more robust, and with more variety.
We know that variety is king in a game like ours, so when coming up with ideas for guns, we did our best to eliminate the word "no" from the discussion. We've tried to pack the game with as much fun loot as we could.
Enter the Gungeon will launch with 190 player-usable guns, ranging from pistols and rifles, to laser and beam weaponry, to much crazier weaponry as well. We have a gun that shoots sharks, a gun that shoots bees, a unicorn horn that shoots rainbows — there is a gun that can turn enemies into chickens, and another that might turn them into snakes. You can spread oil all over the floor with the Fossilized Gun, light it on fire using the Flare Gun, and put it out using the Water Gun, then freeze the water using the Freeze Ray.
The loot you find in Enter the Gungeon isn't just guns though, there are 200 items as well that can provide permanent buffs or temporary advantages. You might get the Shock Rounds that create an arc of electricity between the shots you fire, or the Heavy Bullets that make all of your bullets larger and slower, but more powerful. You might find a cardboard box to hide in and get the jump on enemies, or a roll of duct tape that binds two guns together.
You'll probably be very thankful for that extra firepower when dealing with the challenges the Gungeon will throw at you. It is you and your arsenal against 85 different breeds of enemies (plus mimics) and 20 murderous bosses. That includes a unique final boss for each of the four main characters that takes place in the past. Including co-op, there are 7 ways to "win" the game.
Along the way you'll run into Gungeoneers that came before you. If you rescue them, they may prove grateful and open up a shop, lend a hand deeper in the Gungeon, or challenge your skill for a prize. In most runs you'll buy items from the local shopkeeper, but I'd warn against vandalism or stealing. There are more than 15 characters to find in the depths, and another five mysterious shrines to pray to, providing a variety of effects.
When we started the game we thought to ourselves, "We'll be done in a year for sure!" I can only laugh at our optimism, now that we are nearly two years into the project. I want to take a moment to thank Devolver Digital and the team at PlayStation for being so incredibly supportive of Dodge Roll and Enter the Gungeon. We wouldn't be here without you!
Enter the Gungeon will be released on April 5, 2016, and we really hope you like it!