This week, PlayStation games span millennia. Massive open-world adventures, time-hopping puzzlers, and stealthy assassinations gather together to form a staggering lineup on PS4.
Far Cry Primal leads the pack with the next chapter in Ubisoft's renowned, emergent open-world. Travel back to the Stone Age as the last surviving member of an ill-fated hunting group. Craft weapons to fight against the unrelenting wilds around you, tame beasts to hunt by your side, and conquer the beautiful land of Oros.
Meanwhile, time-hopping puzzle platformer Replay: VHS is Not Dead launches this week on PS4, alongside the head-scratching stealth missions of Hitman Go: Definitive Edition. And if that wasn't enough, Plants vs. Zombies Garden Warfare 2 brings its action-packed competitive arena to PS4.
For the full list of new games coming to PlayStation this week, read on. And enjoy the Drop!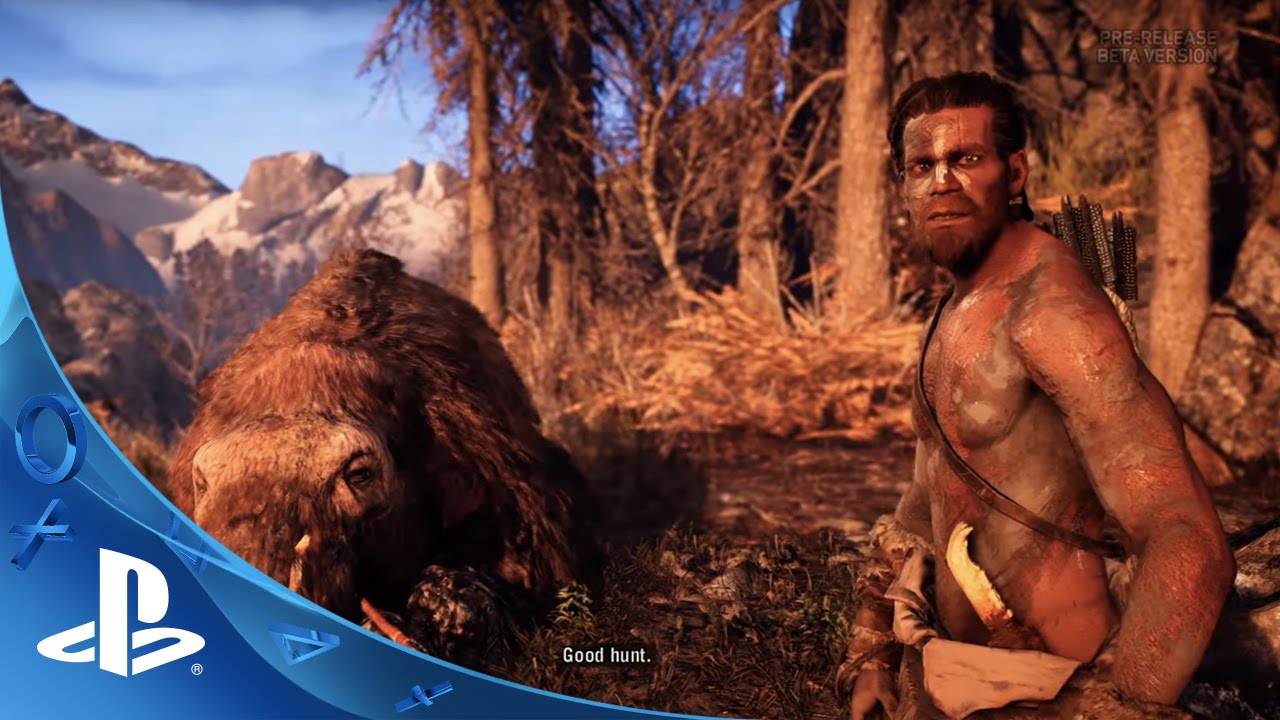 New Releases: February 23rd, 2016
Agatha Christie — The ABC Murders
PS4 — Digital, Retail

Adapted from the classic Agatha Christie novels, The ABC Murders is an adventure and investigation game offering sharp-minded gamers the chance to step into the shoes of Hercule Poirot. Join the famous detective as he attempts to unmask the elusive murderer known as "ABC" by solving puzzles and exploring crime scenes.
Arcade Archives Double Dragon II
PS4 — Digital (Out 2/26)
The legendary 1988 arcade brawling classic finally comes home with this pixel-perfect conversion on PS4. Street-smart brothers Billy and Jimmy Lee must once again take on the vile Black Warrior gang with an arsenal of hard-hitting special moves.
Bit.Trip Presents… Runner2: Future Legend of Rhythm Alien
PS4 — Digital (Out 2/26, Cross Buy with PS Vita Version)

Runner2 is the sequel to the critically acclaimed and IGF award winning Bit.Trip Runner. Dance your way through beautiful and challenging worlds, with a cheeky sense of humor and some sick toe-tapping beats.
Far Cry Primal
PS4 — Digital, Retail

Welcome to the Stone Age, a time of extreme danger and limitless adventure. Woolly mammoths and saber tooth tigers rule the Earth, and humanity is at the bottom of the food chain. As the last survivor of your hunting group, you will learn to craft a deadly arsenal, tame fierce predators, and outsmart enemy tribes to conquer the land of Oros and become the Apex Predator.
Hitman Go: Definitive Edition
PS4, PS Vita — Digital

Hitman Go is a turn-based strategy/puzzle game set in the Hitman universe, but reinvented as diorama-style set pieces. This new edition of Hitman Go features all of the original game's content and upgrades which amounts to more than 90 turn-based puzzles. Long-time Hitman fans will also recognize some old favorites like the Paris Opera from Blood Money, and the St. Petersburg Stakeout mission from Hitman 2: Silent Assassin.
Knock-Knock
PS Vita — Digital (Cross Buy with PS4 Version)

Three generations of Lodgers have occupied the cabin, but lately, the walls seem to undulate, skittering unknowns shift in the darkness, and an unruly growl seeps from the attic. Are they hallucinations pecking at the insomnia-afflicted Lodger, or the gnarled remnants of a darker secret? The last rays of dusk fade, and the dreadful things come out to play.
Ninja Senki DX
PS4, PS Vita — Digital (Cross Buy)

Remember the 8-bit gaming conventions? Stories told in a 5-second intro cutscene, man-sized shurikens, enemies bumping you into bottomless pits, split-second decision making, revenge! …Ninja Senki DX is all about them.
Plants vs. Zombies Garden Warfare 2
PS4 — Digital, Retail

The battle for suburbia grows to crazy new heights in Plants vs. Zombies Garden Warfare 2. In this hilarious, action-packed shooter, zombie leader Dr. Zomboss has strengthened his horde and rebuilt suburbia as a zombie utopia. But hope remains, because for the first time the plants are taking the offensive in an all-out attack to reclaim their turf.
Replay: VHS is Not Dead
PS4 — Digital

Replay: VHS is Not Dead is a puzzle platformer set in a movie-based universe. Record your characters' movements, use the remote control to bend time, and change characters to combine their actions. Complete 70 levels across four different movie-based universes.
SwapQuest
PS Vita — Digital

SwapQuest is a mix of a retro RPG with a tile-swapping puzzle game, inspired by classics like Pipe Mania. The idea behind it was to take many of the elements from console RPGs from the 90's and blend them with a movement system more reminiscent of a puzzle game.
Toki Tori 2+
PS4 — Digital

Toki Tori 2+ may look cute, but it's a challenging puzzle adventure game. Whistle and stomp are the only moves you need to solve increasingly complex puzzles as you manipulate strange critters' behaviour and go anywhere, anytime on a lush forest island.
Wondershot
PS4 — Digital

Wondershot is a top-down, multiplayer focused party game. The controls are simple and responsive, and the rule is quite straightforward: "one shot and you're down." Four players can go head-to-head and use one of four weapons. Each weapon has its own special ability, which is especially useful with the constantly shifting map environments.
Macklemore & Ryan Lewis – This Unruly Mess I've Made
Santigold — 99 Cents
Various Artists — George Fest: A Night To Celebrate The Music of George Harrison
The Big Short
The Good Dinosaur
Brooklyn
NASA's Unexplained Files- Feb. 23 at 10/9c (Science Channel)
Catfish- Feb. 24 at 10/9c (MTV)
The information above is subject to change without notice.