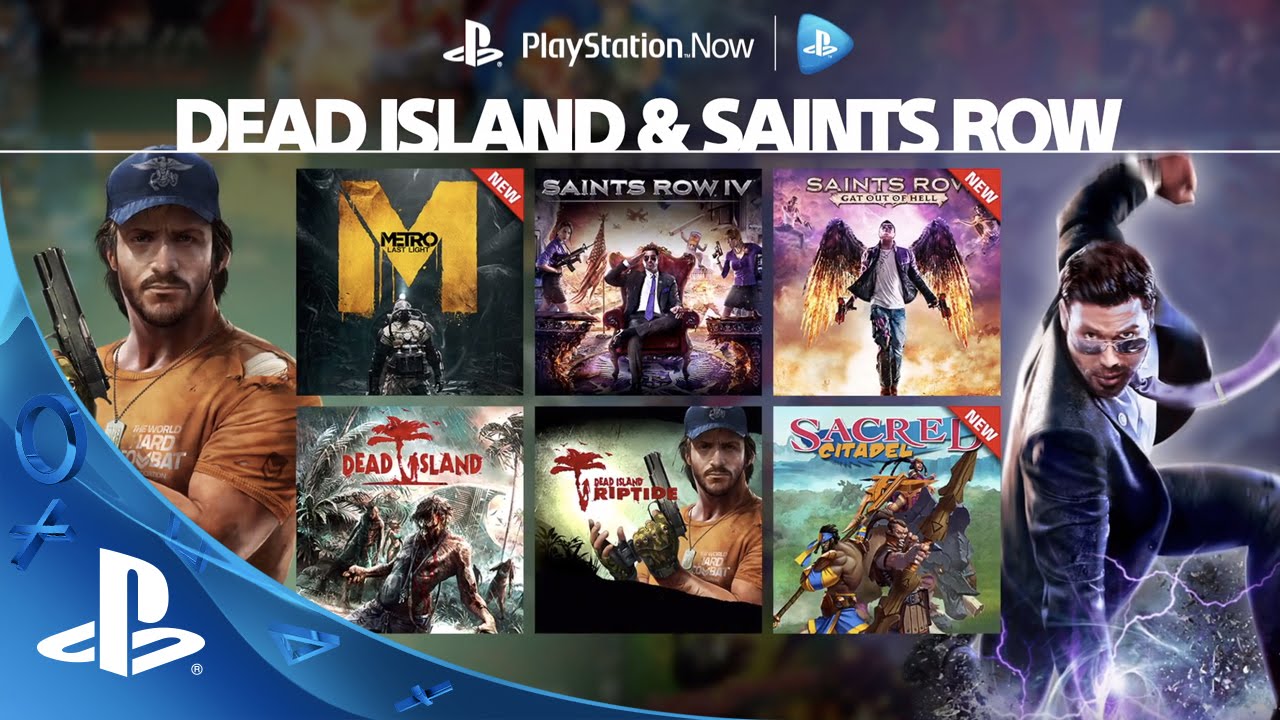 Because Saints Row IV and Saints Row: The Third both landed in the Top 10 most played games on the service in 2015 (see below), it's only fitting that more Deep Silver titles like Saints Row: Gat Out of Hell should find their way into the PlayStation Now subscription catalog this month!
Your PS Now subscription gives you access to a host of Deep Silver games — some added today.
Saints Row: Gat Out of Hell (New)
After the antics of Saints Row IV, many fans asked what they could do next. The answer? Shoot the Devil in the face. Play as either Johnny Gat or Kinzie as you tear apart Hell in a quest to save the Boss' soul. Historical icons, old friends, older enemies, a talking gun, a full length musical number, and a whole lot of other shenanigans all await you in this open-world, standalone expansion playground.
Saints Row IV
The epic conclusion to the game that changed all the rules! The Saints have gone from the crack house to the White House — but the Earth has been invaded and it's up to you to free the world from Overlord Zinyak and his alien empire. With homies new and old by your side, and an arsenal of superpowers and strange weapons, you must save the world in the wildest open world game ever!
Saints Row The Third
Years after taking Stilwater for their own, the Third Street Saints have evolved from street gang to household brand name, with Saints sneakers, Saints energy drinks, and Johnny Gat bobble head dolls all available at a store near you. The Syndicate, a legendary criminal fraternity with pawns in play all over the globe, has turned its eye on the Saints and demands tribute. Refusing to kneel to the Syndicate, you take the fight to a new city.
Saints Row 2
Fifteen years have passed since your former Saints crew betrayed you. As you awake from a coma, you find the Stilwater you once ruled is in disarray. Unfamiliar gangs have laid claim to your territory, rival factions have taken over your rackets, and cash-hungry corporations have laid waste to your once proud 3rd Street home. Now is the time to seek revenge against rivals to reestablish your crew as the rightful kings of Stilwater.
Escape Dead Island (New)
Escape Dead Island is a Survival-Mystery adventure that follows Cliff Calo, who sets sail to document the unexplained events on Banoi. Arriving on the island of Narapela, he finds that not everything is as it seems. This title lets players delve into the Dead Island universe and unravel the origins of the zombie outbreak. Escape is just the beginning.
Dead Island Riptide
Dead Island Riptide takes players to the island of Palanai on the Banoi archipelago, infested with bloodthirsty Zombies and only a few remaining Survivors still fighting for their lives. Introducing new terrifying enemies, deadly weapons, a new playable character, and much more, Dead Island Riptide will draw players back into a world that has grown corrupt — with the last rays of hope vanishing in rising tides.
Dead Island
Terror. Violence. Madness. Bedlam. A holiday paradise gone mad. A tropical island turns into total chaos after a mysterious zombie outbreak. Cut off from the rest of the world, the player's only chance to survive is to fight to the death and find a way to escape from the island.
Metro: Last Light (New)
A gripping, story-driven first person shooter, Metro: Last Light is the sequel to 2010's critically acclaimed cult classic Metro 2033. Explore the post-apocalyptic world of the Moscow Metro, one of the most immersive, atmospheric game worlds ever created. Fight for every bullet and every last breath in a claustrophobic blend of survival horror and FPS gameplay.
Narco Terror (New)
Dishing out justice, one grenade at a time! Narco Terror combines the good of the old and the amazing of the new in an action-packed twin-stick shooter about an over-the-top one-man war against a drug cartel. In true arcade-style, it is filled with unlimited ammo, ear-splitting grenades, huge explosions, massive tanks, armed helicopters, and fast planes.
Risen 3 Titan Lords (New)
Explore a world abandoned by the gods and full of enemies and dangers. Robbed of your soul, you'll need powerful allies to rise up against the rampaging titans. Decide on one of the three legendary factions to help you on your quest, but choose your path carefully as your actions will have consequences!
Sacred Citadel (New)
The once peaceful land of Ancaria is in grave danger. The evil Ashen empire has enslaved its population and is using the orc-like Grimmoc to wipe out the Seraphim, who swore to protect it. In order to defeat the empire you will have to prove yourself as a warrior by riding terrifying mounts, acquiring earth-shattering skills, and looting powerful weapons.
Sacred 3 (New)
Sacred 3 is an arcade hack 'n' slash game set in the war for Ancaria. Choose from legendary heroes and fight against the rise of evil. You will face hordes of grimmocs, brute beasts, legions of mercenaries, and undead wizards.
The Top 10 Most Played Games on PS Now, 2015
Below are the games that received the most PS Now playtime since the January 2015 launch. The PlayStation Now player community has logged a lot of time playing these games — literally millions of hours in total for these titles alone.
The Last Of Us
NBA 2K14
Batman: Arkham City
Saints Row IV
God of War: Ascension
Uncharted 3: Drake's Deception
The Walking Dead
LEGO Batman 2: DC Super Heroes
BioShock Infinite
Saints Row: The Third
Create Your Own List of Top Games
In January, you may have noticed a new feature in PS Now. The newly added "My List" feature lets you save games from the catalog to a list to be played later. To start building your own personal list of games to play, just select "+ My List" while you're on the product page of each game you want to add. Once you've added a couple of games, your list will show up on the third row of games within the PS Now app, so you can always find the game you're looking for.
Try More Than 300 Games with the 7-Day Free Trial
New to the PlayStation Now player community? We highly recommend trying the 7-Day free Trial. It's a great way to see what it's like to have instant access to more than 300 PS3 games — including top franchises like Saints Row, Uncharted, BioShock, God of War, The Last of Us, and more. Head here to start your free trial.
Thanks for checking in — see you next month!