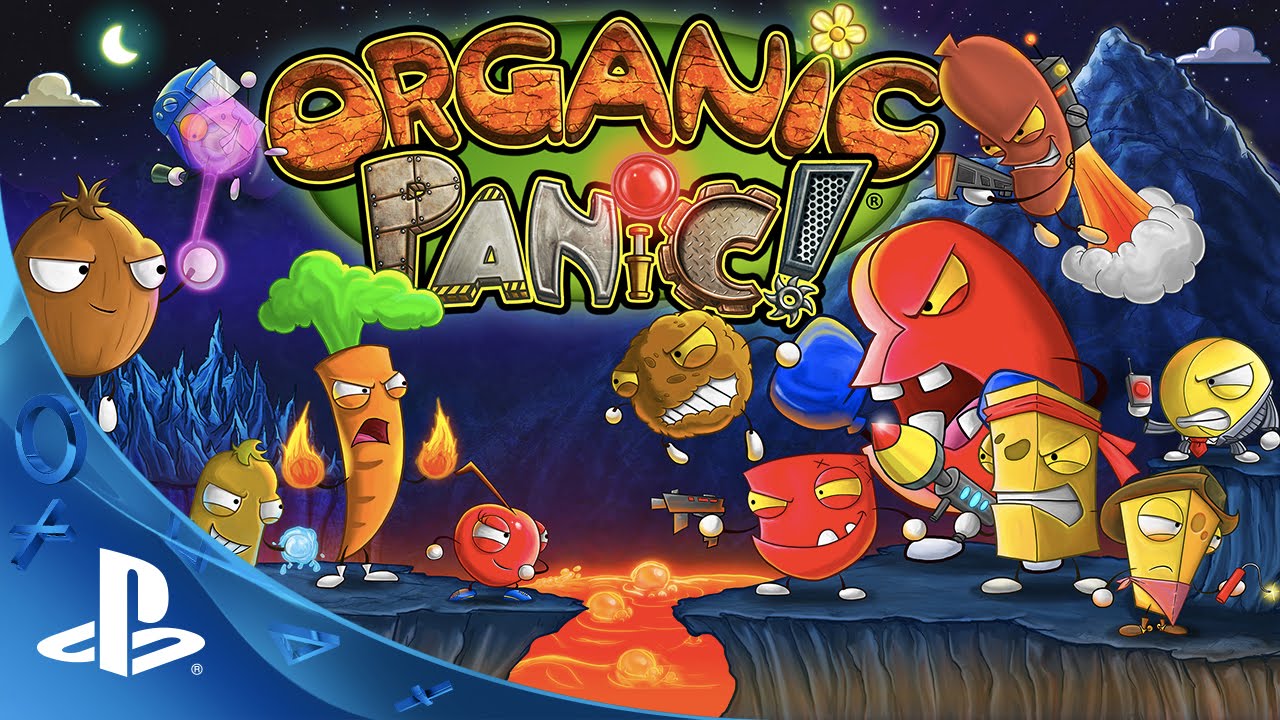 When my brother, Anatole, and I first hatched the plan to make a game independently, we never imagined where it would take us.
We started off thinking about the kinds of games we grew up with and how much fun playing games together has always been. We love old-school action-platformers and games that let you experiment creatively with how you solve problems, so combining those ideas was essential. It's fair to say we're influenced by classics like Chaos, Lemmings, Worms, Gears, and Little Big Planet, but we wanted to push it further with totally destructible environments and fluid dynamics.
What came from that vision is our debut title, Organic Panic, which we're beyond excited to announce is coming to PS4 this March!
Organic Panic is a physics-based puzzle-platformer that pits the main food groups against each other in a chaotically fun and lighthearted battle royale extravaganza! What brings all the madness together is the incredible D.A.F.T. (Destructible and Fluid Technology) Engine. Anything goes, because nearly every environmental element (characters, platforms, enemies, weapons, etc.) can be controlled and manipulated in some clever way.
Earth can be smashed through, wood floats and burns, lightning conducts, ice slips and melts, water flows and douses fire, rubber bounces, acid disintegrates, and the list goes on! Basically you're left to your own devices as to how to use all the powers and physics at your disposal.
It's a seriously big game with more than 200 highly refined and totally destructible levels of action and puzzles, but we keep it fresh with new worlds and game modes to explore. The single-player quest is driven by a comedic story, but we've also got local couch co-op and versus modes for up to four! The controls are straightforward enough that you can easily pull newcomers in, but there are still enough tools for hardcore players to discover their own unique strategies to go for gold on the leaderboards.
We've had quite the adventure with Organic Panic, from our successful Kickstarter to shows like PAX Prime, PAX East, and IndieCade. We'll be at PAX East with the game again this year, so feel free to drop by to say hi or play a quick match — we've got lots of freebies left over from our Kickstarter to dish out!
Watching people play the final product is always so cool for us. We designed most of the levels with multiple ways to solve them, so we still see people figure things out in ways we hadn't even imagined. I watch my son play it and he rips through them in crazy ways (he's 6 now, though he's been testing the game for 3 years already — child services should have really been knocking at my door a long time ago for that much labor!). This type of genuine freedom to brainstorm your own solution to any problem is the backbone of Organic Panic, and it's why we can't wait to get the final product in your hands.
You can join the food fight when Organic Panic arrives on PlayStation Store for PS4 in March!