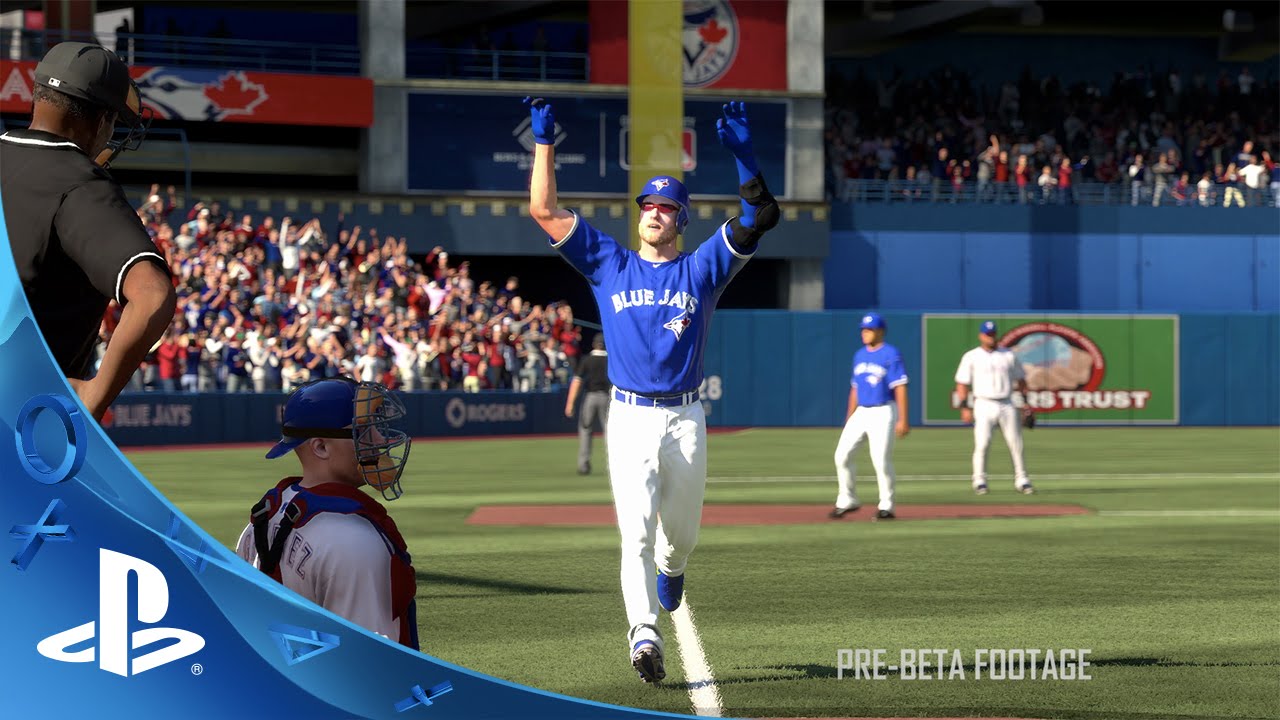 The 2015 MLB season just wrapped up with the Kansas City Royals taking (back) The Crown, but we're not ready to stop talking baseball here at PlayStation. Our team in San Diego is hard at work making next year's edition of The Show our best console baseball experience ever. We're proud to announce that MLB The Show 16 will launch on PS4 and PS3 on March 29th, 2016!
We kicked off 2016 at PlayStation Experience, where we gave fans a first look at what's coming to next year's game. In MLB The Show 16, you'll experience baseball's most epic moments like never before with ShowTime. Using ShowTime, you can slow down critical moments for maximum control. ShowTime offers gamers a powerful new tool to help them excel in those big baseball moments.
You'll be able to make diving plays, react at the hot corner, and step up for a clutch at bat with finer and more focused control.
We've also made the Road to the Show experience more personalized and rewarding in 2016. A revamped training system gives you the chance to unlock Gameplay Perks as you work your way through Road To The Show (PS4 only). You can also expect a more streamlined Road To the Show experience, as a new paradigm for base-running and fielding opportunities will maximize the time you spend in situations that matter. And for the first time ever in the MLB The Show franchise, you can play an entire series of Road To The Show games without ever having to navigate the main menu between games.
We're also ecstatic to announce our Cover Athlete for 2016: Josh Donaldson of the Toronto Blue Jays! Josh had a monster year in 2015, winning the American League MVP along with the MLB Players Association's Player of the Year award and the AL Outstanding Player award. He also set a new record for most votes ever received for an All Star Game performance. Now Josh can add being on the cover of MLB The Show to his laundry list of accomplishments. Josh is also the first MLB The Show Cover Athlete to grace both the US and CA cover. We're excited to have such a dynamic player represent The Show in 2016.
Finally, we're excited to announce that PS4 pre-orders for MLB The Show 16 are now live! Those who pre-order the game will receive 10 bonus standard-item packs and a MLB The Show Player Rep Rookie Card when you pick-up or download the game. Those who pre-order at GameStop (or EB Games in Canada) will additionally receive five bonus item packs and those who pre order on the PS Store will receive three exclusive MLB The Show-themed PS4 Avatars (in addition to their 10 item packs and Rookie Card). Here's a handy list below for how and where to pre-order:
MLB The Show 16 MVP Edition
Last year we released a limited 10th Anniversary Edition, and the feedback was so positive that we decided to craft a new MVP Edition for our fans this year. Priced at $69.99 ($89.99 in Canada), the MVP Edition contains more than $135 in content. It's available for pre-order at retail and on the PlayStation Store now!
Limited Edition Steel Book and Packaging ($5.00 Value) – for physical version only
5,000 Stubs ($5.00 value)
1 Sponsor Pack ($5.00 value)
10 Standard Packs ($10.00 total value)
31 PS4 MLB Themed Avatars ($31.00 total value)
1 Opening Day Pack ($25.00 value)
MLB The Show 16 Digital Deluxe Edition
For our Hardcore Diamond Dynasty and Road To The Show fans, we created a digital edition exclusive to PlayStation Store! The Digital Deluxe Edition is $99.99 ($119.99 in Canada) and it includes more than $200 in content, making it a must-have for the most dedicated fans of the Show.
11,000 Stubs ($10.00 value)
1 Sponsor Pack ($5.00 value)
20 Standard Packs ($20.00 total value)
31 PS4 MLB Themed Avatars ($31.00 total value)
3 Opening Day Packs ($75.00 value)
We're so excited about all the new improvements to MLB The Show 16 that we are counting days until March 29th! In the meantime we'll be sending out news and updates on The Show Nation and through our Twitter and Facebook accounts all off-season, so make sure to follow us to join the conversation.