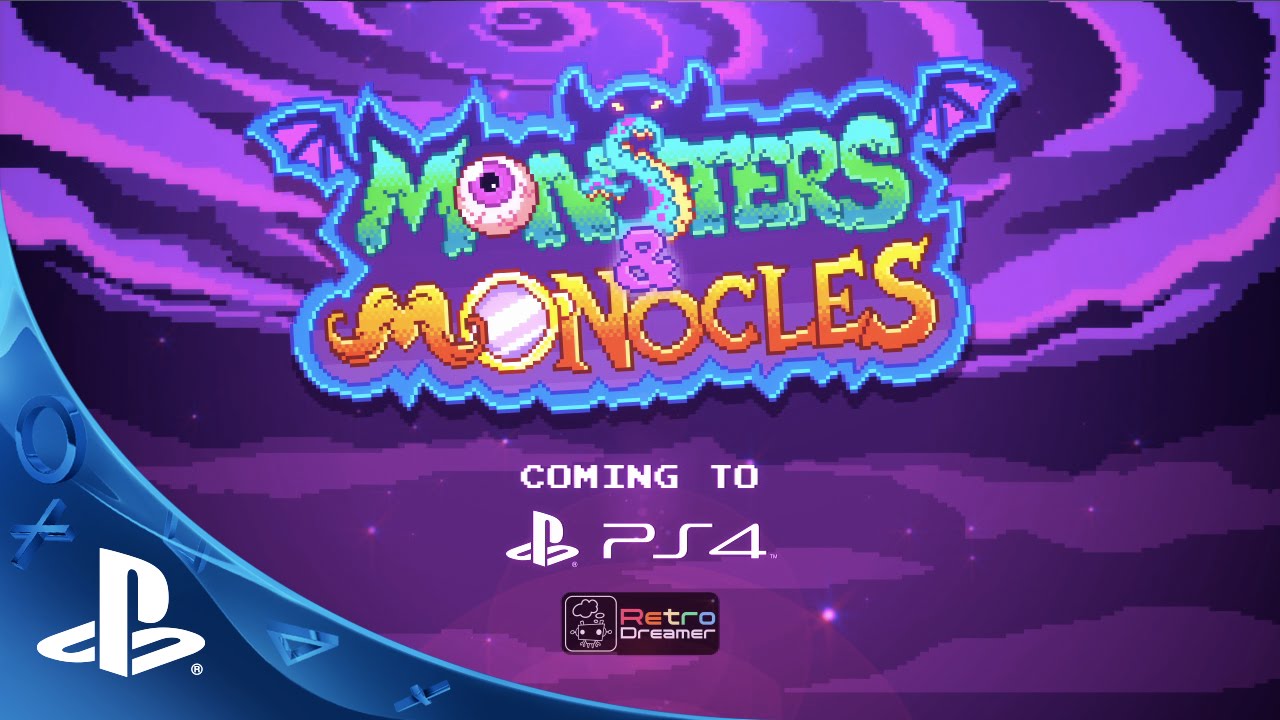 Hi everyone! My name is Craig Sharpe from Retro Dreamer, a small three-person studio based in California. Today we're excited to announce that our latest game Monsters & Monocles is coming to PS4!
Monsters & Monocles is a frantic, Victorian steampunk themed twin-stick shooter all about using teamwork and heavy weaponry to battle the hordes of evil. A naive occult collector has unknowingly unleashed a great evil that is spreading across the globe, and it's up to you and a team of quirky paranormal investigators to find the source of this dark energy and blast it back to where it came from.
Playing solo, or with up to four players online or locally, you control one of four colorful characters like Baron von Dogface, a well-dressed dog wearing a smoking jacket, and must fight your way through unique monster-filled environments.
Each level is procedural, so you and your comrades will be faced with unique enemy placement, traps, secrets, and objectives each time you play. Your trusty airship, the HMS Scone, acts as your hub, allowing you to gear up before taking on challenging levels such as a haunted mansion, snowy Victorian streets, and a cursed Pharaoh's tomb. Each area ends with a fearsome boss encounter, such as a demonic chimney sweep or a giant cyclops skull.
Search out and use powerful weapons to aid you in battle, like the blunderbuss, stake launcher, and the crumpet cannon, a steampunk toaster that fires weaponized crumpets.
Find and equip relics to customize your weapons and add new abilities to match your play style, and upgrade them by looting chests and destroying enemies.
In multiplayer, your team shares a single pool of lives across all players, so you need to stick together, revive fallen comrades, and watch each other's backs.
We're also happy to mention that the soundtrack to all of this crumpet-based carnage is being created by the awesome guys at Hyperduck Soundworks.
From our own experience, we know it can be challenging to get a group of friends together on the same couch at the same time, so having online play has been a top priority for us from the the very beginning. We also want to make it easy for anyone to hop into a game with their friends regardless of ability or how much time they have.
We're really excited to be bringing Monsters & Monocles to Playstation! We're on the show floor at Playstation Experience in San Francisco this weekend, so if you're around, come by and check out the demo!
Thank you for reading and please feel free to ask any questions about the game you might have below!