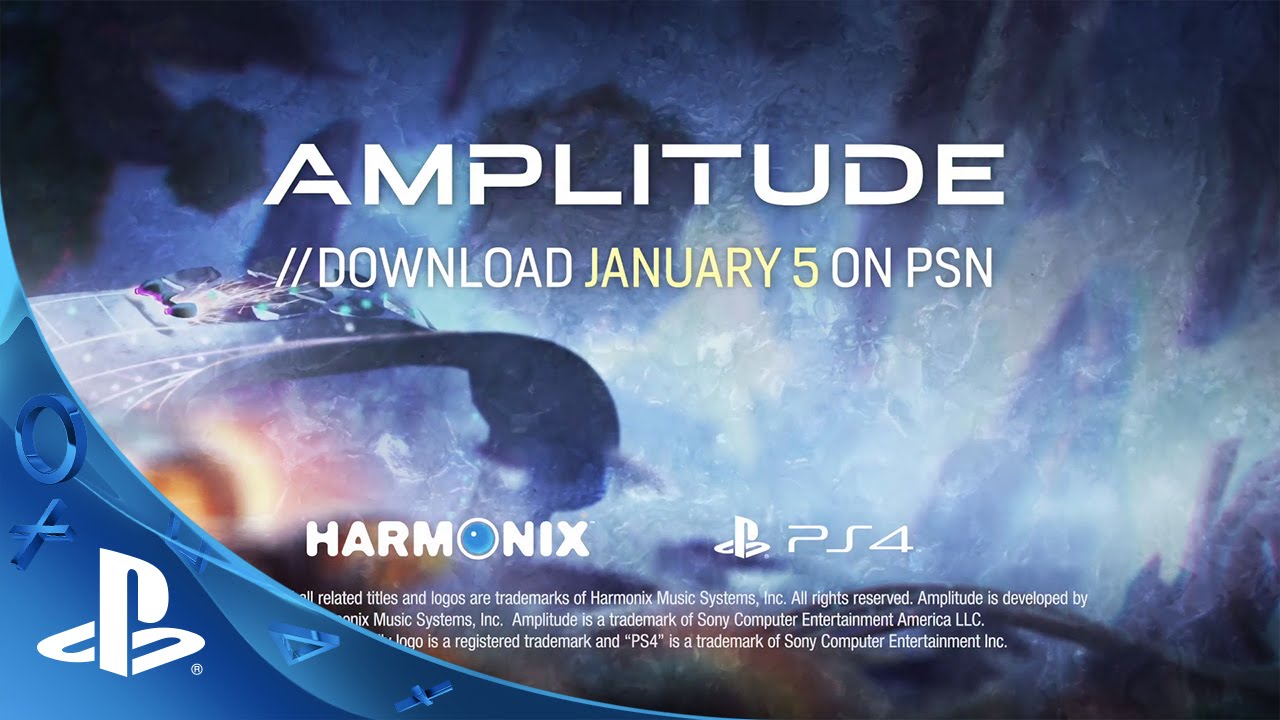 Hello rhythm game fanatics and Kickstarter backers! The PS4 version of Amplitude launches on January 5th, 2016 via PlayStation Store for $19.99.
Harmonix rebooted this PS2 cult-classic music game with the help of Kickstarter backers. Amplitude is back with high-fidelity visuals, new songs, a sci-fi narrative, and more.
Amplitude features a single-player campaign along with competitive and cooperative local multiplayer modes. The campaign is presented in the form of a sci-fi concept album with a narrative that surfaces through the game's visuals, music, and lyrics. There are also leaderboards available for bragging rights.
With a soundtrack of more than 30 songs, Amplitude includes music from exciting artists such as Darren Korb (Transistor), C418 (Minecraft), Insomniac Games, and Freezepop, as well as songs from Kickstarter backers, and music crafted by Harmonix's talented in-house composers.
The entire soundtrack is as follows:
"All The Time" — C418
"Assault on Psychofortress" — Single White Infidel
"Astrosight" — Inter:sect Ft. Noelle LeBlanc & Naoko Takamoto
"Break for Me" — James Landino Ft. Noelle LeBlanc
"Concept" — Symbion Project
"Crazy Ride" — Insomniac Games
"Crypteque (1-2)" — Danny Baranowsky
"Crystal" — George & Jonathan
"Dalatecht" — Harmonix
"Decode Me" — Inter:sect Ft. Noelle LeBlanc & Naoko Takamoto
"Digital Paralysis" — Harmonix
"Do Not Retreat" — Komputer Kontroller
"Dreamer" — Harmonix
"Energize" — Harmonix
"Entomophobia" — M-Cue
"Force Quit" — Jim Guthrie
"Human Love" — Harmonix
"I.C.U." — Harmonix
"Impossible" — Darren Korb
"Lights" — Wolfgun
"Magpie" — Harmonix
"Muze (Amplitude Remix)" — Ingrid Lukas, Remix by Patrik Zosso and Nik Bärtsch
"Perfect Brain" — Harmonix
"Phantoms" — Freezepop
"Recession" — Jeff Allen Ft. Noelle LeBlanc & Naoko Takamoto
"Red Giant" — Kodomo
"Supraspatial" — Jeff Allen Ft. Naoko Takamoto
"Synthesized" — Symbion Project
"Unfinished Business" — Shiohito Taki & Junichi Kamiunten
"Wayfarer" — Harmonix
"Wetware" — Harmonix
Kickstarter supporters who backed at the $40 tier or higher do not have to wait until January 5th to get their hands on Amplitude. Those backers will receive the game two weeks earlier, on December 23rd.
PlayStation fans attending PS Experience will be among the first to play Amplitude. Those who play the game at the booth will receive an exclusive dynamic Theme for their PS4 and an Amplitude trading card. More details can be found in Amplitude's latest backer update!